By Ellia Pannier, El Inde Arizona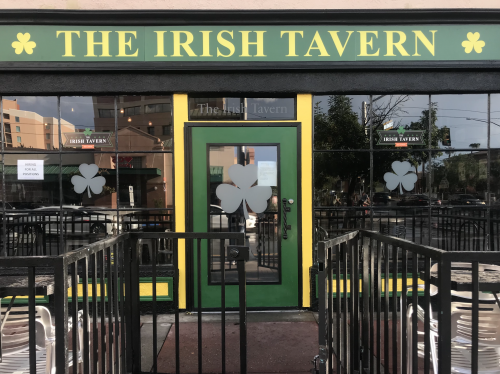 Union Jack, the British-themed pub at 800 E. University Blvd. in Main Gate Square, has closed.
A notice dated Sept. 13 posted on the front door said the landlord, Marshall Foundation, terminated the lease and took possession of the building's contents.
Bruce Burke, the Marshall Foundation's president, could not be reached for comment. In a follow-up email, Burke said he "respectfully declined" to comment.
The restaurant's owners also could not be reached to comment.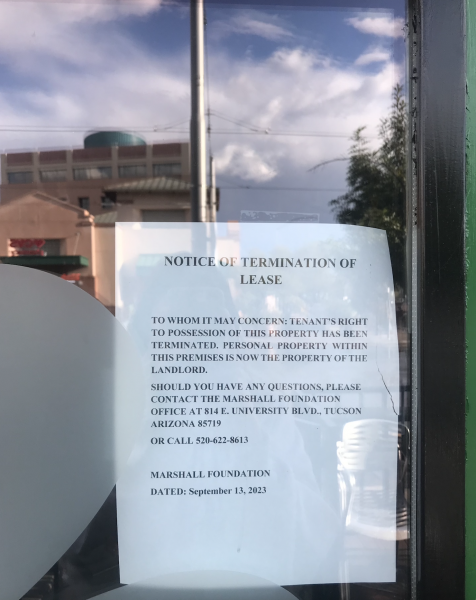 The Marshall Foundation owns and manages the commercial properties in Main Gate Square, encompassing the area along East University between Park and Euclid.
The Union Jack opened Oct. 17, 2022, in the space that was home for 10 years to The Auld Dubliner. The building had been vacant since that Irish-themed pub/restaurant closed in 2017.
Jaden Rausch, an employee at the neighboring Asurion store, said The Union Jack temporarily closed right after school ended last spring. A few weeks later, Rausch said he watched as contractors piled into the building and the restaurant was rebranded as "The Irish Tavern."
Rausch said he was surprised to hear that The Union Jack had lost their lease.
"I thought it was just part of the renovation," he said. "They just kind of disappeared."
The Union Jack offered 22 domestic and imported brews on tap and a menu of authentic British fare including steak and kidney pot pie alongside American burgers. English Premier League football matches and UA Wildcats sports were staples on the restaurant's TVs.
The Tucson location was one of three Union Jack restaurants British natives Kevin Johnston, Sukhi Ghuman and Manjinder Singh opened in Arizona. The two other locations, one in Scottsdale and second in Mesa, closed within the last year.
El Inde Arizona is a news service of the University of Arizona School of Journalism.