Alecia Vasquez, El Inde Arizona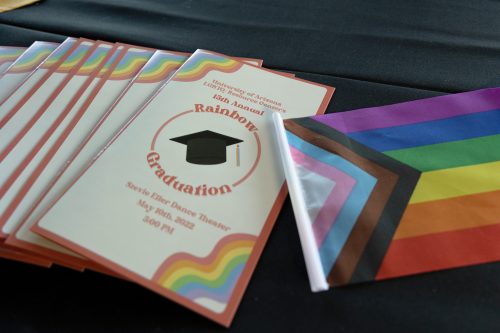 The University of Arizona's LGBTQ+ center this week will host its annual rainbow graduation
to celebrate LGBTQ graduates.

According to the event's director Kristen Godfrey, about 40 students have registered to
participate in this year's 16th annual event, hosted by the LGBTQ+ center.

The event will be from noon to 2 p.m. Thursday, May 11 at the Eller School of Dance. The
keynote speaker will be Jaleesah Jackson, a reproductive rights organizer from Atlanta. The
LGBT center also will present awards to faculty and staff including fabulous faculty member,
staff member of the year, queer icon andiIntern of the year. Staff from every discipline on
campus is eligible for nomination.

The ceremony and presentation of the awards will take place in the first hour of the event,
and in the second hour, there will be music, dancing and food. Students participating in the
event will receive a certificate and a rainbow cord.

Law and psychology major Ayah Sadiden said that the event is great because it is hard being in
the LGBTQ+ community and academics; an event like this makes, she said, her feel more
accomplished and more seen.

According to Godfrey there is no ticket process, so all students are welcome to attend.
Godfrey also added that last year's event had about 200 attendees and that it is a great way
to build community and great for people to "be recognized as their full self."

More information can be found on the LGBTQ+ student center's Instagram page.