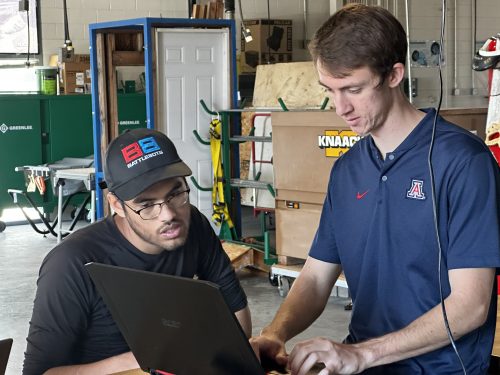 Vic Verbalaitis, El Inde Arizona
Nick Sivertson groaned as he set the cardboard box on the workshop desk.
The box cradled two 20-pound slabs of ballistic steel, sturdy enough to stop a bullet in its tracks.
Beside the box, wires weaved in between motors and batteries laid out on a strip of wood. A transmitter, which looks somewhat like a video game controller, accompanied the array on the table.
As the team gathered their materials on a Saturday morning, their grins only grew brighter.
Some of them had always dreamed of building a battle robot capable of pure devastation.
A palpable aura of excitement emanates from around the workshop table. Sivertson and the five other seniors laugh and joke about the Herculean task before them.
After 19 design iterations in computer-aided design software, or CAD, they are finally ready to bring their dream to life.
Their eyes are set on the biggest global arena in robotics. "Battlebots."
Six students in the University of Arizona's College of Engineering are constructing a 250-pound battle robot to compete on the "Battlebots" television show as a part of their senior capstone project.
The "Battlebots" competition features one-on-one bouts between massive, complex robots capable of causing serious destruction. The robots clash wheel-to-wheel inside the Battlebox, a perilous arena replete with automated hammers, spinning saws and powerful pinball-esque paddles, centered in Caesars Entertainment Studios in Las Vegas.
Given three minutes in the ring, two Battlebots operated by opposing teams try to cause as much damage as possible to their competitor. The bots feature weapons systems that they use to impair their opponents, with some of the more popular weapon types including flippers, flamethrowers, and horizontal or vertical spinners that can rotate at hundreds of miles per hour.
Sivertson said that he and two other team members, Al Hurworth and Mathias Ramirez, birthed the idea in response to a lack of variety in past senior design assignments. As former members of the Baja SAE team, a design project where engineering students construct a Baja-style off-road racing car, the three decided they wanted to do something new and unique for their project.
"I think we all wanted to build something that was different than what we've done before," Sivertson said. "So when the opportunity came up to build a robot, and build a robot of this scale too, I was all in on it."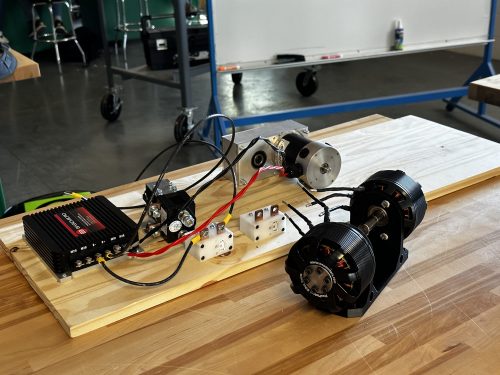 After pitching their idea to the dean, they received an enthusiastic approval, allowing them to begin working on their idea.
The "Battlebots" competition is no stranger to college students entering the ring; the show has featured robots from student robotics teams at the University of California at Berkeley, MIT and the Rochester Institute of Technology, among others.
The UA Battlebot team consists of six members, including Sivertson as the project lead, Hurworth helping with leadership and project guidance and Ramirez overseeing the CAD design and robotics process. The team also includes Yousuf Choudhary as the software lead, Karson Knudson as the safety and electrical systems lead and Alex Wait as the weapons lead.
The team's bot is named Sting, and its creative design reflects that of a mechanical stingray. Sivertson said that one time when he was around 7 years old, he was feeding stingrays in the Bahamas when one sucked his arm all the way up to his shoulder; he said he thinks the stingray mistook his thumb for a shrimp.
"It didn't hurt, it just felt like a vacuum," Sivertsen said. "I've always kind of kept that lowkey, but that's why I've always loved the design because I have that fond memory."
The design of the Sting bot has changed many times throughout the team's months-long process, with almost 20 design iterations so far. One early build of the bot came in at 380 pounds, and had to be scrapped to fit the Battlebots heavyweight division requirement of 250 pounds.
The team's current design of Sting meets the weight requirement and features a vertical spinner weapon. Sivertson said Sting's vertical spinner tip speed is estimated to travel at 250 mph, capable of inflicting devastating damage to any opposing bots.
The UA team decided on using a vertical spinner for their weapons system, which is a popular weapon in the "Battlebots" competition and is notably used by well-known bots like Nightmare and Hypershock.
"That's what everybody wants to watch," Hurworth said. "When they're watching 'Battlebots,' they don't want to watch like a grabber or something. We want to make sure that we're putting on a show, too."
To connect with the senior design project idea, Hurworth spearheaded the creation of the Robotics Club at the UA during the fall. The club sponsors smaller Battlebot projects in addition to the heavyweight senior project, with two bots currently in the creation process with Gila and Buzzkill at 12 pounds and 3 pounds, respectively.
"One of the big things about the project is that we wanted to build a Battlebot, but at the same time, we wanted to leave a lasting thing at the university," Hurworth said. "I really wanted to make sure that other students coming in that are interested in robotics have the opportunity to learn and grow."
Each team member's role is integral to the success of the bot's design, and for acceptance into Battlebots, every single component must be up to code. Submitting a bot to the competition requires a full CAD design, as well as passing rigorous safety standards.
Ramirez heads the 3D modeling process in CAD, and also directs a lot of the robotics work as a whole. Ramirez has the most experience in robotics out of the team, even starting the VEX Robotics Club when he attended Empire High School in Tucson's eastside Vail School District.
Ramirez ensures that all of the sketches that the team creates are able to be designed effectively in CAD, and said that a big challenge is modeling everything to be at the correct scale.
As an inveterate "Battlebots" fan, Ramirez said he is excited at the opportunity to participate in a competition that has been so important to him.
"It's really a dream come true to have the support to build a Battlebot as a part of a class that I have to do anyway," Ramirez said. "It feels a little bit like a cheat code to work with friends on something that you want to do anyways. It's a lot of fun."
Knudson, who majors in electrical computer engineering, statistics and data science, oversees both the electrical systems and safety standards of the Sting bot.
"There's many different layers of making sure that when this bot is not supposed to have power and not supposed to be moving, then it doesn't have it," Knudson said.
Choudhary, the software systems lead for the project, works on coding the telemetry system for Sting. The telemetry system allows the team to analyze Sting's motor speeds and temperatures in real-time, so they can make quick strategic adjustments during a fight.
Choudhary also handles the programming for a drone robot, currently named Jellyfish, that will fly above the arena to track and follow the opposing bot and provide a bird's eye view feed of the fight. Choudhary said that having this extra layer of real-time reconnaissance can allow the Sting team to better predict what their competitor might do next inside the ring during a match.
In addition to being the weapons lead, Wait, a mechanical engineering major, also is in charge of fundraising and ordering materials. The trio raised over $45,000 for the project from sponsors which covers the cost of building several bots and developing the Robotics Club.
Sivertson said that stepping into a leadership role for this project was challenging, due to the fact that Ramirez and Hurworth were originally his superiors during their stint on the Baja team. However, Sivertson is eager to help guide the vision of the project and allow his team members to complete their tasks without any added stress.
"For team lead specifically, I think it's my job to get every obstacle out of their way," Sivertson said. "They're doing all the heavy lifting, and I'm there to make sure there's no obstacles."
After they completed their application to the "Battlebots" show in February, Hurworth said that the team was contacted by one of the show's producers in March. Hurworth said that the producer liked their application, but asked that they add a flamethrower to their design. Hurworth also said that the producer invited the team to compete in an exhibition match during the "Battlebots Destruct-A-Thon" series in Las Vegas during May.
With their CAD design complete, and a working build of Sting expected to be completed by the end of March, the team intends to unveil their battle robot to fellow engineering students at the College of Engineering's Craig M. Berge Design Day on May 1. After they fight in the "Destruct-A-Thon", they hope Sting will be accepted to compete in the Battlebots World Championship VIII season taking place this summer.
"It's our dream, and we're going to go and make it happen together," Choudhary said. "And it's going to be very exciting to see."