Grant Hoover, El Inde Arizona
The University of Arizona School of Theatre, Film & Television is bringing "The Laramie Project," to Tornabene Theatre Oct. 12-22.
The play centers around the 1998 murder of Matthew Shepard, a gay 21-year old University of Wyoming student who was beaten to death and the reactions of the townspeople of Laramie, Wyoming, where the murder took place.
Shepard's murder was met with widespread outcry and condemnation worldwide, prompting national self-reflection on the topics of homophobia, bigotry and violence. In 2009, Congress passed the Matthew Shepard and James Byrd Jr. Hate Crimes Prevention Act that added gender, sexual orientation and race to the existing hate crimes laws.
"(The murder) was at a moment in time where America was able to take stock of its attitude towards queer people," said Greg Pierotti, the UA theater professor who is directing the play that he co-wrote as a member of the New York-based Tectonic Theater Project.
The show will open on Oct. 12, the 25th anniversary of Shepard's death. A preview performance will be on Saturday, Oct. 7.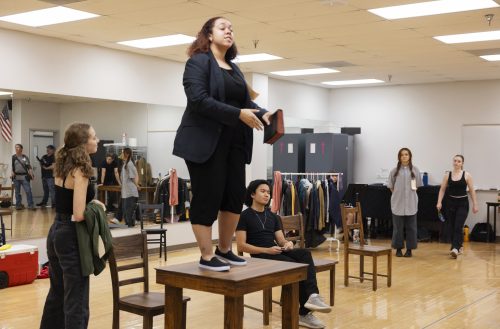 The UA's production of "The Laramie Project" is an opportunity to bring the story of Matthew Shepard and Laramie to a generation of younger people, many of whom were born long after the murder.
"Every time I tell people I'm in 'The Laramie Project,' they go 'Oh cool, what's it about'," said UA theater student Riley Siegler, who plays several roles in the show including Laramie residents Amanda Gronich, April Silva and Lucy Thompson.
The events explored in "The Laramie Project" touch on many issues that still have contemporary relevance, including the use of the "gay panic" defense in legal proceedings. Jordan Blair Woods, who teaches law at the James E. Rogers College of Law, said that while 16 states have banned it, "Arizona does not have legislation banning the use of gay and trans panic defenses in criminal cases."
The so-called gay panic defense maintains that the defendant acted after feeling threatened by unwanted sexual advances.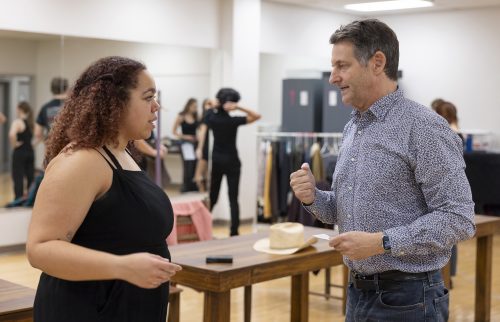 The School of theatre, Film & Television also will be partnering with the UA's LGBTQ+ Institute to host "Matthew Shepard's Legacy: Then and Now," a panel discussion with Matthew Shepard's parents, Judy and Dennis Shepard, at 7 p.m. Oct. 19 at Gallagher Theatre in the UA Memorial Student Union. The couple founded the Matthew Shepard Foundation to promote acceptance and LGBTQ+ advocacy programs including with law enforcement.
Loft Cinema also will be screening "Laramie Inside Out," a documentary about the aftermath of Shepard's murder that was directed by Beverly Seckinger, a professor of the School of Theatre, Film & Television. Seckinger was born and raised in Laramie.
On Oct. 20, Judy and Dennis Shepard will attend a performance of "The Laramie Project" and participate in a post-show talk.
If You Go:
What: "The Laramie Project"
Presented By: University of Arizona School of Theatre, Film & Television
Written By: Moisés Kaufman and the Tectonic Theater Project including Greg Pierotti
Directed By: Greg Pierotti
When: Preview 7:30 p.m. Saturday, Oct. 7; 7:30 p.m. Oct 12, Oct. 18, Oct. 20-22; 1:30 p.m. Oct. 14 and 15
Where: Tornabene Theatre, 1025 N. Olive Road, on the University of Arizona campus
Tickets: $15 to $32 at ticketmaster.com
El Inde Arizona is a news service of the University of Arizona School of Journalism.