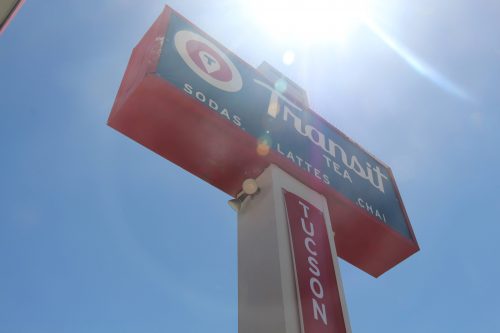 By Samantha Larned, El Inde Arizona
With a hot air balloon mural on the side of its midtown building, a mountain and sky-scape along the top and menu items with names like "compass" and "wanderer," Transit Tea creates an atmosphere of adventure and movement.
The menu has hundreds of possible combinations: eight choices of base, hot or cold, with or without caffeine or sugar, tea snow, tea soda and more. Transit Tea is pursuing its goal to change the definition of tea.
"Our tagline is 'Enjoy the ride,'" said Transit's 44-year-old brand manager, Kristin Brakke. "We're not here to hold you back."
Rocky Road to Transit
Transit Tea opened its doors in February 2021 and the journey has not been easy according to Brakke and her husband, Manish Shah, 53, the owner and founder.
Before it had a storefront, Transit Tea was run out of a converted school bus. Transit employees traveled to businesses in the bus and sell iced tea in single cups and brewed half-gallons.
Brakke said the bus was labor-intensive and Shah does not like dwelling on it. But Shah said he and his partners at Maya Tea learned a lot from the experience.
Maya Tea is Shaw's company, which provides tea to over 1,500 businesses across the country with only 24 employees.
Shah was born in India and after spending some time in New York and California, his family moved to Tucson in 1978.
He has been making and selling tea since 1997. He began "with a 4-foot table at a farmers market just making chai, one kind of chai."
As his customer base grew, Shah branched out and made more kinds of tea, everything in-house.
Everything at Transit, excluding lemonade and milk, is made in-house.
"And we're working on that one," Brakke said. "I won't milk a cow, but we're bringing in equipment to make our own oat milk."
Transit Tea came from Shah's desire to reinvigorate the tea experience.
"I got really frustrated with tea," Shah said. "I didn't want to talk about English Breakfast, Earl Grey, Chamomile sleepy time. I just couldn't do it anymore. I'm burnt out and you don't need me to talk about this anymore."
Over the next seven to eight years, Shah found a way to "make tea fun."
The result was Transit Tea.
After moving past the school bus, Shah looked for a brick-and-mortar location.
He signed the lease in September 2019, but COVID-19 changed things for the couple in many areas of their lives.
Brakke, originally from Washington, lived in Tucson from 2004-2016. She and Shah were in a long-distance relationship and her plans to move back to Tucson were sped up by the pandemic. Brakke moved back in 2020.
Before entering the world of tea, Brakke worked in the wine industry. She and Shah were friends and had many clients in common.
"Tea just kind of seemed to be the next thing," Brakke said. "And it's funny because tea and wine are very similar."
Through the pandemic, Brakke said the team "changed a lot of our vision of what Transit was."
Transit Tea is a small building with a drive-thru and a patio. Prior to the pandemic, Brakke said they intended to have indoor seating and serve food. But with the early-pandemic's many uncertainties, Transit decided not to do either.
People still get confused as to why they cannot come inside, but Brakke said the team does not intend on opening it to customers, especially with the space being so small.
Shah said about 90% of Transit's sales happen through the drive-thru.
"We did really change our business model because of COVID and we're sticking with it because it seems to work for us," Brakke said.
The elimination of food from the menu led to one of Transit's most popular items: tea snowcones.
'Let me change your mind.'
"The really unique thing about Transit is the way that we make our tea," Brakke explained. "It turns into a little shapeshifter. So we can make it hot, make it cold, make it sparkling, turn it into a snowcone, throw it in a latte. There's so many different things we can do with our tea that nobody else can do."
With all of this freedom and so many choices, some patrons are intimidated by the menu.
"You're not gonna make a wrong decision, because we took all those out," Brakke said.
When constructing the menu, the team created a grid, matching every base with every flavor and if there were any that did not match, they were removed.
For those who still want guidance, the seven Transit Tea employees are trained to help. They ask questions about caffeine-preference, bases the customer might like, flavor-profile, sweetness and tartness and if they want bubbles or a snowcone or any other modifications.
Devon Cosand, 26, has worked at Transit Tea for about two years. With experience in coffee-making, he came to Transit in hopes to "expand my repertoire and become more informed."
He said customers often ask about the teas, flavor profiles and pairings.
"No judgment, no nothing," Brakke promised. "I get it, you don't think you like tea. Let me change your mind. Let me give you something in a cup that tastes like a watermelon JollyRancher. Let me give you something that tastes like Cracker Jacks in a latte."
Transit operates on something Brakke calls "new-stalgia."
"We take something that you might remember from your childhood and we turn it into a drink," Brakke said. "And we do it in a sneaky way; you wouldn't really know what we're doing until you taste it."
Since Maya Tea serves as a provider for other businesses, such as cafes and restaurants, Shah said the in-person experience was a big component in opening Transit.
"I get to actually see the reactions of customers when they drink that tea," Shah said.
One of the most gratifying parts to him has been seeing customers' definition of tea changing and broadening.
"Tea has a very limited conception in the U.S.," explained Maya and Transit employee Joe Taylor. "I love the fact that we can expose people to so much."
Taylor, 42, left his office job to work for Maya Tea eight years ago. And though he has only worked in-house at Transit for a few months, he has been involved with the project since its inception.
"A lot of people think of us as a tea shop or a tea house," Taylor said. "Which we're not."
Transit is unique in its flexibility, which attracts new customers and keeps people coming back.
University of Arizona senior Sohi Kang, 21, is a Transit regular, who appreciates the variety and customizability of the menu.
"You can have caffeine or no caffeine," she said. "It's what I feel based on my mood. There's a lot of options for me."
Kang orders a different combination every time she goes, though it is almost always in a tea soda with a bagel on the side.
"It's different from a lot of other places I've been to, like tea or coffee shops," Kang explained. "I feel like they offer something different with the tea sodas."
Brakke said Transit has a lot of regulars and many locals bring family and friends when they visit town.
"We have a disproportionately happy customer base," said Taylor.
From children to seniors, tea experts to tea novices, Transit has something for anyone willing to try.
"Nobody does what we do. Yeah, we're a little crazy but that's part of the fun of it," Brakke said." Making things that are totally different."
"It's like Charlie and the Chocolate Factory only 'Manish and the crazy tea company,'" she laughed.
Transit Tea is located at 2645 E. Speedway Blvd. and its hours are 7 a.m.-6 p.m. Monday through Friday, 9 a.m.-6 p.m. on Saturday and 9 a.m.-5 p.m. on Sunday.
El Inde Arizona is a news service of the University of Arizona School of Journalism.