By Emma Brocato/El Inde
On a September night, against the backdrop of a Tucson sunset, Kim Girard eagerly awaits the moment the bats will fly our from under the bridge by the thousands. She is wearing a pink shirt that says "Tucson Audubon Society Southeast Arizona Birding Festival" and has brought her adult daughter along. A self-proclaimed "nature nerd," Girard is armed with binoculars and a red device attached to her smartphone, which connects to the Echo Meter Touch mobile app that allows users to listen to bats' echolocation, something not accessible to a human's naked ear. She is using a cloth to fan away the swarming bugs that will soon become the bats' intended meal. According to the Wildlife Acoustics website, the Echo Meter Touch 2 Bat Detector uses the combined technology of a microphone and algorithms they call "auto-identification classifiers" to hone in on individual bat species.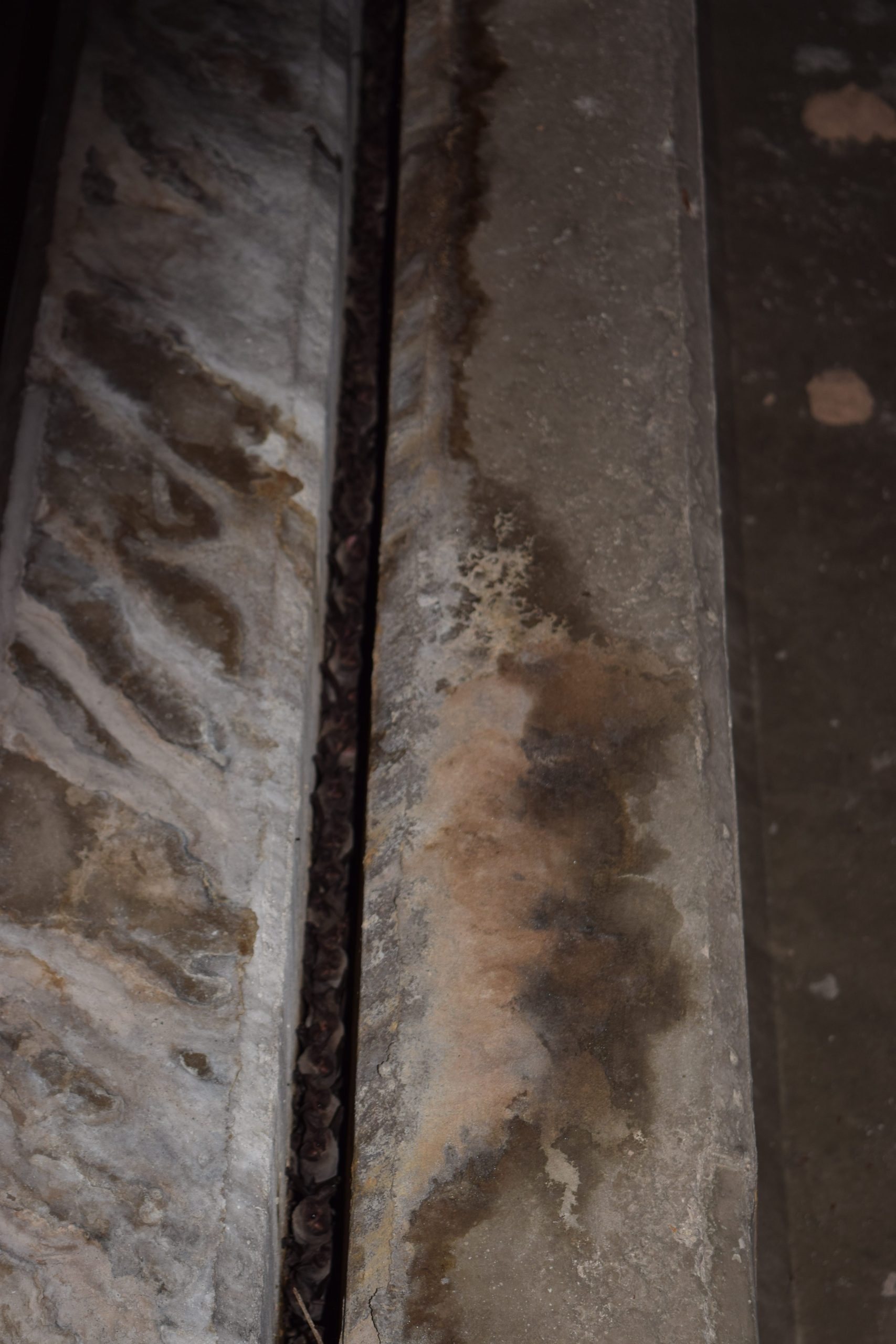 Kim Girard is a park ranger. She previously worked at Grand Canyon National Park, and will soon start her next job at Organ Pipe Cactus National Monument. She has watched bats fly out from under the Ina bridge, but this is her first time here at the Campbell bridge. She cheerfully interacts with other visitors at the bridge, including a mother and her toddler.
Girard recalls the first time she watched bats fly out from under a bridge.
"I didn't know what to expect. You know especially the first time I went, and I was just amazed to see the numbers of them and they just kept coming out, you know, and flying around."
If you walk under the bridge on Campbell Avenue just before the intersection with River Road in Tucson in September, and you look up into the crevices of the bridge above, you will see tons of little bats crammed in together. Each concrete bridge support is split into two halves. In between is a straight-line crevice where the bats are tightly packed in single-file, uniform fashion. Positioned on the Rillito River, this is their habitat.
The bridge is located near the St. Philip's Plaza, which is home to various shops and restaurants. In the evenings from roughly April to October, people gather here to watch thousands of bats fly out from under the bridge to begin their nightly foraging. The viewing area is accessible by the path that runs along the Rillito River, on which bikes soar past pedestrians every few minutes.
In addition to working in the conservation field, Girard also volunteers with a number of nature organizations including Saguaro National Park, Tucson Audubon's bird festival – where she got the pink shirt, and the Arizona Master Naturalists. Girard completed her Arizona Master Naturalist training in May of this year, which she says makes her an "official nature nerd." She is a bat ambassador, which involves learning to lead bat walks. She and other Arizona Master Naturalists are also learning to use the Echo Meter Touch 2.
At a Monday night meeting a little less than a week after the bridge spectacle, 5 Master Naturalists and a fluffy dog lounging on the floor are gathered at one member's house to be trained on the Echo Meter Touch 2 by Kathy Gerst, who is the Southwest NABat Hub Coordinator for Bat Conservation International. She is wearing bat hoop earrings and sunglasses on top of her thick, dark hair.
The group is dining on frozen pizza, wine and a cheese platter. As they eat, they excitedly ask Gerst to answer questions and share fun facts about bats. They represent various organizations that they either work or volunteer for, and throughout the night they brainstorm ideas to implement there.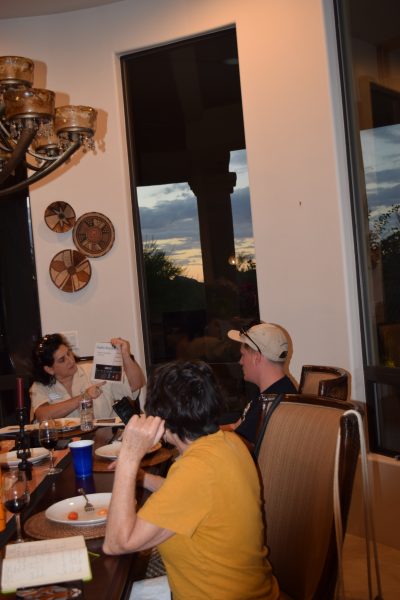 Gerst offers to provide members with bat coloring sheets and masks for kids. In her presentation, she walks them through how to use this red, mobile plug-in device, including GPS view to track where you perceived a bat, as well as how to share the recordings with others.
"I think anytime we get the public hearing about and interacting and learning about our natural world, it's a huge win for the bats and for the environment, because you know, we are the ones who have the ability to make change and contribute and teach people as citizens of our communities," Gerst says.
The group moves outside to a picturesque backyard garden, where Gerst provides hands-on instruction for using the device. They wander around the garden searching for bats, working out challenges such as physical location, finding recordings and picking up the noise of wind. Success is realized when someone locates a canyon bat with their device, according to Gerst's expertise.
Our little winged friends at the Campbell bridge are Mexican free-tailed bats, which Bat Conservation International scientist Kathy Gerst says thrive in urban settings.
"There's something specific about those bridge structures that provide really good habitat for them," Gerst says, explaining why the bats choose to take shelter in the crevices under bridges like this one. "The river also is a great corridor for them to forage at night, you know, we've got other insects and animals and sort of a natural corridor to disperse throughout the Tucson area in the evening to forage for food."
Chris Robie is another Arizona Master Naturalist volunteer. She has volunteered with nature programs all over the country before. She has used the Echo Meter Touch 2 as a way to chat with other visitors at the Campbell bridge, and recalls what it was like to encounter the bats.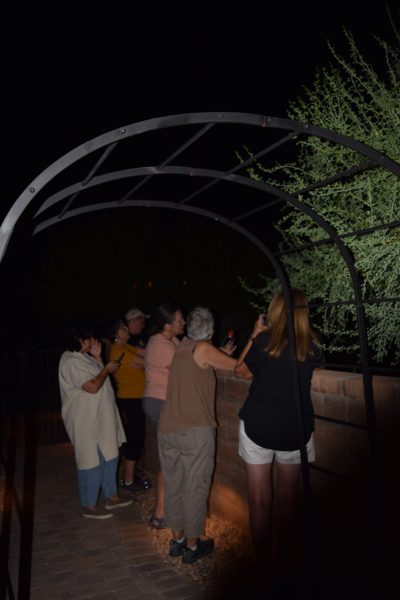 "It was great going under the bridge before they flew out and they were just all chattering, you know, it was so cool," Robie says.
Robie volunteers at Tucson Botanical Gardens and Mission Gardens. She might use the Echo Meter Touch 2 at Mission Gardens' "critter night," and other nighttime programs might be a good fit as well. But she also sees this device as an opportunity for more informal education and engagement, such as with neighbors.
As for Girard, she will be able to integrate what she learns into her career as a park ranger. She got the idea to start educating herself and visitors on bats when she noticed people's fear of them.
"And they are like, a little creepy," Girard admits. "You know, they fly around at night. Nobody knows what they're doing."
What they are doing is playing a vital role in their local ecosystems, as pollinators and more.
Now that she's learned more about bats, she speaks in praise of their ecological importance. They eat crop pests, therefore reducing the need for pesticides on farms. They also eat mosquitoes and function as pollinators.
"They pollinate agave to make tequila! So that's super important," Girard says with a laugh.
As a volunteer, Robie is concerned about loss of habitat for bats, including cacti for pollinating bats. She sees a potential solution in community involvement, and in the past she participated in a monitoring program for Arizona Game and Fish.
Gerst's conservation concerns for bats include white nose syndrome, climate change, drought and wind energy. Bat Conservation International is looking into how wind turbines can be modified to improve bat survival rates.
After about an hour of waiting and then watching massive swarms of bats exit the Campbell bridge in front of the fading Tucson sunset, Kim Girard brings her daughter up to the top of the bridge to view them from above. Now on the same level as the cars racing across the bridge, they look down on the bats as dusk creeps in. Girard and other bat-loving Tucsonans will likely continue to gaze in wonder at this spectacle, but only for another month or so. According to the Arizona-Sonora Desert Museum, the migratory Mexican free tailed bats will depart for Central America or Mexico and remain there through the winter. With some possible exceptions, most of these bats vacate the Campbell bridge by October.