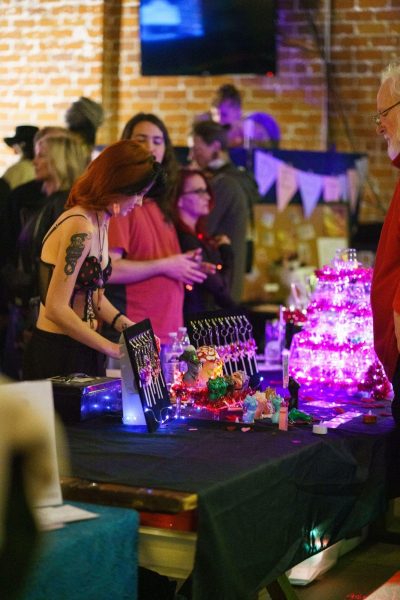 Ella E. McCarville, El Inde Arizona
Artist and sex educator DiAn Dviation believes in the power of a good sexy selfie.
As part of Tucson Erotica's month-long art exhibition at 2210 S. Sixth Ave., Dviation will teach a workshop on taking erotic selfies. As a trans person, erotic selfies are his way of appreciating his body.
"I'm sharing with people how to get the sexy shot of yourself because for me, that's how I started to really appreciate my body transforming," he said. "It's interesting. We don't see ourselves naked very often."
The art exhibit, running through April 1, is part of Tucson Erotica's mission of highlighting erotic artists and performers. Tucson Erotica hosts classes year-round as part of its mission to make a space for adults over 18 to celebrate their sexuality.
Making a space for artists is important, but connecting them to buyers and people who could help artists sustain their careers is also essential, said Myken Dahlen, Tucson Erotica's executive director. But given the nature of the group's works, which deal in sexuality and nudity, finding platforms to advertise and places to print their erotic art has historically posed some difficulties for artists and organizers. 
"I get a lot of artists asking me where to print their work because these large print shops just immediately say, 'No, we're not going to print that like we don't do porn'," Dahlen said. "That's just another example of why this work is so important because a lot of these amazing artists are just being dismissed as pornographers. It's insane to me."
A few years ago, Dahlen advertised TEAS on a Facebook community page for artists, but was promptly faced with derogatory comments. Since then, she has taken a different approach to advertising.
"I get it, not everyone is ready, or wanting to participate and it's just more beautiful when it's kind of like I can trust that the people that need this sort of space will find it," she said. "I still want to just be gentle and firm in the fact that I believe that this is a beautiful thing."
Art and the human body have had a close relationship throughout history, but defining erotic art can seem like a monumental task. Ren Buchness, an artist and art educator, said it all boils down to intention and agency.
As a queer artist, Buchness wanted to represent a different erotic side of fatness in art. Buchness blends the lines of erotic art, typically segmenting figures and incorporating shibari, the Japanese art of rope binding, or adding humorous elements. Their work for the Tucson Erotica Art Show is a sculpture series that features headless fat figures melting, as if made of ice cream.
"I don't want to give the viewer that outlet to be like, 'Oh, they have such a pretty face,' because I hear that all the time as a fat person throughout my life, 'Oh, you, you're so pretty, you're such a pretty face, but you would be so much prettier if you lost weight'," Buchness said.
Buchness likes to add both beauty and humorous elements to their work as a way to make viewers reflect on their pieces, especially in relation to their erotic pieces.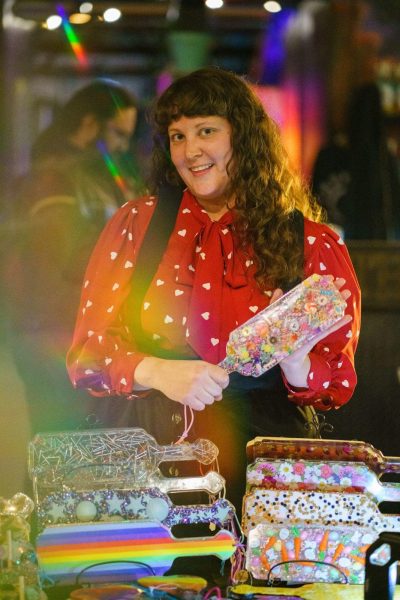 "At first glance, it's erotic, but then also goes beyond that," they said. "One thing that I have found with a lot of fat art is that a lot of it is very sexualized. I follow a lot of fat artists and a lot of the work tends to be very sexual, which I understand is this idea that fat bodies are beautiful, fat bodies are sexual and that's great. I'm not downplaying that or anything, but sometimes I feel like it's like fat people get boiled down to just being sexual, not seeing beyond carnal desire."

For Dviation, humor was an essential part of depicting sex. Dviation's illustrations center on telling stories, and in his erotic art, humor adds an extra dimension. Originally Dviation wrote stories, but after entering college as a person who grew up speaking Gullah Geechee, an English-based creole language and African American Vernacular English, Dviation began to feel self-conscious of their writing.
"That actually made me really kind of shy about my writing, because I miss a lot of prepositions, and I dropped subjects and just very things that are common in AAVE that now I respect and accept, but most of my life I've been told that that is bad, you can't write that way," Dviation said.
In his visual erotic storytelling, Dviation takes control of their own narrative, subverting depictions of queerness that he had been disheartened to see in the past.
"Almost every single queer couple I saw as a young person, somebody had to die. And it was like, can we just live and have kinky sex and drop our dildos on the floor and have to pick them up and rub the cat fur off? Like, please, can we just be normal? Like let us write it just here. Give it to me. Let me write it," Dviation said.
Tucson Erotica Art Show runs from 1 to 6 p.m. Fridays through Sundays through April 1. For more information, visit tucsonerotica.com.