By Bree Brettell/El Inde
"This is my best friend, Dusty. He sniffs, 'hello,'" says a young man as he gestures toward a golden Palomino horse. The broad horse marches slowly toward the edge of his pen to sniff an outreached hand.
Standing a few feet away and smiling fondly is Scott Tilley. He is tall, adorned in a bright blue button-down, jeans held up by a belt with a large, silver buckle, and, of course, a beige cowboy hat. He is the co-founder and executive director of Therapeutic Ranch for Animals and Kids (TRAK) in Tucson, Arizona.
"When he came to us, he was going to be institutionalized," Scott says of the young man (we'll call him "Michael"), who has autism. "Now the only institution he'll be going to is college. He's going to Pima Community College."
TRAK offers a range of services: equine therapy, birthday parties, riding lessons, school visits, and more. The organization now sees 3,000 visitors annually.
Stepping through TRAK's large gate, just north of downtown Tucson, one feels transported to a rural ranch, frozen in a time before cars were honking and cell phones were ringing. Horses saunter over to the edge of their pens and a little dachshund or two come running all the way from the main office to jump at your knees.
The sun is warm and the smell of dirt fills the air. The ranch feels separate from the hustle and bustle of the city. Pinned to walls, horse pens, and wooden posts are bright yellow signs reading, "NO PHONE ZONE." For the duration of their visit, guests and patients are asked to unplug.
"The connection that you're going to make around the ranch is much better than any Wi-Fi connection you'll ever find in your phone," Scott remarks.
His words ring true as teenagers walk around carrying buckets and brushes, performing their chores with little to no instruction. They appear to be almost entirely self-motivated to care for the animals.
For some of these children, like Michael, coming to TRAK represents a change in their trajectory in life. Scott says that many of the kids he has taught or treated grow up to teach their own lessons at the ranch.
Equine therapy is growing in popularity as it helps people with a variety of special needs and mental health issues. With Scott's extensive knowledge of horses and ranching and his wife Jill Pricket-Tilley's background in special education and rehabilitation, TRAK was created in 2007.
Jill brought the idea of creating a therapy ranch to her husband one day when he was boarding her horse. Together, they poured their life's savings into creating TRAK. She previously held the title of executive director, but is now TRAK's treasurer and the operations supervisor at Intermountain Health Center, an agency that offers behavioral, psychological, and speech therapy. Scott calls the therapy work at the ranch Jill's "brainchild."
TRAK opened its doors during the Great Recession. Financial advisors warned the couple that opening a non-profit at the time was a risk. At the time, they essentially had a few horses and two of each of the classic farm animals: sheep, goats, rabbits, chickens, ducks, and pigs.
At TRAK, equine therapy is targeted toward children with developmental disabilities like autism, but people come to cope with all kinds of trauma. They offer a form of therapy called Eagala where people can participate as a family, group, or individual with a licensed Equine Specialist, a Medical Health Professional, and one or more horses. Patients are guided by the horses and professionals to become more self-aware and increase their confidence. The patients each participate in creating their own treatment plans.
As an Equine Specialist, Scott has witnessed emotional moments in group therapy. He recalls a session that included a recently rescued mare. Scott had purchased her before she went to auction from a university where she was regularly impregnated for medical use.
The horse had remained pretty antisocial and fearful of men in particular. She would run away from anyone in a cowboy hat. During a session Scott led years ago, the mare approached a woman in the group therapy and rested her head on her shoulder. After the group left, the woman privately revealed that she had suffered a somewhat similar traumatic experience to that of the horse.
"I think the horses have a way of seeing right into your soul," Scott says. To this day, he sometimes sees the woman feeding his horses carrots from the side of the road.
There are 80 different animals at TRAK, all meant to be treated with just as much respect as the patients. The farm receives loads of fruits and vegetables from Whole Foods that can no longer be sold to the public, but make great meals for the animals. During the summer, they are treated to misters and bags of ice poured into their water. The horses alternate spending hours in the pasture and being groomed in their pens. Cats and dogs roam free, napping in the sun or chasing after passersby.
"I kind of call it, like, a country club for animals. They're just they're very well cared for, you know, they get the best of everything," says Scott. TRAK partners with multiple Vet Tech programs through the University of Arizona, Pima Community College, and others, so their animals receive all the medical help they could require.
Most horses live to about 25 years old, but TRAK is home to three horses that have surpassed age 30 and five to six more that are in their mid-20s. They are kept in the program despite their age, and Scott believes the various activities are part of what keeps them going. He explains that often when horses become old, they are left out to pasture and are not required by their owners to move around much. Participating in therapy sessions and birthday parties keeps the horses socialized and entertained despite their age.
Happy horses are useful in therapy because, in many ways, they are similar to humans. They are wary at first but can become very affectionate once they make a connection. As Scott puts it, old horses are like older people: They need more medications, attention, and careful exercise.
All of the employees at TRAK get to know the animals they work with. Tori Moreno, the Assistant Programs Manager and Volunteer Coordinator, brings a few animals at a time for off-site events. Each animal has their time limit for socializing; she knows which goat gets grumpy after two hours of being at a petting zoo, so she pulls him to privacy when the two hours are up.
Of course, when working with children and animals, everything doesn't always run smoothly.
In the small office building that looks more like a house from the outside, a young man abruptly opens the door and tells Scott, "Um, your bunnies are fighting."
Hardly reacting, Scott tells the man to open the office door and let the women with administrative roles in there know. He does as he's told and Tori emerges. A few minutes later, she returns cradling a beefy, black bunny.
"He's in time-out," she says, shutting the door seamlessly.
Although the bunnies were scraped up in their short-lived battle, everyone remained completely calm. None of the children reacted; it was as if they had been taught to recognize the problem, find an immediate solution, and stay calm throughout the crisis.
However, the employees have limited training on how to handle such situations–they just know to expect issues to arise every now and then, and take care of what they can. Their biggest focus is to keep the children calm during emergencies.
The connection between animals and people is what allows TRAK to flourish. It is what Scott refers to as "TRAK Magic," and witnessing it is what inspires him to come to work as the sun rises each morning.
He sees it with Michael and the woman who opened up after a horse approached her. When describing their stories, he is brought to tears. In creating TRAK, the Tilleys have created a community that many children do not have the privilege of experiencing.
"We mix kids with special needs, with kids that don't have special needs. So at a young age, they learn to have compassion," Scott says.
Scott began working around a ranch and bonding with horses at a young age. By the time he was twelve, he could drive a tractor. Over time, he has become a jack of all trades working on the ranch and as the organization's executive director. At TRAK, kids also have the opportunity to learn life skills as they care for the animals.
Over the summer, TRAK hosts camps and riding lessons for kids. By the end of the season the children visit hospitals or assisted living facilities, introducing some of the animals that they have connected with most. Just being around other kids and animals for a few weeks can change these kids.
When Tori does school visits with the animals, she sees the same set of children once a week over the course of a couple of months. They get to interact with bunnies, chickens, goats, and even horses – some of them for the first time.
"Overall I see a growth in confidence in almost everybody that spends time here,'" Tori tells of her experiences at camp.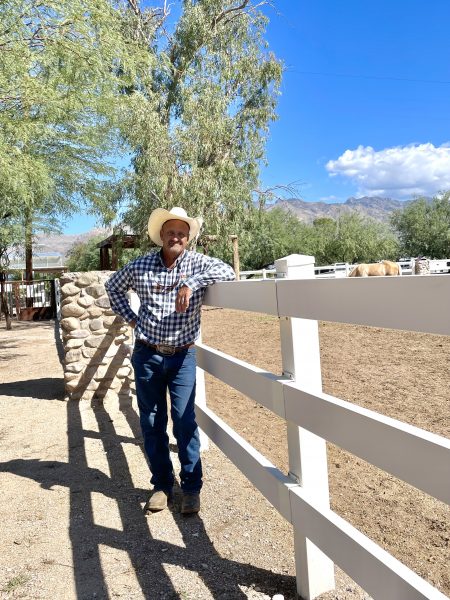 While Scott has many goals for his organization, his priority is spreading kindness. He hopes that by instilling compassion in these young children, they will carry it into their adult lives.
"On our website, we have a mission statement and it's, you know, connecting animals and kids through interaction… But at this point, I feel like even if it's almost cliche, it can also be true. So I feel like we do connect animals and kids and everybody, even not just kids," says Tori.
Scott makes an effort to help "not just kids." He asks parents of kids with special needs what they, as parents, need help with and what their goals are for their child. He has found that parents often come to him to list all of the things their children cannot do, but he asks what they can do. The whole family can then be involved in therapy sessions.
Scott recalls a young boy that came to the ranch for therapy. He was afraid to get on a horse, so Scott asked the boy's father to lift him onto the saddle. Still, the boy was too nervous about moving on the horse until his dad took the lead and guided the pair in small circles. Eventually the mom, watching from the edge of the pen, asked if she could take a turn. Being able to interact with the horse brought smiles to the whole family and, of course, to Scott.