By Gloria Gomez/UA Don Bolles Fellow/AZ Mirror
PHOENIX — Valley residents spend an average of 62 hours a year staring at license plates while stuck in traffic. But specialty license plates are more than just decoration: They're an active cash flow to nonprofit organizations that have raised over $8 million in the current fiscal year, which began in July 2021.
Currently, the Arizona Department of Transportation offers as many as 80 specialty license plate options. Each costs around $25 a year, and $17 of that goes directly to the associated nonprofit. More than half a million drivers across the state have decked out their cars, giving everyone else on the road some insight into the things they hold dear and the causes they care about — from veterans' welfare to spaying and neutering pets.
More than half a million veterans call Arizona their home, and polls show that as much as 64% of Americans look up to them. It's no surprise then that veterans specialty plates consistently place at the top of the roster in plate popularity. From July 2021 through the end of March, more than 90,000 Arizonans bought a veteran's specialty plate.
There are seven options for veteran plates, and altogether they've garnered more than a million dollars in revenue every year since at least 2014. This year, they've raised nearly $1.5 million — and counting. Funds from these purchases go to the Arizona Department of Veterans' Services, which helps veterans navigate government services to access pensions, grants, and medical and educational benefits.
Arizonans are also passionate about expressing support for first responders and the Arizona Cardinals, both of which clock in slightly behind the veterans plates. Revenue from the first responder specialty plate, the second-most popular plate since 2018, goes to the 100 Club of Arizona, which gives financial assistance to families of first responders who are injured or killed in the line of duty. The pro football plates raise money for Cardinals Charities, which awards annual grants to nonprofit organizations across the state.
Other specialty plates, however, don't have many takers. The Legion of Valor plate gives money to the Highway User Revenue Fund, which distributes money for highway improvement projects, is the least popular: It has enticed only nine drivers this year, earning just $153 dollars.
The University of Phoenix, home ownership, road safety and the National Guard themed plates have all vied for the next two spots at the bottom of the list since 2018. In the 2021 fiscal year, 154 National Guard plates were sold, raising $2,647 — the highest performance out of the three least-popular specialty plates in the last five years.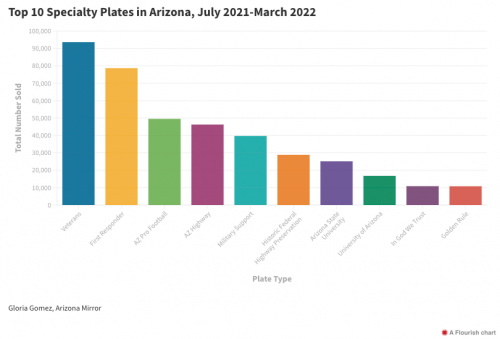 And while Arizona drivers have more than 80 options for specialty plates, that apparently isn't enough: Legislators this year introduced more than a dozen proposals for new specialty plates. One sought to start a fund to support Diné College, and another brought together supporters of beekeepers.
Although the prospect that Arizona will soon have 100 specialty license plates sounds like a lot, it pales in comparison to Maryland, which juggles more than 700 options. Once a new license plate is approved, its associated organization must pay $32,000 to cover the programming and production costs for the Motor Vehicle Division, after which the plate is designed.
Since 2018, specialty plate purchases have hovered around half a million every year, though last year the plates saw a spike in popularity, reaching more than 600,000. Because the fiscal year has another month before it ends, this year's performance may well continue to buck the trend — depending on how many drivers want to put their hearts on their license plates.
Gloria Gomez, a senior at the University of Arizona, is the 2022 UA School of Journalism's Don Bolles Fellow working with editors from the Arizona Mirror. Gomez has interned at the Arizona Daily Star and worked at the Arizona Daily Wildcat. She is a dual major in journalism and political science, with a Spanish minor. She's a member of the Investigative Reporters and Editors and National Association of Hispanic Journalists. The UA School of Journalism started the fellowship in 1977 to honor Don Bolles, an Arizona Republic reporter killed in a 1976 car bombing.