Samantha Larned, El Inde Arizona
Mental health personnel are in high demand across various fields in Arizona, and with a new district court order for state prisons to increase mental health staffing, the Department of Corrections appears to be in dire need.
According to the U.S. Bureau of Labor Statistics, the demand for mental and behavioral health counselors is expected to jump 22% through 2031.
The bureau projects an average of 43,600 openings for these counselors over the next decade.
The Jan. 9 remedial order from U.S. District Judge Roslyn O. Silver came after her 2022 ruling that found the Arizona Department of Corrections, Rehabilitation & Reentry was violating the constitutional rights of Arizona inmates.
According to Dr. Pablo Stewart's testimony, within Arizona state prisons most mental health care is provided by unlicensed associates, technicians and corrections officers.
Healthcare consultant Robert Joy's expert witness report on staffing, also presented in the trial, conferred this.
According to Joy, the state has about 25 advanced practice providers and six physician psychiatrists acting as mental health providers in the rehab and reentry department.
Corene Kendrick, deputy director of the American Civil Liberties Union's National Prison Project, said this means that only those six physicians have medical degrees, but all are acting as staff psychiatrists.
These personnel are serving across nine state prisons, which house about 24,000 people total as of Jan. 31.
In her court ruling, Silver wrote that staffing level and type does not meet constitutional requirements, creating "substantial risk" for the inmates.
With Judge Silver's ruling, Arizona state prisons will need to increase medical and mental health personnel to the minimum adequate requirements within three months.
Based on current staffing levels, the state has quite a way to go to meet Silver's order.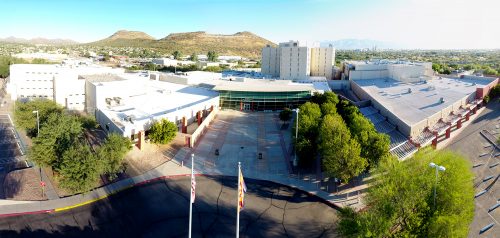 Joy's report shows that as of September 2021, the Department of Corrections had 27 hired and 29 contracted behavioral health technicians; the estimated need is 417. The state had 75 hired and 100 contracted mental health clinicians, but needs 358.
Staff psychiatrists were closest to the modeled output: the department had 31, versus the recommended 38. However, only six of those have medical degrees.
The order applies to Arizona's state prisons, but Kendrick said Arizona's six private prisons are not affected by the order.
Mental health care for Arizona's incarcerated population is also a focus of Gov. Katie Hobbs, who announced in late January the formation of an independent commission to review operations of the state prison system, including security, staffing and medical and mental health care.
Hobbs said in a news conference that there has been a lack of transparency and urgency in dealing with corrections issues.
The 12-commissioner panel is due to return a preliminary report Nov. 15.
Other efforts to incorporate mental health practices in law enforcement and corrections can be found across the justice system, including the Tucson Police Department's Mental Health Support Team.
TPD Detective Kevin Thé, who works with the Mental Health Support team, said that the unit is comprised of five officers, two detectives and one sergeant.
Thé said that the officers largely serve mental health orders, while the detectives do follow-ups, fulfill requests from the community and other areas of the department to identify whether someone is in treatment or needs to be. He said the goal is to connect people in crisis with mental health resources and services.
Personally, Thé said that he would like to see the team grow in numbers, but with staffing in the department where it is, "at this point, I think we're just hoping not to shrink."
When selecting members for the unit, Thé said they look for officers and detectives who have gone through training and certifications that will benefit them in this work.
For a number of years, TPD had a co-responders program with AZ Complete Health where mental health clinicians were embedded in the team and went out with the officers and detectives to serve orders and conduct follow-ups. But Thé said they were pulled from the unit in spring 2020.
"We haven't given up hope they'll be back in some way shape or form and that will be really helpful," Thé said, adding that the department explored hiring its own behavioral health experts, but there has not been any action as of yet.
The Pima County Sheriff's Department's Mental Health Support Team operates similarly and performs routine follow-ups months and even years after the initial encounter, according to Sheriff Chris Nanos.
Nanos said that the Sheriff's Department does not use co-responders.
"If you read the data, it says that when cops show up to someone in crisis, that individual stands 16-times greater chance of death," Nanos said.
The sheriff said he is more interested in the model like that of CAHOOTS in Eugene, Oregon, in which mental health personnel take crisis calls and respond themselves.
As for Arizona's jails, Nanos said that all of Pima County Jail's healthcare staffing is provided by NaphCare through a contract handled by the Pima County Health Department.
Nanos is currently investigating 35 inmates with court-ordered return to competency who have been waiting for months for their initial hearings. Many of these individuals have non-violent charges and have been in holding awaiting screenings for longer than their potential maximum sentence.
He said that these evaluations can and should be conducted outside of the county jail.
"We're turning our jails into asylums. And I can't even say it's the courts' fault," Nanos said. "It is society saying 'What do we do with these people? Where are we going to put them?' I have a crisis response center here designed for those who are mentally challenged in any capacity. And they have a mental health court."
Nanos said he believes that jails are not the place for people with mental illnesses.
"You're sick, you belong in a hospital," he said.
As far as recruiting more mental health staff in Arizona corrections, there appear to be no programs at the state's four major universities: University of Arizona, Northern Arizona University, Arizona State University or Grand Canyon University to get students involved.
Denise Krupp is the lead instructor in GCU's counseling program and although the private Christian university does not have programs for students to work within jails and prisons, she has given her students the opportunity to volunteer with Alongside Ministries, which helps formerly incarcerated individuals leaving the system to transition back into the community.
Krupp said "there's a huge deficit" for mental health counselors.
"I don't see it happening in my lifetime that somebody as a counselor is not going to have a job," she said.
El Inde Arizona is a news service of the University of Arizona School of Journalism.