Listen to the audio story
By Adrian Ford/El Inde
When it comes to entertainment in Tucson, people may think there aren't many options. But, nestled into a shopping center on Broadway Blvd. and Kolb Rd., there's the Gaslight Theatre. It's been a staple of Tucson entertainment for over 40 years, but many may not know the history of how Gaslight came to be — born out of a lack of entertainment, in Skagway, Alaska.
When Tony Terry, the owner and founder of Gaslight, was a young man working through college at the University of Arizona, he was offered a summer job as a tour bus driver in Skagway. The town was a lot like Old Tucson except that it was "the real deal" according to Terry, filled with original Gold Rush-era buildings. But there was one problem.
"I noticed that there was no entertainment for these tourists that were coming into Skagway," Terry said. Local TV went off the air at 6 p.m. every night. This gave Terry the idea to start a melodrama theatre in town.
After borrowing money from his family, he started the Mighty Mouse Melodrama in Skagway. Terry, the production team, and the actors would rehearse their shows in Tucson and head to Skagway to perform the shows in a big-top tent that Terry rented. Making the drive and performing the shows in Skagway were some of the best years of his life. But, after making the journey for a few years he wanted a change of pace — to be able to stay in Tucson. 
And that's exactly what he did. The original location was a small building in Trail Dust Town, which sat around 50 people. Terry remembered having to go to the nearby steakhouse and beg people to come watch the shows during the first few years. But, he stuck with it and now the Gaslight Theatre is one of the longest successfully operated "for-profit" theaters in the country.
The Gaslight eventually outgrew their old location at Trail Dust Town. Now it is located at 7010 E. Broadway Blvd., inside a two-story theatre that seats over 200 people. Attached to the building are two food venues that Terry opened, Little Anthony's Diner and Grandma Tony's Pizza.
Heather Stricker, an actress and general manager at the theatre, says the reason for their success is simple. "It's because of Tony, everything he's done, all the steps he's made … Obviously, he has a ton of people who help him. But it's his leadership, his guidance, and ultimately his decisions on everything," Stricker said.
The success of Gaslight would seem unlikely. "For-profit" theaters are part of a shrinking business model, one that Terry calls "almost non-existent." However, the employees of Gaslight say that after over 40 years of operating in Tucson, a shrinking field isn't a problem.
Actor Mike Yarema was very blunt when asked if he thought Gaslight would eventually close. "It doesn't seem like it on our end, you know," Yarema said. "We sell-out shows six days a week." According to Yarema, the success of Gaslight is all thanks to the audience they've been able to build over the decades.
"I think there's such a need for wholesome, family-friendly, affordable entertainment in this town, that I can't possibly see us going anywhere," added Stricker.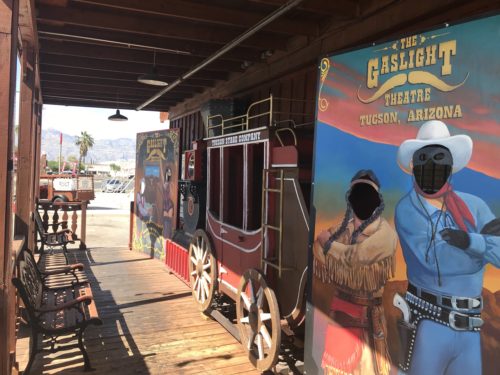 Yet there is one thing that the Gaslight wasn't able to escape: the coronavirus. Due to the pandemic, the theater had to shut its doors at the end of March. Gaslight moved their ticket sales online for future shows, and the diner and pizza kitchen remain open for take-out. "We're hanging in there," Stricker said. "Tony was prepared and the diner and Grandma Tony's is still delivering food, so that helps us as well."
On top of making sure that the theater is ready to go when the pandemic is over, Gaslight is doing its part to help the community during these hard times. The costume designers are helping hospitals and the community as a whole by making clothes masks for people, donating them to hospitals and first responders as well as selling them for around $10 to the general public.
Giving back to the local community and making sure his employees can still keep working is all part of Terry's model. "I like people to follow their dreams," he said. "You know how it is in life: if you got people doing things that they don't want to do, it's just never going to be successful. I want them to be able to say I love going to work every day."