By Lexi Horsey / El Inde
Mike Christy keeps his office full of his photography and collegiate sports memorabilia. Posters from marketing shoots, official team photos, official schedules, and of course loads of expensive photography equipment. My personal favorite is the baseball marketing shoot from last year. It transports the viewer into the past with vintage uniforms, cleats, and equipment that hasn't seen the light of day in years. There are even signed baseballs from our Arizona Alumni who have gone to the Major League Baseball. If you look closely, you'll notice bobbleheads with past and current players' faces plastered on them.
Christy is around 5'7″, with brown hair, and a full and symmetrical beard. With a personality that is outgoing and automatically makes you feel comfortable. He is also extremely talented with a camera. When I asked Simon Asher, a part-time photographer for Arizona Athletics to describe Christy, he said, "Mike's a talented photographer and a genuine and cool dude. Lots of care goes into his work and his interactions, I doubt he has a bad bone in his body." 
I'm sitting on the couch next to his desk scanning the walls that are covered in his work. I'm admiring everything he's accomplished over the years and his creativity. Most of the posters for each time are just a team group photo but with different teams, but the baseball marketing one is different on so many levels. This one focuses on the jerseys, baseball hats and gloves, and framed photographs from former players. You have to examine the poster to see how the team is involved and how much work went into it. It's genius.
A lot has happened since that baseball marketing photoshoot. Not only has the world changed, but Christy has too. He's learned a lot about himself, his job, and his art since the first case of coronavirus hit the United States last January.
Christy is a Tucson native and grew up in Vail. He is the youngest of three children and describes himself as the favorite child. "When I came along, it wasn't planned, I wouldn't say I was an accident. My mom called it more of a blessing. My sister says I'm the chosen one of the family since I'm the youngest boy, so you could say I was spoiled," Christy says.
He went to Cienega High School where he found an interest in theater and drama. His love for photography hadn't developed yet, but it would soon. He participated in theater for all four years of high school. "It's where I met some of my best friends like the people I still talk to today. It left me with some great memories," Christy states.
He spent most of his time after school participating in rehearsals and with the people he met for the majority of his senior year. When his mom realized how much time he was spending there, she went out and bought him a Kodak Easyshare digital camera. She wanted him to document his last high school memories, and that's exactly what he did.
He would try his best to get interesting shots, like over the shoulder from the point of view of the director and candid photographs of his friends acting. He tried doing wide angle shots where the whole stage was in the photo as well as close up of the actors. It was a fun and artsy thing that he did in his spare time and he started to love it.
"I would have liked to pursue theater, but I didn't want to be a starving actor in California. So, I thought I would be a starving photographer and go that route," Christy says. 
When he came to the University of Arizona, he was undecided until his sophomore year when he had to make a decision. When it came time, he submitted a portfolio to the School of Art.
Unfortunately, he was rejected. "Looking back at the photographs I submitted years later, I understand why they said no. They had a right to say no, they weren't that great," Christy admits. His photos didn't fit the criteria for the school of art so he took it as motivation and tried to continue taking photographs on the side. 
Theater, drama, and photography weren't panning out, so he decided to keep doing photography on the side and pursue business. He thought it would be a good idea to understand the business side just in case he wanted to freelance or be an independent contractor.
One day, he came across the Daily Wildcat student paper and saw that they were hiring photographers at $15 for each assignment. He applied, got hired, and started doing assignments for the paper. One of his favorite memories was from a day trip to Tombstone when he shot his first photojournalism assignment. Soon after that, he switched his major to journalism.
After that semester ended, the paper needed to fill the photo editor position, and Christy took it. He knew only a little bit about photography at the time but ended up learning way more than he thought.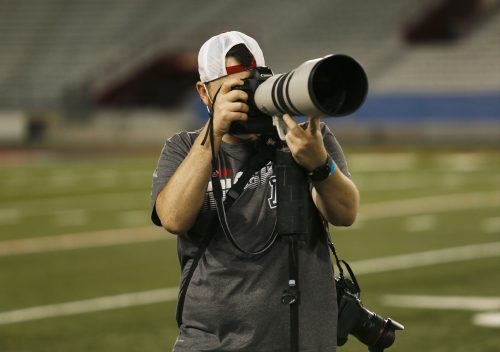 He got his first taste of sports photography as an editor. He fell in love with the feeling of being in the middle of a roaring arena or stadium. Being in a crowded area full of screaming fans and college athletes made his heart beat out of his chest, in the best way possible.
As the semesters passed, he built his portfolio and learned the ropes. In his senior year of college, he did an apprenticeship with the Arizona Daily Star.
One of his favorite memories was covering the Rodeo with photographer James Greg. He learned a lot from the photographers. They taught him what kind of scenes to look for to get that shot that tells a story. They taught him what's important to photograph. He had the opportunity to shoot the Gem Show as well. His goal was to lay the groundwork for establishing a trusting relationship with the photo editor, which paid off in the end.
After he graduated, he did an internship in Colorado Springs and then freelanced for the Star. When Christy came across the Star's Facebook page, people were saying their goodbyes to one of the photographers. Christy saw the opportunity and called the photo editor Rick Wiley right away.
After a few meetings, Christy was hired in September of 2012. He did some photojournalism work and took photos of the National Collegiate Athletic Association. He even traveled to tournaments on the company's dime.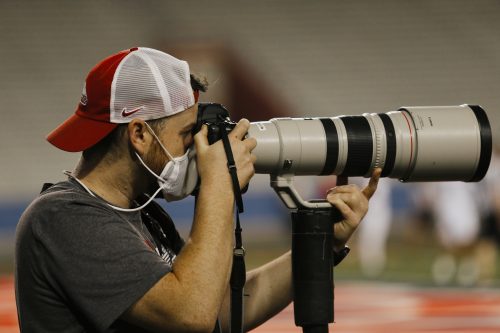 Photojournalism holds a special place in his heart because he loved the connections he made with people. "I'd get to see the inside of other people's lives that are greater or far worse than mine. I would get to see people in triumph and people in dire brokenness. I'm grateful for being able to help people who needed a story shared," Christy states.
He worked for the Star for about seven years–in that time, he made lasting relationships and created an amazing portfolio that included photographs from Arizona sports, Comic-Con, local news, landscapes, and graduations. His portfolio became very versatile, and his photography improved drastically.
He decided it was time for a change and applied to be the photography coordinator at the University of Arizona — he received the job. 
Christy experienced about six months as photography coordinator until the coronavirus pandemic started and the world shut down. He enjoyed meeting all the players and coordinating photoshoots and games.
In March of 2020, Christy was in Las Vegas for the men's basketball Pac-12 tournament. Reports of the virus were making its way into headlines, but no one was prepared for the world to shut down.
He was talking with some other photographers from Utah. There were two people, a man, and a woman. When he introduced himself, he shook the man's hand and went in to shake the woman's hand and she retracted her hand quickly.
Christy said, "What's going on here?" The man replied, "Oh, she's scared about the coronavirus." They both laughed thinking that it wasn't going to impact them. 
A few hours later, the NBA game got canceled due to a positive test result. Early the next morning, the Pac-12 tournament was completely shut down.
"It just felt so surreal. I don't think anybody knew unless you're an infectious disease expert, really knew the length of how long this would go. Most of our staff thought we would be back around June or the summertime," Christy states.
Everything came to a screeching halt, but Christy wanted to remain productive because he saw it as a slight delay. Little did he know that this was going to drastically change normal operations.
Once they got permission to return back to campus, it was in small groups at a time. Even then, they were only allowed to photograph outside practices.
This change of gears gave him a chance to connect with teams that he hadn't had the opportunity to, including track and field, swimming, and diving. In the past, some programs did not receive as much promotion as other programs. So, Christy saw this as an opportunity to connect with those teams.
Teams like track and field or swimming and diving do not bring in as much revenue as football or basketball, so they don't receive as much as attention. Photographers are always present at football practices–but only show up to track meets or swimming events.
At 5:30 in the morning, Christy would be ready to head to the practices. One of the track and field athletes said to Christy, "I don't think anybody has ever come out to something that wasn't a meet day to shoot any of this."
Christy then realized that it felt good to be visible to the teams. They aren't just a group of photographers that shoot a game and then disappear. They are an essential part of Arizona Athletics as well.
After that, athletes started reaching out to Christy via social media and would ask him to photograph practices. The pandemic created a relationship with teams that he didn't have before.
"It's been great to be intentional with some of the teams from the big revenue marketing teams to the smaller Olympic sports which are amazing," Christy states.
While the new connections were good, there have been setbacks in his ability to be creative and in other, technical aspects of photography. The pandemic has caused new restrictions and guidelines that photographers have to follow. Christy's main focus was his safety, and that of his co-workers, and the athletes.
Mike Mattina, a part-time photographer for Arizona Athletics, explained how Christy has kept them all safe.
"Mike has handled the changes every well, in my opinion. He did everything in his power to keep us protected from Covid as we did the marketing photos and photographed games for all sports," Mattina states.
Christy has made sure that each member of the staff receives the proper personal protective equipment needed to keep them and others safe.
These new restrictions have put a damper on creativity. He described an old photographer proverb that states that if you want your photographs to get better, you have to get closer. That can't happen right now.
At first, being locked in the seats during a basketball game was new and exciting. Christy was able to get photographs from different angles that he wasn't used to. Now, it's been too long and it's hard to tell the story from so far away.
"When you're closer and down low, it draws the viewer into the picture because the emotion is that much closer to the action. It helps tell the story of each athlete," Christy says. 
He constantly thinks, "What can I do differently?" He has gone up into the rafters, like directly over the court with remote cameras to try a different angle. It's helped but hasn't created anything too special. Unfortunately, every sport is limited to the stands.
"I'm grateful on one hand to be able to do what I love, but it puts a strain on your creativity. It can become mundane, and everyone's photographs are starting to look the same. Your pictures come out differently out of pure luck," Christy states.
If you're in the right spot where you can see the face and the action, you got the shot. Most of the time, that's not the case.
Christy has made sure to communicate well with the other photographers on staff to help them branch out and find some creativity in this mess.
"As photographers, it's frustrating to be told where we can and can't go for sporting events, but Christy communicates that well and has been encouraging about what sorts of pictures we can create even with the added challenges," Asher states.
Throughout the pandemic, Christy has learned to adapt, but also has learned more about himself.
"I think I've learned more about the balance of work, life, rest, and the power of saying no. I've learned more about that than anything technical with the camera or my style. There's a power in saying no, but it's more the importance of saying rather than just the power in it. Learning about anxiety and depression and understanding those things have been huge for me," Christy states.
The past year has helped him understand and navigate mental health issues. He's learned that they are prevalent in his life and has found ways to cope. He's focused on separating his work and family life. He has been spending more time with his family, friends, and significant other.
The pandemic has also taught him how to navigate the 15 different organizations in the athletics department. "Sports have their political hierarchy and I'm fascinated about the ways people interact with each other and the social aspect behind it," Christy states.
The pandemic made his interest in the central administration hierarchy grow. He now wants to apply for an MBA to study organizational leadership.
"All of this has revealed to me how some of these structures succeed, and how many aspects of organizations leave something to be desired. That could be in the way of management, organization, interpersonally, etc. I realize I have tons of room to grow in managing and organizing. I want to pursue the MBA to help sustain me for the long haul inside a large organization and not fall victim to burnout/frustration at-times, stressful work environment," Christy states.
Christy has considered a lot and overall changed as a person like most of us have since last March. He's learned more about his mental health and has created more long-lasting relationships with new athletes and teams. I believe that he has become a more well-rounded photographer as well. He learned to adapt to new changes and circumstances and thrive in them.
Recently when he was photographing a men's basketball game, he held a lens that looked like it weighed about twenty pounds. You could hear the shutter go off and it sounded like he just took about a hundred photos with the press of a button.
This pandemic has taught Christy more about himself than he ever knew before. He's someone who will embrace new challenges, not run away from them.