By Izzy Hill / El Inde
Olivia Lai grabs a bold, fine-tipped black pen and begins to map out her next custom design. She is sitting in her green and white apartment overlooking the University of Arizona campus; she has a perfect view of the Harville building and one of the main university paths. Her next class starts in 25 minutes but that doesn't stop her from opening up her stencils and grabbing a clean canvas tote from her closet so she can begin to brainstorm her next creation.  
Her customer asked for a simplistic design of the solar system. Lai begins carefully measuring and sketching her first draft of the design on a scratch of paper. She sketches it not once, not twice, but three times to ensure it is perfect and there are no mistakes. Her planets are rounded with small detailed stars around the sides. They are done in blue and green pens, creating a bold outline. Once she is satisfied, she then stencils the design on the front of the beige bag while adding extra iron-on patches on the back. Lai takes a photo of the bag, sends it to the customer for approval, and sends her custom masterpiece to its new home. 
Lai began her brand, Virgo Spirit, at the young age of 21. Starting a company is a burdensome responsibility for any college student, especially a senior who's about to graduate. Attending long fashion and marketing courses — while still being involved in sorority life, keeping up with friends, and managing custom hand-drawn bags, not only online but also in boutiques — can be overwhelming for anyone. But not for Olivia Lai. She is an extremely hard worker who prides herself on time management, who enjoys the chaos and extra work she is faced with.
Lai's typical day starts at 9 a.m, when she makes her favorite Nespresso coffee and listens to her favorite podcast, "The Daily Shine." She then checks her homework portal to see if she has any assignments or important papers due. She checks her personal and business Instagram accounts and emails. Making a note of any orders she receives, Lai logs onto her virtual Zoom classes and begins taking notes. After finishing class around two in the afternoon, she begins creating her custom orders and when those are done, she joins Delta Gamma's weekly chapter meeting. Lai ends her day with emails, finishing touch up on her designs, having dinner and watching a movie.
"Joining Delta Gamma my sophomore year meant so much to me and it would be very hard to leave. Delta Gamma is a huge priority in my life and it helped me meet so many of my close friends. I feel that it has really helped enhance my college experience and has gotten me out of my shell," Lai expressed. Lai attends social events with her friends and also volunteers for her sorority's philanthropy, The School of The Blind. Delta Gamma gave Lai the support she needed to start her own brand and the courage to start something on her own. 
Virgo Spirits was founded a little more than a year ago, during the start of quarantine. The clever name stemmed from Lai being a Virgo and believing that she embodies everything the sign stands for: logic, practicality and creativity.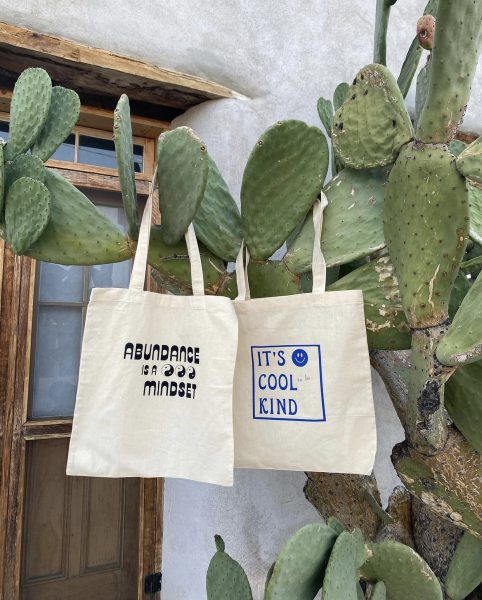 She enjoys including mantras on her bags like, "Save the earth, raise a hippie" and "Abundance is a mindset." She wants to spread the message of saving the earth and the importance of mental health on all of her bags. Her designs consist of bright colors like royal blue, neon pink, safety orange and Irish green with simplistic designs she creates herself by hand. Her modern bags are created for everyday use, which is why she sticks with simplistic, beautiful designs. Virgo Spirit began as a hobby where Lai can truly express herself, having always loved fashion and had a passion for design. 
"It was actually over quarantine that I started Virgo Spirit! Like so many people during the pandemic, I was bored and searching for new hobbies," said Lai. "My mom has two sewing machines, and it's always been a goal of mine to learn how to sew. I started with some simple construction and slowly started making canvas-style tote bags. After sewing a couple practice tote bags (made out of recycled muslin cotton) I thought to myself, people actually may want to buy these!" Lai explained. 
Her need for a creative outlet helped her deal with the everyday stress of college.
"We are so proud of her. She has always had a passion for fashion and drawing and Virgo Spirit embodies both. We can't wait to see how far she goes and what else she creates," Lai's mom, Kristi, said.
According to Kristi, Lai has always had a passion for drawing and creating art. She also has a strong entrepreneurial drive, which is why you can find Virgo Spirit handcrafted bags inside Swindlers, a popular University of Arizona boutique located on the mall. Lai used to work at Swindlers in high school while she attended Catalina Foothills High School, and that is where she found her love for trendy fashion. After she created Virgo Spirit she used her connections at Swindlers to sell her bags wholesale. 
When you walk into Swindlers you notice the bright colors and unique pieces that cover the store. There are college girls shopping during their free periods, trying to find a new upcoming trendy piece. Right by the accessory stand, there are beautiful hand drawn Virgo Spirit bags that consist of different zodiac designs and constellations. 
While Virgo Spirit is an extremely time-consuming job, Lai is also in the midst of creating another company called Soul Scope. The mantra for Soul Scope is "Find what feeds your soul" and it was created by Lai and two of her friends. Lai has not released any information on her social media platform of what Soul Scope is or its purpose because she wishes to "tease" her audience — a strategy Lai has learned by running her own business. 
"I am so excited to release Soul Scope. All I can really say right now is that it will be an app and that it'll help inspire people and feed their soul with inspirational tips and tricks to maintain a healthy mental state. There will also be a lot more features added to the app which is what we are working on right now," Lai said.
Lai is hoping Soul Scope and Virgo Spirit will both become full-time jobs by the time she graduates. Part of her dream, is that then she will be able to move into an apartment with her friends and continue to build both of her businesses.