Samantha Larned, El Inde Arizona
Between cheering crowds, exacting critics, physical exertion, student life, staff support and the roles they play on campus, arts and athletics are intertwined at the University of Arizona.
"One of the commonalities that I think you would find between arts and athletics, especially on a campus like ours, is that they really are two ways in which many, many people engage with the community," said Andrew Schulz, dean of the UA College of Fine Arts and vice president for the arts. "Lots of people who have nothing else to do with the university come to campus or otherwise engage through attending sports events or arts events."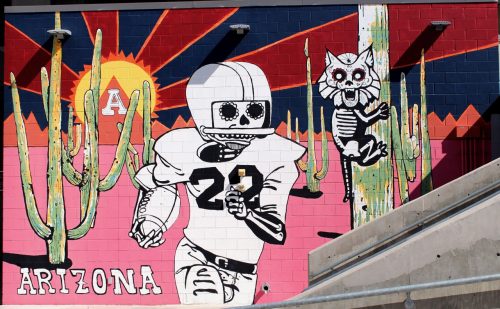 The pandemic highlighted the value of the arts and the lessons they can teach, something the department has carried with it since campus reopened in spring 2021.
Installations such as the swings by the main library in 2021 and the teeter-totters in 2022 were created by Arizona Arts with the intention of serving as an entrance point and "creating an arts experience in a place where it wouldn't necessarily be expected," Schulz said.
Arizona Arts was established in 2019 to make arts more accessible to students. Its mission is to ensure all students, regardless of major, have the opportunity for meaningful arts experiences in their time on campus.
About 4% of the UA student body is fine arts majors and Schulz said the program's goal is expanding arts engagement "from 4% to 100%."
This includes more than lowering admission costs and free-ticket programs.
"Another part of it is also activating the campus," Schulz explained. "We know it can't always be a matter of convincing students to come into our theaters or our galleries. But how do we infuse the arts throughout this campus?"
Fine arts students performed at vaccination stations when they opened at the university and in March 2021, Arizona Arts brought vertical dancers to perform along the side of the Meinel Optical Sciences and Psychology buildings for those receiving vaccines below.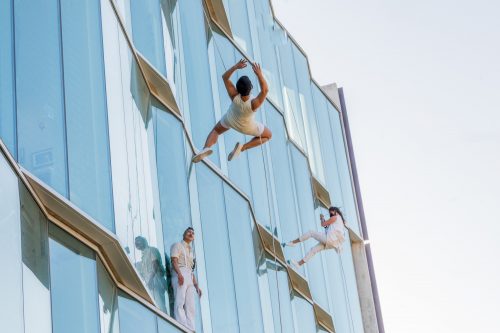 "As hard as COVID was, there were some gifts," said Chad Herzog, executive director of Arizona Arts Live, the UA's arts presenting arm, and associate vice president of the arts. "And one of those gifts was the day that the university announced that we'd be suspending bringing people back to campus. The COVID Response Team was formed and Arizona Arts and Athletics were aligned to be next to each other during that."
Herzog said the group met every day for over a year and worked together to keep student athletes and artists safe.
Through its relationships with athletics and health sciences, Schulz and Herzog felt the fine arts department was able to navigate the pandemic more smoothly.
"It's really hard to train to be a volleyball player in your kitchen, just like it's really hard to dance in your kitchen," Herzog explained. "Or to play in a music ensemble over Zoom like it's hard to play basketball over Zoom."
When campus reopened in fall 2020, student athletes and artists were considered essential and were some of the first invited back, along with lab science students.
"Again," Herzog said, "you can't really do your lab sciences in your own bathroom."
Before the pandemic, the university placed athletic trainers in the School of Dance and during the pandemic it was extended to studio art, music, theater and film students.
The trainers work with prevention and treatment of "arts-related injuries," according to Schulz, such as a twisted ankle for a performer or a repetitive motion injury for musicians and visual artists.
"Having Division 1 athletics on campus provides us with the opportunity to create support for our students that we wouldn't be able to otherwise," said Schulz.
Along with trainers and nutritionists, Chad Shoopman, the director of athletic bands, is jointly-funded by the arts and athletics departments, according to Schulz.
Shoopman directs The Pride of Arizona Marching and Pep Bands.
"Our most campus-wide integrated performing arts group is the Pride of Arizona Marching Band," said Schulz. "The Pride of Arizona plays to hundreds of thousands of people every week."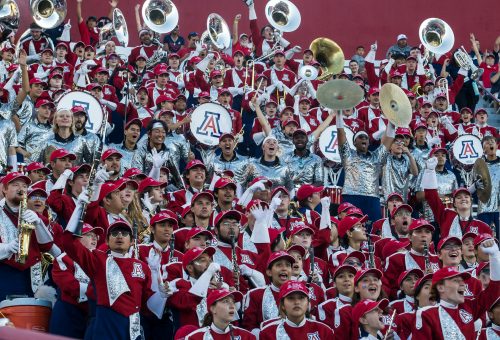 Schulz said the band plays a big part in the emotion and experience of live sporting events.
Performance is tied with live sports in many ways, from the band to mascot competitions to cheer and dance at half-time to fireworks at the end of a game.
For the past two years, Arizona Athletics has held an opening tailgate concert in collaboration with Arizona Arts Live. The event has featured performances from fine arts students, UA cheerleaders, The Pride of Arizona and national country singer Phil Vassar.
According to Chris Celona, associate athletic director of external relations and revenue generation, the opener is all about enhancing the gameday experience and getting people excited for the season.
For many incoming students, Division 1 sports are an essential part of the college experience and Schulz said that Arizona Arts wants to make arts an equivalent attraction, with students coming to the UA knowing they will have those opportunities.
The university has some of the brightest scholars, journalists, doctors, lawyers and businesspeople, Herzog said, "but we also have to be training the next culture-goers."
Celona said he and Herzog are working together to identify new ways to collaborate. He said there are "synergies" between the two departments and their roles as a gateway to the community and what he refers to as the university's "fanbase."
"Naturally we're doing very similar things," he said. "Yeah, the end result may be different, a sporting event versus 'Hamilton,' for example. But at the end of the day, we're trying to provide an unbelievable experience for our constituents."
Both departments have opened their doors and are proactive in elevating themselves and one another.
John Mosbach, the senior associate director of athletics in student-athlete development, said that part of building this relationship is providing opportunities and access for students and staff in the departments.
Mosbach said: "Just like anything in life, if you provide a little bit of a guiding light or some type of roadmap on how to get there, if they're more informed on something, the more likely they are to engage in it. The more opportunities you engage in, the more exposure you get, and then maybe you might connect and get excited about something."
One opportunity came in spring 2022, when Australia-based circus troupe CIRCA conducted a workshop with the UA women's volleyball team.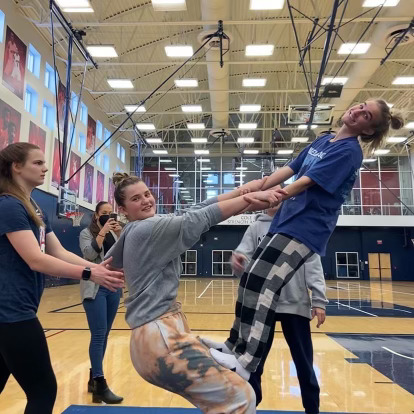 Director of C.A.T.S. Student-Athlete Development Sofia Read said the athletics department is always looking for ways to get student athletes involved in the arts and when CIRCA approached Herzog about working with some students, Read jumped at the opportunity.
"It was a lot of fun to see athletes at that level with acrobatics be able to demonstrate some of the skills and walk through what is required of that high level performance with our athletes," Read said.
Both Read and head volleyball Coach Rita Stubbs emphasized trust and nonverbal communication as a similarity between the volleyball players and the circus performers.
"You have to communicate because on the court in volleyball, you get nowhere fast if you're not talking about what's happening in front of you," Stubbs explained.
She also said many athletes actually start out in dance.
"You hear a lot of them say that they did ballet or they did hip-hop dance," she said. "And so many of the things we do in terms of our footwork is a beat and a rhythm and we'll often play music while we practice and it gives them the remembrance on how to do it. The muscle memory."
Of the 455 student athletes at the University of Arizona, five have majors in the College of Fine Arts: three in studio art, one in music and one in theater production.
Many students fit into both categories.
"I think about the cheerleaders and what they do and to me while that's a sport, it is a form of art as well," Stubbs said. "I think about the pom-line and the dance team. There's a connection there that isn't always seen in terms of the day-to-day because there's no ball or no running."
"Unfortunately," Stubbs said, "we tend to put athletics in a bubble."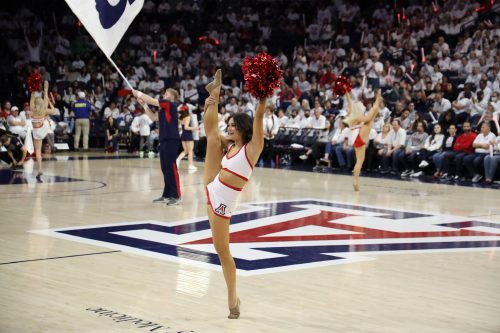 "It's all the same," Herzog said. "You forget your line on stage. You miss a freethrow. It's on you, but you have your teammates to build you up or to hold you up or to step in for you. There are so many ways that we can find commonality between the two. Even in the solo works that happens. A gymnast on the floor by themselves is much like a musician soloist. It takes years and hours and hours of dedication and practice and rehearsal to really get to the level that you want to be at. We have people around us that can help us get there, whether it be our faculty members, our artistic directors, or our coaches, they're there to help get us there and the training that we need. There are so many more commonalities than there are not. We have two front doors to the university, one is through athletics and the other is through arts. We spend more time trying to figure out how we're different, rather than embrace all the ways we're similar."
"One way to think about it is that Arizona Stadium is the largest performance venue on campus," explained Dean Schulz.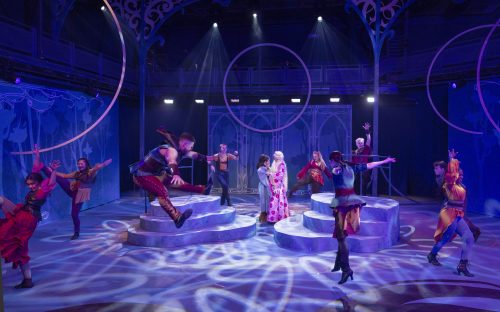 Arts and athletics have what Schulz described as a "symbiotic relationship." Unlike other campuses he has worked on, it does not feel like any department loses out because of the support that athletics gets.
"Often when it comes to educational funding, people tend to think of it as a zero-sum game – if someone's getting something, I must be losing something," Schulz explained. "But there are ways that having strong arts, having strong athletics really helps the brand of the university. Both of these activities or domains are in the public eye in ways that other things aren't."
The departments have big dreams for working together in the future, such as further enriching the homecoming experience and potential media coaching for student athletes.
"I think big," Mosbach said. "I think hey, can we be one of the institutions in the country, a model institution of how our two programs really highlight each other and complement each other?"
"I think there's a natural flow there," he continued. "That could happen."
El Inde Arizona is a news service of the University of Arizona School of Journalism.