Professor's accessible curriculum proves successful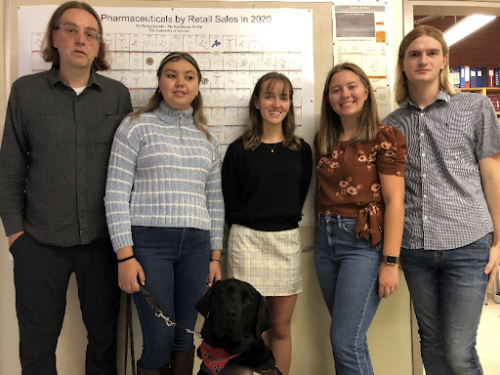 Vic Verbalaitis, El Inde Arizona
Evamaria Tanori-Contreras enjoys college life at the University of Arizona.
As a sophomore honors biology major, she goes to class, spends time with friends and procrastinates homework. In her free time, she likes playing the violin in the UA's mariachi band, listening to audiobooks and enjoying some reality television with her constant sidekick and service dog, Chauncey.
Chauncey helps her get around campus, but when it came to acing the organic chemistry course, she did that on her own.
Thanks to accessible accommodations made by her professor and her tenacious passion for learning, Tanori-Contreras passed with flying colors.
Tucson native and first-generation college student Tanori-Contreras was the first blind student to take the organic chemistry course at the UA last fall, according to the Department of Chemistry and Biochemistry. And not only did she take the course, but she earned a high A.
"It was the first time in college that I only had to worry about learning, and not getting access or accommodations or anything like that," Tanori-Contreras said during a Zoom call from Italy, where she is studying this semester. "And that was an incredible feeling that I was just learning, and that's all I had to put my energy toward."
Throughout his 19-year teaching career, with around 600 students a year, Professor Jon T. Njardarson had never taught a blind student. The organic chemistry course requires a massive visual component, and students must be able to effectively communicate through a three-dimensional language in building chemical structures.
But with a hands-on approach that included multi weekly review meetings with class preceptors, as well as accessibility resources including tactile drawing boards and Braille transcriptions of course content, Njardarson was able to successfully teach the course in a way that accommodated Tanori-Contreras's visual impairment.
"A lot of the time in my classes, I have to put in probably twice or three times as much work to understand the material," Tanori-Contreras said. "But in this class, I feel like my amount of outside work was average compared to my other peers, and not necessarily extra."
Along with post-lecture review meetings, Tanori-Contreras was lucky enough to room with one of the course's preceptors, UA junior Cassidy Zimmerman, which allowed for additional assistance outside of class and consolidated her workload.
Njardarson is writing an article for the Journal of Chemical Education detailing what he learned from his work with Tandoori-Contreras last fall. He said he wants to establish a list of best practices as a guide for professors.
"This wasn't like me teaching an extra class, it was incredibly rewarding," Njardarson said. "Now I learned something about things I don't know, and now I can also communicate to other teachers and professors around the world about things we did that we think are successful."
Working alongside the UA's Disability Resource Center, Njardarson was able to transcribe into Braille the textbook used for the course, allowing Tanori-Contreras to stay on track with the pace of the class. Using a special Braille font that he obtained from the DRC, Njardarson also was able to create custom content in Braille for her to work on.
Dawn Hunziker, associate director of the UA DRC, said that the center is one of the largest in the nation, and accommodates around 4,000 students on campus who have disclosed their disability status. Hunziker said that some of their more popular accommodations for students include allowing extra time for taking exams, converting PDFs into Word documents to allow for better text-to-speech capabilities and providing ASL interpreters for deaf students.
"We reached out to Jon before the beginning of the semester to talk about his course, and what his content looked like for his course," Hunziker said. "We found out what book he was using, and then we actually received a copy of that book to send off to someone who would transcribe it into Braille, so we had a Braille transcription of the course materials created for Evamaria."
The DRC also assisted by acquiring tactile drawing boards, a learning resource that one can use to instantly illustrate raised-line drawings. The drawing boards allowed Njardarson and the preceptors to draw out chemical structures that Tanori-Contreras could then feel out and comprehend through touch.
Tanori-Contreras recommended a model of tactile boards that she preferred, and the DRC was able to provide enough of them for her, Njardarson and each of the preceptors.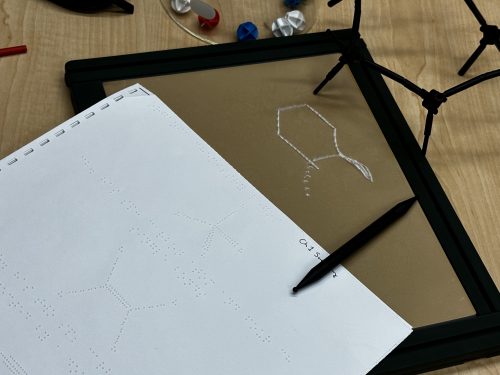 Tanori-Contreras's roommate Zimmerman, who studies veterinary science, would draw out structures on the board and question Tanori-Contreras, which let her work on the course content outside of the classroom.
"Eva is extremely smart, so my work wasn't very hard," Zimmerman said. "She just has a natural gift that she's super, super smart."
Alongside the accessible resources provided by the DRC, Tanori-Contreras would attend multiple after-class review sessions every week with preceptors.
On Mondays and Fridays after lectures, Zimmerman said that Tanori-Contreras and the preceptors would meet in Njardarson's office to go over the day's lecture material. On Wednesdays, Njardarson met with her one-on-one, where he said he would ask her about what was working well and what they could improve on to support her learning experience.
"(The review sessions) were definitely where the most of my learning happened. They were very instrumental," Tanori-Contreras said. "I feel like without them, I definitely would not have understood the majority of the class."
Njardarson said that he wanted to make sure Tanori-Contreras was able to stay on pace with the other students in the class, and be able to take the exams around the same time as her peers. Njardarson would print the exams in Braille, and have her take them one-on-one with him in his office in an oral exam-style format.
"It was something that he enjoyed, that he genuinely wanted to do, that he genuinely had fun and enjoyed that I could learn," Tanori-Contreras said. "And that was really incredible."
At the end of the semester, Tanori-Contreras finished the course with a high A, a feat that many students struggle to achieve.
"I don't think I necessarily felt like, 'Wow, I'm blind and I was able to do good in a course that other people who can see do really terribly'," Tanori-Contreras said. "It was more like, 'Wow, I was able to learn without worrying about access or anything else.' And I think that is what I was most proud about and happy about."
The achievement proved significant not only for Tanori-Contreras, but also for those who aided her in her success.
Zimmerman said that living and working with Tanori-Contreras was an eye-opening experience, and gave her a better understanding of how people who are visually impaired are able to get through everyday life.
"She's so self-sufficient, she's so intelligent," Zimmerman said. "And I've told her this. I (told her), 'You have allowed me to experience a culture I never thought I would be able to experience.' It's just really cool."
Tanori-Contreras said she wants to switch her major from biology to neuroscience, and hopes one day to become a physical therapist. During the spring semester, she is studying abroad in Italy, finishing up her minor in classics while exploring the historic country with her best pal Chauncey at her side.
"I feel really proud," Tanori-Contreras said. "I was so happy I got to have a normal 'taking a really hard course' experience. Just learning."