By Trinity Norris/El Inde
A group of over 70 faculty and students gather in a circle in front of Old Main, a famous landmark on the University of Arizona campus. They are there for a blessing to start off the new semester, which offers them a small piece of home to remind them of where they came from; although they are far from home, it's an invitation for them to continue to practice their traditions. The blessing is a cleansing, a way for Native American people to free themselves from negative energy. As the ceremony begins the smells of sweetgrass, tobacco, and white sage fill the air as it starts to burn and a prayer is spoken.
Miguel Flores Jr., a traditional spiritual leader from the Tohono O'odham Nation and Pascua Yaqui tribe, begins to bless in the four directions with the smoke of the white sage and sweet grass. These items have holistic properties for mental and emotional support which is used widely in many Native American ceremonies. Flores goes around to each student and staff member at the blessing and begins to push the smoke towards their direction to allow each individual to bless themselves and pray. This is only the beginning of what Flores does for his community and the fellow Native men and women who are affiliated with this public university.
Winona Little Owl, Ihankthunwanna Dakhota, is a student at the University of Arizona who actively participates in Flores' ceremonies.
"I appreciate the blessings he comes to offer us here at the University, Little Owl said. "It helps to create a feeling of home here, something that is not easy for all of us to go back to. When we're here at these predominantly white academic institutions, we know we don't belong in these spaces. They were not created with the intent of our people being here, or even the thought of us applying to be here."
Little Owl talks about how at times Native People experience micro-aggressions and racism in their day to day lives, and in her experience at the university she has encountered just that. Participating in these ceremonies allows her to stay grounded.
"Our people have always been resilient people, even throughout the eras of Federal Indian policy, but what really helped keep us connected was our ways of life, our prayers and ceremonies," Little Owl said.
Olene Smith, Tohono O'odham, is a graduate student at the University of Arizona who was encouraged by Flores' ceremonies.
"As I transferred to the University of Arizona and as I began to emerge myself into the Native American community here on campus I was not sure what to expect. I remember attending my first blessing presented by Miguel Flores. It was an experience that was so heartwarming," Smith said.
Smith is grateful and encouraged by the words that Flores provides during his blessings. Flores lets students and faculty know that he is always willing to provide words of comfort for those who are away from home. Students know that he is here for them with the words he shares and that we do have a home here on campus.
As a traditional spiritual leader, Flores holds celebrations to honor the spirits, with ceremonies that can last for weeks and even months on end. Miguel has been leading these since he was in his early 20s. Flores has been so involved that he started his own company surrounding holistic wellness.
Flores is also a Chief Executive Officer for the Holistic Wellness Counseling and Consultant Services, a Tucson-based company that helps Native American men, women, and children have healthy and holistic lifestyles surrounding their identity as Native Americans through various programs like cultural/arts programs and counseling. This allows individuals to give back to their community, while staying out of trouble. He came up with the idea for Holistic Wellness when he was in college at the University of Arizona. 
"My grandmother on my O'odham side was a traditional herbalist, someone who knows about different plants and herbs, and the different purposes that can be used in ceremonies, my great grandmother on my Yaqui mother's side was also an herbalist," Flores said. 
His Yaqui grandmother migrated from Mexico in the 1880s and ended up in old Pascua Village. While growing up Flores began learning about the culture and understandings of the types of ceremonies conducted.
"When I was growing up in Old Pascua, my family didn't practice our traditions but were knowledgeable of both Tohono O'odham and Pascua Yaqui culture. My parents also grew up aware of their culture but they did not participate in ceremonies. They didn't want to force me and my family into a culture as their parents did," Flores said.  
In a ceremonial way of life, there are many things that are expected to endure and expectations people may have towards you and they expect you to hold these positions with high priority and respect.
"It is a hard way of life. As we were growing up, My siblings and I participated in different ceremonies to a certain extent but we were more like spectators in contrast to conducting the ceremony," Flores said. 
Yet looking back, Flores recognizes that his heart has always been in it since he was a little kid. Flores would participate in ceremonies in some shape or another. 
"When I was growing up, from my parent's point of view on both sides of my family, and the sole fact of just knowing what comes with the practice, it was a negative thing to be proud of who you are and where you come from," Flores said.
He always had visions and dreams or premonitions–as if he always knew what was going to come. At his young age though he did not understand what these things were nor did he pay any attention to it. It was not until his early 20s, when he began to explore the gift he had. 
"I wanted to know why I was having these dreams and why I was having these visions. I began working with my elders within the community on both the Tohono O'odham side and the Pascua Yaqui side to show me what I was experiencing," Flores said.
This was when Flores began his journey as a fire keeper for one of the elders who ran sweat lodges. A fire keeper is someone who stays with the fire and tends to it throughout the duration of a ceremony. They do not get to leave the fire for anything, not for food or water, so they're considered an essential part of ceremonies as their sole purpose is to keep the fire ablaze. Sweats or sweat lodges are dome shaped huts, where Native people would go through a ceremony in the sweat lodge which is another form of cleansing.
Flores then began incorporating a holistic way of life. With his business, he wanted to help children and adults find their way and have them participate in cultural practices.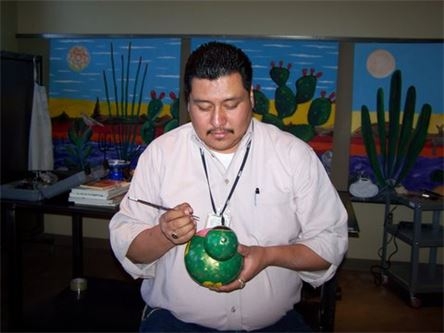 He did research on the holistic ways of traditionalism, and how it can be brought into Western medicine, and behavioral health practices. Flores then looked to the University of Arizona to explore his findings.
"I want do research on the model that I use, on traditional medicine. There is no research on it, nothing has been documented on it and so I started looking at how I wanted to start to change their systems of care," Flores said. 
After his findings, he was able to incorporate that in the way he runs his business and the intent behind the different programs his business does. 
The ceremonies that Flores conducts now look at his approach to his ceremonies, especially the ones that he conducts for students and faculty at the university. 
"Every ceremony is different, but anyone who is asking for a ceremony has a different reason why they asked. I think for myself it's to bring people together, and be able to offer a prayer as we are here at the university away from home, and proving the protection and comfort," he said.
He wants to help individuals explore their traditional background and wants to ensure that students who are attending the university feel like they belong there, a place where many can feel isolated. Flores wants to help in any way possible when asked to provide a ceremony, prayer or blessing. 
"It's what I do, I think for myself, I wanted to help people, and sometimes the work that I do can be heavy and hard, but everything that I do, is apart of my life," Flores said.