UA's Arizona Arts Live is the first to bring French acrobatic collective to America.
Christa Freer, El Inde Arizona
Picture it: A hot air balloon floating above the east end of the University of Arizona Mall, with people dangling from ropes, some of them hanging on while attempting to play music.
One guy is even gripping a tuba.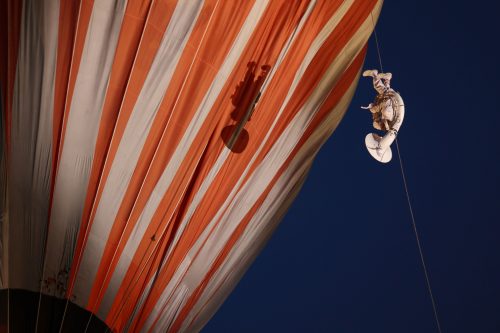 That's what you can expect when the French acrobatic collective Cirque Inextremiste makes its U.S. debut with Arizona Arts Live on Saturday, Sept. 9, on the UA Mall.
The troupe is bringing its latest show, "Exit," which tells the story of a group of high-flying acrobatic musicians attempting to escape from an insane asylum on a hot air balloon.
The show opens Arizona Arts Live's 2023-24 season.
"Our (motto) is 'Experience Unexpected.' We talk about playing with fear and wreaking havoc in part of our description, and that's truly what 'Exit' does for us," said Chad Herzog, executive director of the UA arts presenter.
In "Exit," the acrobats are not only skilled in the physical twists and turns, flips and stunts you see with cirque acts, the performers are also musicians, accompanying their incredible stunt work with a haunting original score. At times, the artists are simultaneously doing stunts and playing their instruments
Herzog said he first witnessed the spectacle of Cirque Inextremiste in 2017, and since then has been working tirelessly to bring them to the States.
"It's totally evocative," he said. "There are times that you might feel a little nervous about what these acrobats are about to do, but I guarantee at the end you should feel quite a bit of joy from just having the experience of this hour-long performance."
"Exit" will be presented at 7 p.m. on the east end of the UA Mall near North Campbell and admission is free. Food trucks, games and prizes will start around 6 p.m. Visit arizonaartslive.com for more information.
Tucson is one of three cities on Cirque Inextremiste's U.S. tour. It played Artpark in Lewiston, New York, in August and will be at the Rochester Fringe Festival in New York next week.