By Angel Gonzalez / El Inde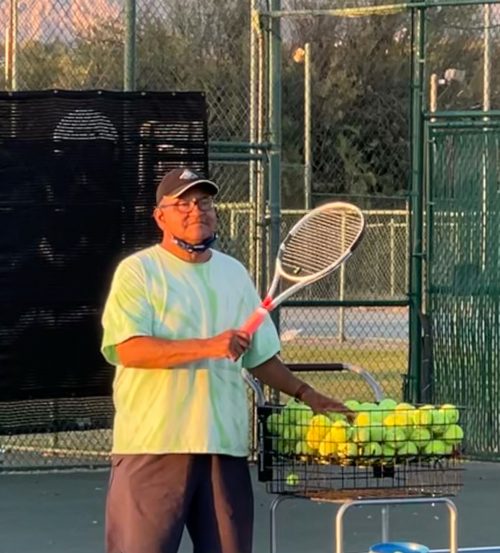 On sunny Tucson days, Nelson Payne spends his time outside at one of Tucson Racquet and Fitness Club's practice courts. Here you will find him giving tennis lessons, often to young developing athletes or hosting group classes for players of different experience levels.
The 58-year-old experienced tennis player and instructor will almost certainly have on his signature baseball cap and glasses, an appearance that is familiar to his regular students.
The TRC's facility is located on North Country Club Road, right next to the Rillito River and provides guests with a great view of the Catalina Mountains. At a facility large enough to accommodate 30 lighted tennis courts, there is a genuine sense of community that embodies the sportsmanship between tennis players and coaches alike.
Payne is well-acquainted with many of the regular attendees and staff at the club, making him more of a friend and mentor than just a coach. His willingness to help others and give advice for sports and life make it obvious that he cares about his students at a level beyond the tennis court's boundaries.
Having grown up in the small Texas town of Brackettville, with a population of less than 2,000 people, he knows the importance of community.
"It was tight, I loved it. I think my hometown is awesome to grow up in; you've got fishing, you've got sports, you have the school. Everybody belonged to some church and on Sunday afternoon, everybody met at the city park or at Fort Clark Springs [Brackettville]," Payne says.
Payne's personal tennis story began at the young age of nine, when his oldest sister's husband, an athlete who played basketball at a competitive level, helped introduce him to tennis. His brother-in-law would play tennis as a cross-training method during the off-season.
"He got me interested in it, then he would put me in camps and all that when I was growing up," Payne says.
Growing up, he also participated in other sports like basketball, and football (a Texas favorite), which he played as part of an 11-man team at his high school. In such a small town there was not much to do except play sports, which most people did, according to Payne.
His graduating high school class in 1980 consisted of just 31 people. After high school he attended Angelo State University in San Angelo, about three hours north of Brackettville, as a tennis athlete for the school's Division II program. It was around this time, when he also began coaching tennis, as a side job.
He recalls that there were times when playing in college could be challenging, if a player was feeling tired or had a slight injury, the ambition of wanting to compete would overpower any present challenge.
"I think everybody went through that, when you didn't want to play, but the bottom line is, once you step on the court it was about pride, pride always takes over. No matter how tired you may have been or whatever, you might've had a slight injury, pride was going to take over," Payne says.
In regard to a collegiate tennis player's performance capability, he believes that they should be self-aware in their playing abilities at the advanced level and determine if a professional career is likely for them, should they want to pursue competitive tennis after college. Each player must also compare themselves to the elite athletes that play in global tennis tournaments and figure out whether they can realistically match up to those standards.
"In college everybody thinks they're good, and when you go to satellites [tournaments] you realize you have to be great if you're going to make a living," Payne says.
Payne understood that not just anyone can become a professional paid athlete and he had not considered a full-time career in tennis, during his time as a player.
"I'll be honest with you. I never, ever thought of being a professional athlete. I knew at a very early age that I was good, but I wasn't great," Payne says.
As a tennis instructor, Payne likes to note the difference between being a good and great player to his students so they can figure out what competitive level they want to reach and whether they can make a living from the sport, if that is their goal.
"You get a lot of junior players who have some success when they're 12, and then that [playing professionally] starts becoming their aspiration, but they don't realize how much effort and work that takes," Payne says.
For those wanting to see what success looks like in professional tennis, he recommends watching recognized players in the sport and learning from the actions that got them to their current position.
"Look at the ones that are at the top and see – if you get the opportunity to go to a pro tournament, whether it be Indian Wells [Calif.] or anything like that – watch what they do after the match, whether they win or lose it doesn't matter," Payne says.
Stubbornness with perfection and the pursuit of becoming better makes these world-class athletes the professionals that aspiring competitors idolize.
"The top players go to the practice court because they're not happy, definitely you're not happy with your loss. A lot of people don't realize, some of these world-class athletes aren't happy with their win. Even though they won, it wasn't right, there was something wrong," Payne says.
The well-known professionals in the sport demonstrate the effort it takes to become a globally recognized tennis player, even when the spectators aren't gathered in abundance.
"They're always looking for perfection and you see it – like for me, when I go to Indian Wells – you're watching [Rafael] Nadal after a match, he has two hitting partners, he has a lefty and a righty," Payne says.
In Nadal's case, his hitting partners can be seen as just as good as the Spaniard himself, but they are not at his performance level, according to Payne. This form of tennis athleticism and ambition is fostered in the years of relentless training that accompany the set goals of serious professionals.
"They're just perfectionists man, they really are. They're not satisfied, and I think that's what's hard for an up-and-coming young junior to realize is, you can't be happy with your win, you actually want to go more, got to do more," Payne says.
Although not every aspiring paid tennis player can become a world-class professional, there are opportunities to advance in the sport and make a considerable living as a hitting partner for the elite athletes at the high-tier levels.
"A lot of these — especially these Division One guys, they don't make it on the pro tour — what they do is, they become a hitting partner to some of the top women players and some of the top men players. They get to see the world and they get about 80-90 grand to travel, that's not bad," Payne says.
The world of professional sports is difficult to succeed in and tennis is no exception. Money is a considerable factor when it comes to planning out a person's future in tennis and how they are going to pay for necessary expenses.
"Once you have the guaranteed money, then you can just focus on your game, improving, but it's a lot of pressure for some of those guys and girls when they're eating fruits out of a can and everything and barely making their rent payment," Payne says.
Winning tournaments and getting noticed appears to be the key to success in the world of tennis because money can also be at stake when people compete for the winning players' prize. Travelling is a necessary part of attending these tournaments, so it can be very stressful for those who must use their own funds when seeking opportunities that may or may not pay off in the end.
"You're travelling all over the country, playing in the $25,000 tournament where first place could be $5,000, it's a lot of money to them (players) so it's tough, man," Payne says. 
A harsh reality exists, according to Payne, for those who may not be able to pay for all the necessary expenses that come with trying to become a top tier tennis player. However, he mentions that some fortunate tennis players may be able to find organizations that can sponsor their athletic endeavors, but it will be difficult because of the scarcity in those opportunities. Those hoping to find such opportunities may do their own research online and provide the necessary materials for sponsoring decision makers.
"Without the great evil, which is called 'money,' you're probably not going to make it because you've got to play in so many major tournaments to even consider going into the pro level," Payne says.
This insight comes from Payne's years of tennis experience and the considerable time he has spent studying the sport's fundamentals as they relate to successful athletes. All the years of tennis exposure in different settings has also provided Payne with wisdom that he can continue to pass on to his students.
One of Payne's former tennis students, Tatum Rochin, had spent various years learning from his guidance and also had him as a personal coach. Her family's coaching job offering was the focal point for Payne's decision to relocate to Tucson from Texas.
"It was the Rochin family, they had two daughters, at the time a 10 and 12-year-old, and they moved me here 13 years ago to be the girls' personal coach," Payne says.
The Rochin sisters' father had been a member of a tennis club in San Angelo, where Payne once held a director of tennis role. For a brief period of time, Payne had transitioned to coaching high school tennis and had also decided to accept the Rochin family's offer.
"They offered me the job to move over here, and I said, 'Why not?', it's a good opportunity, so I took it, been here ever since," Payne says. 
Rochin felt that Payne was a great choice for a coach and that his persona also made him a good fit for the valuable instruction that he provided.
"He has a great personality, he's a really good tennis coach, and he taught a lot of top junior players at the time, so it was kind of a no-brainer to work with him," Rochin says.
She went on to play at Pima Community College, before attending and playing for Northern Arizona University's Division I program during her junior and senior years in 2013 and 2014.
Aside from being a reliable coach, she also felt that Payne was understanding in his teaching and that he could be counted on to help during difficult times in training.
"He's very supportive throughout the whole day; If you're having a bad day, he'll be super supportive and just keep doing drills until you get it, so I really enjoyed that about him as well," Rochin says.
Payne worked to develop the Rochin sisters as athletes, and had found other ways to train them, aside from playing tennis alone.
"He would take us to different high schools around town, to use their track and field, so he would help us with stretching and doing conditioning outside of the court as well. It was good, holistic coaching, from him," Rochin says.
Payne spent some time living with the Rochin family, while he was getting established in Tucson. This provided him an opportunity to interact with Tatum and her sister as individuals rather than just students and harbor a better athlete-coach connection.
"There was a stint for a while, I don't know the years or the months, but he was living with us while he was looking for homes out in Tucson, it was kind of like on-and-off the court coaching," Rochin says.
At the time, the Rochin family had been living close to TRC and this provided Payne with a transition method for also becoming a hired coach at the facility.
"I heard they were looking for a pro here [TRC], so I came and talked to the – at the time his name was Gary Engelbrecht – the director, so he hired me to work," Payne says.
He mentioned that he eventually moved the Rochin sisters into the academy at TRC, so they could get the social aspect of the sport as well. When the two sisters went off to college, his initial coaching contract agreement with the family had ended.
"They did well, they both went on to play Division I, so they did well," Payne says.
Now working full-time as a TRC tennis coach, Payne is devoted to assisting each of his current students in reaching their tennis goals, and he continues to demonstrate the same genuine training enthusiasm in every lesson he gives. One guiding factor that's important to Payne is his younger students' academic considerations, as well as their athletic ambitions.
"Like I try to explain to the kids here, if you're thinking college, for every tennis lesson that you take you should play two matches. It's never going to hurt you to play more, but if you just take a tennis lesson and you never go practice, you never go play, you're not going to make that level," Payne says.
He relates this approach to the younger students' academic situations by telling them that it works the same inside the classroom, as it does on the tennis court.
"That's the same thing about academics. Once you leave the classroom, if you don't go do the homework, you don't turn the papers in on time, how do you expect to make the good grades?," Payne says.
Payne believes that the education factor of playing in college is also just as important, so it's essential that young athletes search for opportunities that suit them best in other ways than just a tennis program.
"Education, to me, is still the key, athletically, it can help you get there and get the academics. You can get the athletic scholarship and that'll help you get that four-year degree," Payne says.
Not only does he make sure that his young students are consistently reminded about their academic futures, he also does everything he can to make sure that their tennis playing future is in a good standing as well. Player-coach communication is important, in his view, and he takes different approaches when looking at athletes who may be struggling with their progression in the sport.
"For me personally — I'm going to use the kids that I'm training right now, that are trying to go to college level — I'll actually tape our practices, so that I can hear myself; maybe I'm saying it a wrong way, maybe I'm not hearing what they're saying, Payne says.
This in-depth coaching reflection makes Payne an instructor with higher standards for his own practices, allowing him to be a better athletic guidance figure for his students. He also believes in collaboration, mentioning that he is open to having other professional coaches examine the same practice sessions, to determine solutions for any noticeable issues.
"We all need help and if you're too proud to ask for it, then you're just hurting your student, because you don't always have all the answers," Payne says.
Although he does plenty to help his students in learning their own playing methods and developing their techniques, he also appreciates the independence that comes with higher level playing, where coaching is minimized and a player's preparation fulfills a key role in their performance.
"What I like about the game at their level, at collegiate level, honestly, there's really not a whole lot of coaching once you get on the court. It's still you, you've got to figure out the skill level, you've got to figure out how to beat your opponent," Payne says.
With such an admiration for the higher level players' abilities to perform in a more independent state of mind, it can be said that Payne also wants his players to eventually reach that stage and be able to trust in their own playing capabilities, which they have developed through proper training.
Even though the competitive aspect of tennis resides in his coaching state of mind, one of his personal favorite parts about the sport is reminding players that this can be a simple, fun recreational activity as well.
"The introduction of the game to a beginner, to get them to realize, 'just have fun with it, it's a game'. You don't have to be totally competitive about it, you can go out and play with your best friend now and 40 years from now, still be playing it because it's really not that demanding on the body," Payne says.
Payne does not see himself retiring any time soon and he plans to continue coaching both new and current students for some time to come.
"I tell them here [at TRC] all the time, I plan on dying on court 10. I don't even think of retiring because, as I always tell people, I'm not doing back breaking work. I can teach 10 hours, I'm not tired, I'm really not, I truly enjoy teaching," Payne says.
There is never a day when he doesn't feel like going to work and he always appreciates the stress-free nature that accompanies his full-time coaching position.
"I'm fortunate enough to be able to make a living doing it, it's just a game, that's it," Payne says.
If the sun's out and the weather is nice in Tucson, you will likely continue to find Payne outside at one of TRC's tennis courts, coaching athletes of different levels and still enjoying every moment of the sport that has played an important role in his life.