By Alberto Quiroz/Arizona Sonora News
When they finish high school, some students go on to college while others enter the workforce. A select few, enlist into the Armed Services. Jose Alberto Ureña was one of those select few.
"I scored high enough to join the Air Force, but they never got back to me," Ureña said, who is commonly referred to as 'Beto' by friends and family. "During the winter break of 2000, Sgt. Polanco from the Marines called me, and I immediately asked, 'Where do I sign?' I told him I wanted to be an infantryman and was ready to sign right away. They had it easy with me."
Beto left for Marine Corps Boot Camp based out of San Diego, California, the following summer. Having gone through a leadership course in high school, Beto had an idea of what was waiting for him in San Diego.
Marine Corps Boot Camp lasts 13 weeks—it is the longest boot camp of all U.S. military branches. During the training, the recruits take part in many team-building exercises that increase unit cohesion and build trust in one another, potentially preparing them for a war environment where everyone will depend on the people to their left and to their right to stay alive.
"There's not really very much that you enjoy (about bootcamp)," says Beto. "I liked cleaning weapons, that was always fun (because) drill instructors leave you alone for a while … It's like being in jail: you come up with different ways to do different things."
Beto's family did not fully support his decision to enlist in the Marine Corps, but ultimately they knew it was a decision he had already made and all they could do was show him support.
Shortly after graduating from boot camp came the terrorist attacks of Sept. 11, 2001, when almost 3,000 Americans lost their lives. The U.S. would seek retribution, and Beto's mother, Martha, knew her son would eventually end up in a foreign country fighting in a war for the country he swore an oath to.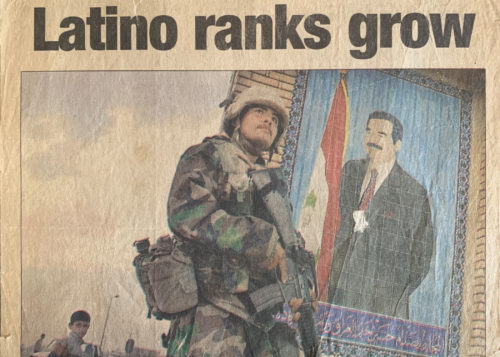 Mrs. Ureña says her son loved being a part of JROTC when he was in high school, and his passion just went on from there.
"When he was a senior in high school, he hadn't told us he was joining the Marines, he didn't tell us anything," Mrs. Ureña says. "He was a kid, barely was going to turn 18. 'Beto, that can't be true,' I said to him, 'you've never left home before.' He replied to me, 'Mom, I already made the decision, I'm just letting you know.'"
He came home one day in December and told his family that he and his unit were probably going to be sent to Iraq. He was 18 years old. Mrs. Ureña took the news hard.
After bootcamp, Beto attended the School of Infantry at the Infantry Training Battalion in Camp Pendleton, California, in order to undergo training as an Infantryman. He was assigned to the Third Battalion, Seventh Marines, First Marine Division. The infantry unit was based out of Twentynine Palms, California, a place located in the middle of the desert were all units trained in warfare for rigid landscapes. Also known as Marine Corps Air Ground Combat Center, the base covers an area of almost 600,000 acres. Twentynine Palms used to belong to the U.S. Army until it was purchased by the Marine Corps in 1952.
"We knew the land used to belong to the Army, that it was considered uninhabitable by them, and that was something we took pride in," says Beto. "At the end of the day, it's about bragging rights: the more you suffer, the more bragging rights you have, and the Marine Corps makes you suffer a lot."
Beto and his unit were the first unit to go into Iraq in 2003. They arrived in Kuwait, and 2 months later they entered Iraq for the invasion of Baghdad.
It is never easy for a mother to have her children leave home, even more so, when leaving home means going to a war halfway across the world. Communication was hard once Beto was deployed: during that time, he missed the birth of his first son, which he had to witness via a video call. When she wouldn't hear from him, Mrs. Ureña was surrounded by anguish, even though she never lost faith in hearing from her son.
"After 3 months, I heard something from him," she recalls. "One night I was crying and crying, asking God 'I want to know about my son.' All the TVs in my house were on day and night—I had an obsession to see my son. 'God, have him come up on TV, running or something, but I want to see my son.'"
Mrs. Ureña's faith was so strong that she believes the miracle she prayed for that night happened the next morning. A few hours into her shift at a gas station, her daughter, Viridiana, showed up with an unexpected surprise.
"Around 9 in the morning I saw my daughter was standing there, jumping, and she was showing me an envelope," Mrs. Ureña says. "She took out a photograph, it was José Alberto, it was a huge picture, head to toe, he was standing next to a statue of Saddam Hussein. He was skinny and really dirty."
According to Mrs. Ureña, on the night she was crying and asking God to show her her son, that photograph was being taken.
"That photograph made its way to the school the next morning," she goes on. "A teacher saw it, he knew (Beto) had a sister who also went to that school and gave it to her … After that, I had faith that he (was) going to be fine. And thanks be to God, he is."
Beto left the military in 2009. He would go on to work a number of different jobs ranging from landscaping, mining, to firefighting. They were mostly jobs he didn't enjoy, but in 2015 he realized he wanted to try to get a job in the healthcare field.
Beto is currently working as a respiratory therapist at Banner Medical Center in Tucson. It's a career he says he chose due to the service he enjoys doing: he served his country, and now wants to serve his community. The only difference is that before he was as an infantryman and now as a respiratory therapist.
"You all rely on each other (in the military). It's so different from what I used to do," Beto says. "My job when I was deployed was to go out, look for a firefight and go out and kill people. Here, my job is to help them live, it's the whole 360 or 180 complete opposite I think makes it interesting for me."