Riley Brown, El Inde Arizona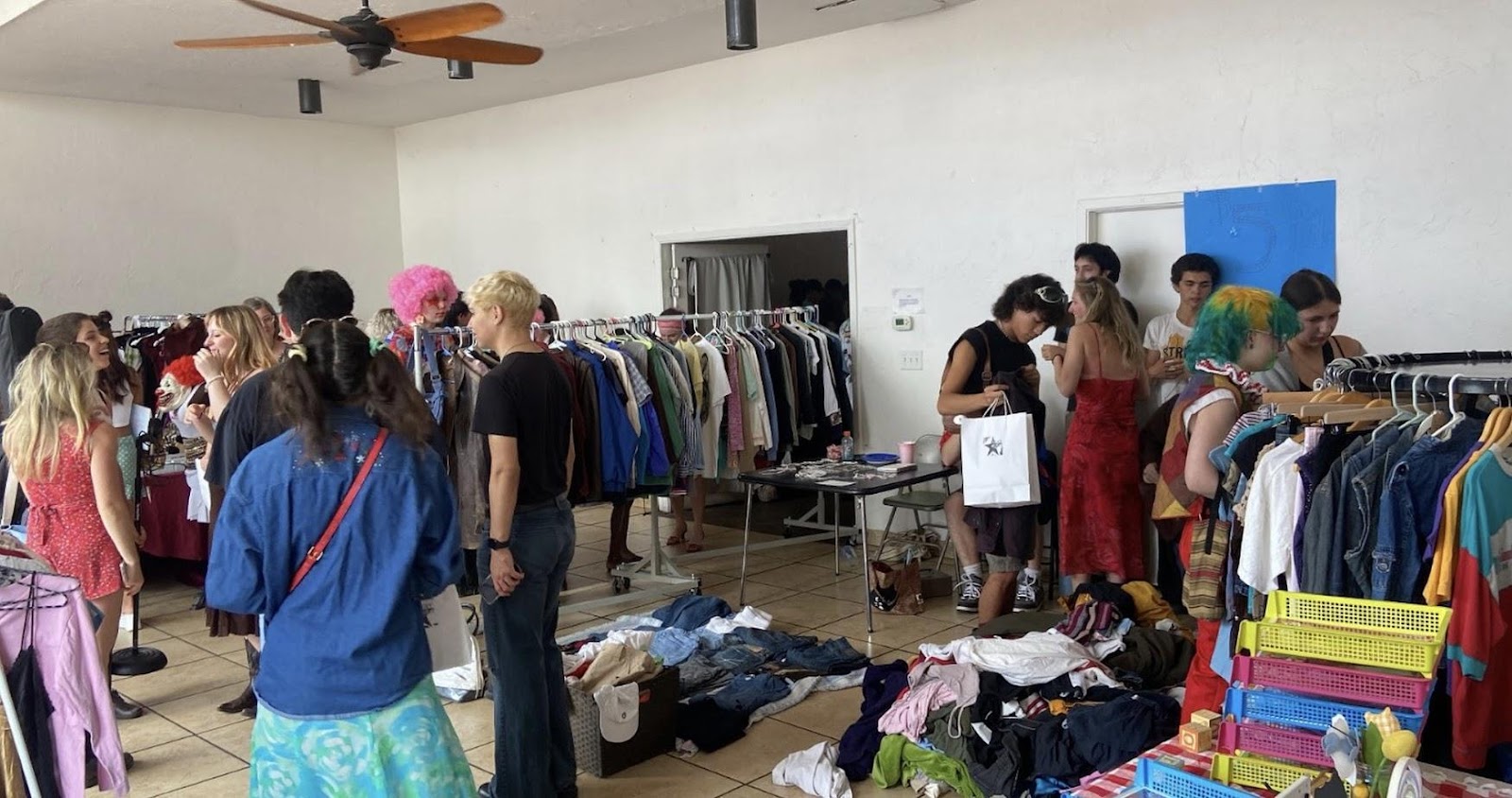 People shopping at August's clown themed Floozy Flea courtesy of May Downs.
Calling all floozies, fashionistas, lovers of art and all things weird: the Floozy Flea pop-up market on Saturday, Sept. 30, is just for you.
From 6 to 10 p.m., 19 vendors who are LGBTQ+, women, people of color and/or disabled will sell artwork, clothing and jewelry at Screwbean Brewing, 103 N. Park Ave., off East Broadway.
"Floozy Flea is one of the funnest events I have ever tabled at. It is just such a great community of weird artists and young people happy to be there and explore this really cool collection of stuff," said Chloe Vance, who will be selling his artwork at Saturday's event.
This will be the seventh Floozy Flea pop-up since May Downs created the market last September. The name was inspired by a shirt that Downs, who sells vintage and Y2K clothing through her business Saint Misfit, sold with the phrase "Little floozy homewrecker."
"It is a good name to draw in the crowd and the type of vendors that Floozy Flea is supposed to have," she said.
Floozy Fleas are held every six weeks or so, Downs said, when "my battery is recharged from the last one and I'm ready to be obnoxious about Floozy Flea again."
At Saturday's Floozy Flea, Vance will be selling prints, original art pieces and jewelry. Vance is a lesbian transgender masculine artist who uses his art to explore "sexuality and gender as well as kink and what it means to be in a body."
"I mostly specialize in sapphic art," he added, saying his art has "been described as erotic lesbian vomit."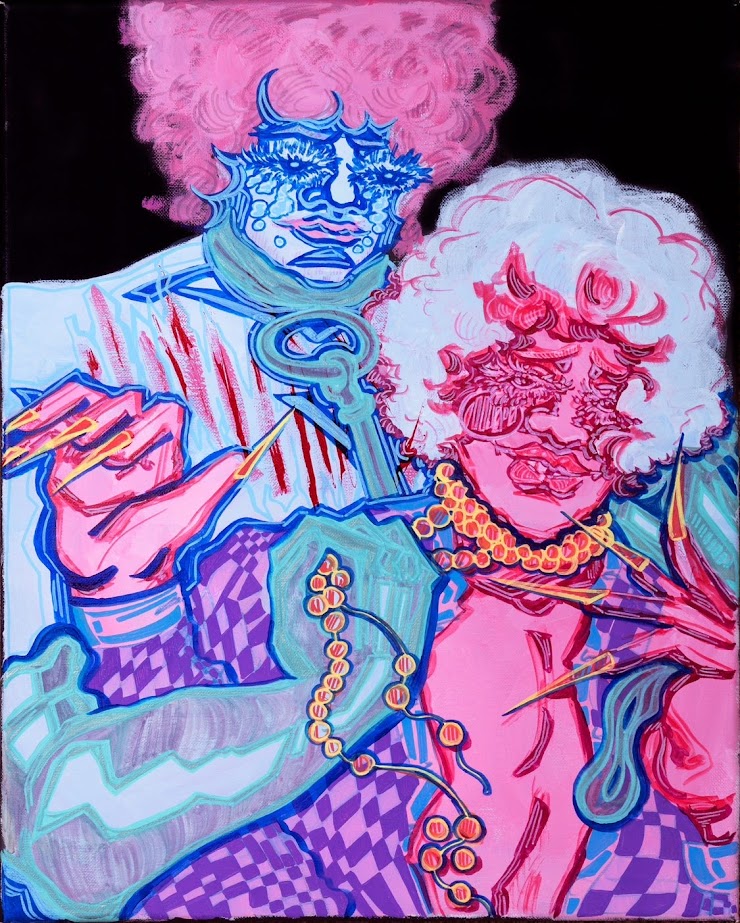 Two pieces by Chloe Vance, who will be selling at Saturday's Floozy Flea courtesy of Chloe Vance.
Vance said he is looking forward to Saturday's market.
"Everyone is happy to talk to you, happy to make friends," he said. "It just really invigorates me with the quality of queer community and creative community in Tucson, which I feel like can be forgotten and overshadowed somehow."
Saturday's Floozy Flea will be the first one to serve alcohol. Downs and the owner of Screwbean Brewing have created a signature cocktail for the event called a "Boozy Floozy" — Screwbean Brewing's house seltzer with pineapple juice, raspberry puree, mint simple syrup and mint leaves.
When Floozy Flea first began, Downs hosted the pop-up at her house, but she said it feels "fancier to have it at a new location" and people seem more comfortable coming to a venue rather a residence.
Downs promotes the event to vendors on her Floozy Flea Instagram and as many as 70 applied to be part of the last few events. Because the venues are small, the number of vendors has been limited.
First-time Floozy Flea vendor Ileana Lamadrid will be selling head jewelry on Saturday under her shop name Muñeca.
"I always loved jewelry since I was really young. All types of accessories, especially things for my head," she said. "My parents will always tell me stories about how I was always wearing hats and then hats over hats."
Lamadrid is bringing 12 head pieces to the flea. Each of them took her three to nine hours to create, upcycling hand-me-down jewelry from her aunt and grandmother. She also finds materials in second-hand stores.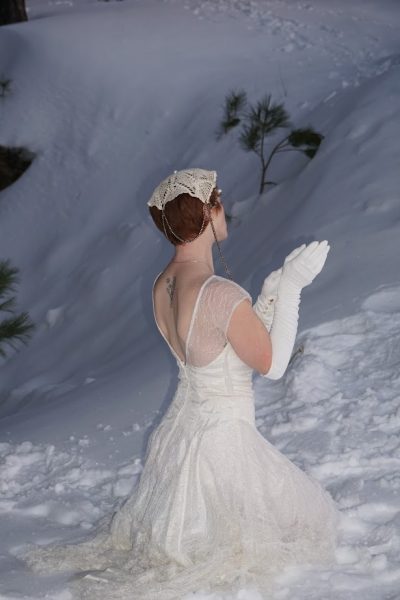 Katie Stahl (left) and Julien Mack (right) modeling Lamadrid's headpieces courtesy of Ileana Lamadrid.
"I want people to fall in love with it because it is so fun to wear, it's like wearing a crown," she said. "I really hold this project dear to my heart."
Lamadrid was drawn to Floozy Flea since it prioritizes LGBTQ+, women, people of color and disabled people.
"I think that is really important because I have never seen a pop-up do that here in Tucson, so yeah, I admire (Downs) a lot," she said.