By Gracie Sleeman, El Inde Arizona
Macy Jump's family loves exploring Tucson over Family Weekend.
"My parents just love walking around down here," the University of Arizona sophomore from Washington said while strolling University Boulevard one day last week. "We always go up to Mount Lemmon…the Cookie Cabin… and we usually go to good restaurants."
The Jumps will be among hundreds of families attending UA's Family Weekend Friday, Sept. 29th-Sunday, Oct. 1. It's one of the UA's largest events with parents from around the country coming to campus to visit their students.
With everything Tucson has to offer, here is a quick guide to make the most of their visit.
Get outside
Hiking is a great outdoor activity in Tucson because of the many hiking trails all around town. One popular spot is Sabino Canyon, home to over 30 miles of trails, according to the U.S. Forest Service. Sabino Canyon Recreation Area offers paved and natural trails and even a trail leading to waterfalls at Seven Falls.
The recreation area is located at 5700 N. Sabino Canyon Road.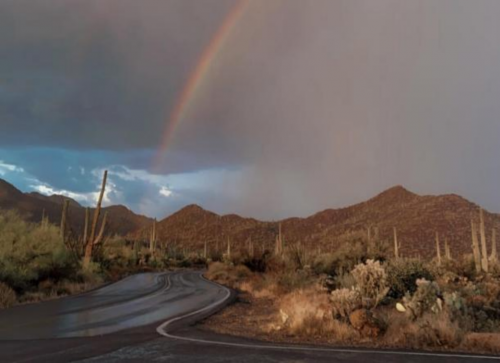 Day passes are $8 per vehicle, and weekly passes are $10 per vehicle and can be purchased at Recreation.gov or on site.
Sabino Canyon is part of Saguaro National Park, which is home of the nation's largest cacti. The saguaro cactus is protected within the park, which surrounds the east and west sides of Tucson. The National Park Service refers to the giant saguaro as "the universal symbol of the American West." For families not from the Southwest, Saguaro National Park is a must-see for the natural desert landscape.
The Arizona-Sonora Desert Museum is another great place to see the local landscapes and learn about local wildlife.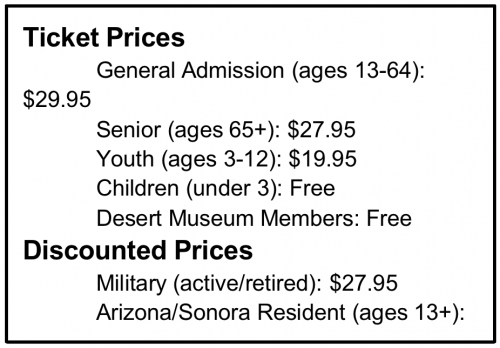 The museum is part zoo, botanical garden, art gallery, natural history museum and aquarium, so there is something for everyone.
It is located at 2021 N. Kinney Road and the hours vary based on the season.
7:30 a.m.-2p.m. June-September and 8:30 a.m.–5 p.m. October-May.
Tickets can be purchased in person or at desertmuseum.org/visit/ 
Tucson also is famous for its stunning sunsets and there is no better place to see them than Mount Lemmon, the highest point in the Santa Catalina Mountains. It sits at an elevation of 9,159 feet. One popular sunset spot is Windy Point Vista, which sits a little over halfway to the summit at 930 Catalina Hwy.
Enjoy some food
Tucson is a hub of culture and dining and is a UNESCO City of Gastronomy. Tucson was the first American city given this distinction by the United Nations Educational, Scientific and Cultural Organization. While the city is filled with great food, a few places stand out close to campus.
El Charro is the nation's oldest Mexican restaurant in continuous operation by the same family.
They are famous as the birthplace of the chimichanga and their roof-dried carne seca.
The original location at 311 N. Court Ave. was once home to founder Monica Flin and dates back to 1896. Flin's great-niece, Carlotta Flores, and her family have operated the business since 1972.
Reservations can be made at www.elcharrocafe.com/.
The North Fourth Avenue Mexican restaurant BOCA by Chef Maria Mazon has been featured on the Food Network and the Travel Channel as well as the New York Times. Chef-owner Mazon, who competed in the Bravo Network reality show "Top Chef: Portland" in 2020, is a James Beard Award semifinalist.
"I believe as a chef, you don't choose the style of cooking. The style of cooking chooses you. I was born in Tucson, Arizona, but raised in Sonora, Mexico. And it is through the experience at BOCA that I hope to take you there," Mazon said on her website.
BOCA is located at 533 N. Fourth Ave. Reservations can be made at https://bocatacos.com/reservations/
Reilly Craft Pizza and Drink downtown Tucson serves wood-fired pizza and pasta out of a historic building that used to be a funeral home. Reilly Funeral Home closed operations in 1990 and the Fenton family opened the restaurant in 2012. Even the restaurant's beer garden hosts a lively vibe in what used to be the building's hearse garage.
The newest addition to the restaurant is the rooftop bar that opens at 6 p.m. every day.
Reilly is located at 101 E Pennington St. and reservations can be made at www.reillypizza.com/
Cheer on the Wildcats
Arizona Wildcats football takes on Washington at 7 p.m. Saturday, Sept 30, Arizona Stadium. A definite highlight of family weekend, tickets can be purchased ahead of time at arizonawildcats.com or on-site.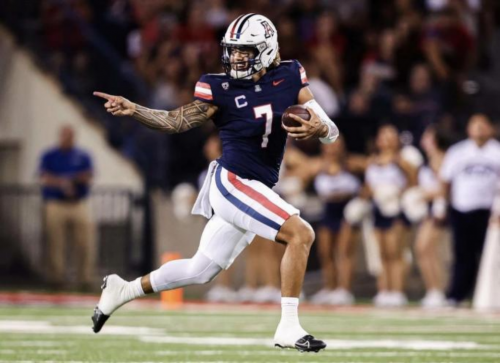 If you're into all UA sports, you can also catch Cross Country compete in the Dave Murray Invitational on Friday, Sept. 29, at Randolph Golf Course, 602 S Alvernon Way. The men race an 8k at 7 a.m. and the women race a 6k at 7:45 a.m. The invite is free to attend and spectator areas will be designated by officials.
Arizona's Swimming and Diving team kicks off their season with the Red and Blue Intrasquad meet at 9 a.m. Saturday at Hillenbrand Aquatic Center, 1827 E. Enke Drive. Watch the Wildcats compete against each other for free before the football game later.
Check out our craft beers
Barrio Brewing Company is one of Arizona's oldest and first employee-owned breweries. It opened in 1991 and hosts brews unique to Tucson. The taproom serves 13 beers on tap. If you are not quite old enough for beer, Barrio at 800 E. 16th St. also serves a variety of food on their menu.
Another option is Dragoon Brewing. Founded in Tucson in 2011, Dragoon typically brews around 30 beers each year, but serves 11 on tap. Their taproom is right at the brewery at 1859 W. Grant Road No. 111, so they do not serve food, but they welcome outside food and often have a food truck outside. This means the back, where the beer is brewed, is often open for the public to see.
Borderlands Brewing has been downtown at 119 E. Toole Ave. for the last 12 years and recently opened a second location at 2500 E Sixth St. in the Sam Hughes Neighborhood. The new location hosts a menu curated by BOCA by Maria Mazon head chef Maria Mazon.
If you're a fan of Tucson craft beer and you like a little pickleball with your pint, check out Tucson's first pickleball restaurant downtown. Corbett's is a bar and restaurant with five pickleball courts including two inside one of the most historic buildings in Tucson at 340 N. Sixth Ave. The three other courts are outside and there is a small stage for live performances and a restaurant with a spacious patio.
Corbett's serves a variety of local Tucson brews from Barrio, MotoSonora, Pueblo Vida, Crooked Tooth, Dragoon, Ranch Hand, 1912 and Dillinger.
Dining and pickleball court reservations can be made at corbettstucson.com.
Go Shopping
University Boulevard's Main Gate and historic North Fourth Avenue are home to great shopping. Main Gate has Urban Outfitters, Pitaya, Colette Clothing and more. Fourth Ave shows off more of Tucson's local makers and culture including Antigone Books, Sky and Sand, Aquamarine Daydream, ZT Boutique and Pop-Cycle.
Both areas are along the SunLink, which runs from the UA to West Congress's Mercado District
El Inde Arizona is a news service of the University of Arizona School of Journalism.