By Cassandra Scott/El Inde
Irina Chausovskaya, 28, grew up most of her childhood in Kyiv, Ukraine, with her siblings and parents, Olga and Alex. Irina described Ukraine as a beautiful country with so much to see and do. She painted a picture of the big farmlands and animals she grew up around and described how in tune the country is with nature. Growing up, she would go mushroom picking or walk around the streets as they didn't use a car much. She would visit small villages with farmers' markets and big forests with cabins, saunas, and lakes.
"We had chickens, cows, goats, and sheep," Irina's mother Olga said. "Everyone in the town knew each other and we were all very close as a family."
About 30 years ago, Olga was given the opportunity to move out of Ukraine with help from a program called The Jewish Children Center, or JCC, which would sponsor Jewish families and take them to America.
"My grandparents were Holocaust survivors," Irina said in a soft tone, sitting across from me in the European Market and Deli. "The program gave us two choices, they could either sponsor us in New York or Tucson."
Not knowing too much about the United States, Olga did some research through different travel brochures. She knew she was ready to be out of the cold temperatures in Ukraine, so she chose Tucson.
"You like the weather here, right, mom?" Irina asked her mother as she passed by briefly during our interview. "I love it," Olga replied with a bright smile.
In 1991, Irina's family left Ukraine and headed to Tucson. While discussing the move, Irina described her mother as ambitious and a go-getter all the time; someone who never took no for an answer. As they started to adjust to living in the state, the family realized there were slim to no European shops or markets. No place sold the food they were all used to eating such as borscht, cabbage rolls, and gyros. Olga decided she would be the one to change that, and started working towards creating her own business. Irina was very young at the time, but she still recognized her mother's dream and ambitions for this new business that ended up being very successful.
"There were a lot of other business owners who saw what she was trying to do… They took her under their wing and mentored her," Irina said.
The business owners Olga had met around her would take her to the city to fill out the countless paperwork needed to open a business in America. The process wasn't short. It took multiple attempts to pass paperwork back and forth between Olga and the City of Tucson until after two years it was finally accepted. Now, Olga and her family owned this new building in Tucson Midtown, and they got straight to work.
"I remember we went to the deli and my dad asked if I liked the place," Irina said. "I said no, it looks ugly."
Being very blunt was normal in Irina's family, and she says that being honest with each other means you love that person enough, to tell them the truth.
Although the building was finally in Olga's hands, both she and Alex were working other jobs at the time. Alex was working at his car detailing shop that he sold later on, while Olga was working with a jewelry company. Each night when the two would get off work, they would head over to the market to start building the store they dreamed of.
"After work around five or six, they would come to the deli and scrape the popcorn off the ceilings and get done around one or two in the morning," Irina said.
"I came up with the idea and I tried a couple of different designs before we settled on what it is currently," Olga said.
After each long day balancing the creation of a new business on top of their jobs, Irina's parents would wake up every morning and do it all over again. After two more years, the European Market and Deli was complete and is now run by Irina and her parents.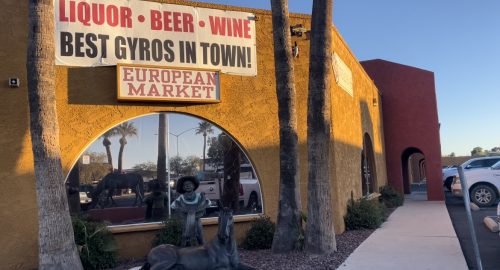 When the market first opened the family was expecting Ukrainian, German, or Polish people to be the main customers. What they got was a lot of American customers. Irina said she thinks Americans come to the deli because they are interested in trying new foods they may have seen on cooking shows, or they're just curious.
When I first walked into the market, I was amazed by how different it was from others. I had truly never seen any store like it. On one half of the market, there were aisles of different Ukrainian teas, cookies, milk, candy, and assorted frozen foods. Across from the door was the deli with lots of classic Ukrainian food such as borscht, a soup filled with beets, cabbage, and sometimes beef. On the other half of the store sat chairs and tables with tan-colored walls surrounding them with Ukrainian posters and a big half-moon window facing the parking lot. On the counter where the register sat were bright yellow and blue frosted cookies for $5 that would be donated to help Ukraine.
Earlier this year in February 2022, Russia launched a full-scale assault on Ukraine in hopes to conquer the country. This marked the start of an ongoing war between Russia and Ukraine that caused thousands of families to flee both countries and thousands to die.
When the war first broke out Irina thought Ukraine was going to lose. Her country was going up against another far larger, with more equipment and a heavy agenda by Russian President Vladimir Putin. Once she saw the Russian soldiers, she began to gain more hope for Ukraine because the soldiers from Russia were inexperienced.
"I saw how amazing the Ukrainian soldiers were who were trained by Americans, trained by NATO," she said.
Although Irina applauded Ukraine's President, Volodymyr Zelenskyy, for staying in Ukraine to fight for their people, she felt like there were opportunities for him to try and stop the war before it got out of hand. Currently, over seven million people have fled Ukraine and tried to reside in neighboring places like Poland, or Moldova.
Irina wanted to do everything she could to help. So, she decided to go to Ukraine. Before she left, she started a non-profit called Great Ukraine to get support and gather as much aid as she could. While there, the first thing they started to do was transport people out of unsafe areas of Ukraine by vans.
"I realized there were a lot of old and young people who didn't want to leave," Irina said.
She knew she still needed to help those who stayed, so she would bring them groceries, medicine, and anything else they may have needed. There was a daunting list of people who needed to be transported out or who needed aid. Although it was her first time doing anything like this, Irina continued to work hard and got in contact with drone companies. They would use drones to scan the area to avoid roads that had been bombed and locate Russian soldiers. She would also get calls from American families that had young boys in Ukraine who wanted to stay and fight. Irina spent a lot of time finding these American boys so that she could make them go back to America as they were inexperienced and just getting in the way.
"Figuring out how to navigate a non-profit was very difficult," Irina said. "We would get to a place with vans and pull out the list of everyone who wanted to come and help… And they would say no, they are not going anymore."
This was heartbreaking for Irina even though she understood she couldn't force anyone to go. In Ukraine, half the country was split. One side was war ready, while the other side was taking it day by day and seemed to be going on as normal and doing things like going to the beach and posting on Instagram. She doesn't know why this is, but she assumes it's a way for people to cope and deal with the trauma.
Irina and her parents stay in constant communication with their family back in Ukraine and most of them have fled or moved to safer places within Ukraine. Although the war is still ongoing, news coverage here in America has dwindled. Irina figures it is probably because the U.S. has other things going on, like the recent election.
"I'm sad that people don't really know what's going on anymore," Irina said.
Irina also has some friends and family who are Russian. Her cousin, in particular, is the one who keeps her up to date on what's going on. He had to go into hiding and run because he is young and Russia will try to conscript him into the military. Irina said she believes Russia is in a really bad place right now and their people are suffering too.
"The people that are protesting, thousands of them, have all been arrested," Irina said. "The ones who are writing anti-war poems are getting kidnapped in the middle of the night and you never see them again, the ones that are creating dances in honor of Ukraine, they're gone."
In Tucson, so far away from the war, people can help by bringing aid to their market like children's clothing. Just coming to talk to her and her parents makes a world of a difference.