By Tatyana Johnson/El Inde
After a long day of walking around the busy streets of France and sightseeing with their tourist group, it is almost dinner time. Diane Sanchez slides past one of her travel companions' workstations and hurries back to finish her preparations for her part of the group's meal. Each person, assigned by Donna, has been made responsible for a different piece of the night's menu. They eat soon. Eighteen novice chefs, each a member of one of Donna's many group trips to France, have been sent into the wild, wild kitchen with a recipe and knife in hand. Loud voices and the clanking of kitchen utensils fill the once-quiet vacation home as each person battles to do one thing: not mess up. Feeling pressured and scared that she will flub her assignment, Sanchez searches for guidance. Out of the crowd emerges Donna to the rescue. As if she were a kitchen angel, Donna floats above the chaos to come to any lost chef's aid. She has an air of calm about her.
"She never gets frazzled… She's a consummate professional," Sanchez said.
With her recent dedication as a "culinary legend of Tucson," as awarded by the Gastronomic Union of Tucson, Donna Nordin shares that it is her childhood and life experiences that equipped her with the skills she now possesses as a chef, teacher and legend.
Donna described her childhood as food centric. She remembers being a young girl in Escondido, California visiting her southern-rooted grandmother. Among the orange and avocado groves of her grandparents' rural home, she became her grandmother's shadow. A wide-eyed Donna watched as her grandmother tended to her garden and enlisted her help. She would run through the garden, noting the corn fields, which seemed like giant skyscrapers to a young Donna. After helping shuck corn and snap green beans, Donna would watch in amazement as her grandmother cooked all the vegetables they had prepared together. As she grew older, her responsibilities in her grandmother's kitchen became greater.
By the time Donna reached high school, her mother insisted she learn to cook family meals. Donna remembers her adolescence through the responsibilities she had. She said that her mother wanted her and her siblings to be independent. Her childhood was spent completing chores and household work to better equip her for her future as the ringleader of her own home, kitchen, business and life.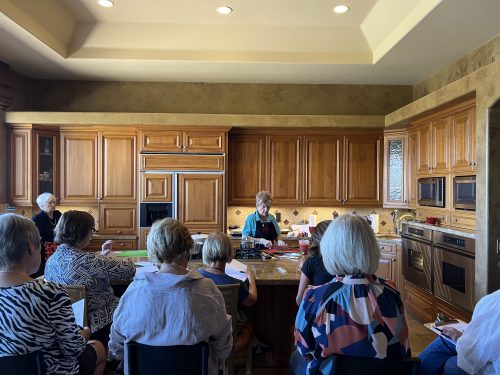 "She just thought that we should know how to do everything…even if we were on our own or if we were married, or whatever happened, that we could just fend for ourselves. No matter what," Donna said with admiration for her mother's instruction.
As a young child, Donna remembers her mother taking her to the neighborhood grocery store, which was not far up the street from their home. With a list of ingredients in hand, Donna would roam the aisles searching for just the right thing to complete her meal. Her mother towed closely behind the clanking grocery cart and a focused Donna, throwing in words of wisdom and advice when it was needed. After making the short trip home and unloading the groceries, Donna would get to work on building her family's next meal.
Donna's mother once said to her: "you need to go to college so that you don't ever have to be dependent on a man." This advice resonated with the young adult, so she packed her bags and moved four miles from home to attend San Diego State University. Between her sophomore and junior year, Donna traveled abroad to France. She describes this trip as her awakening to French culture. Her days were full of admiring the way of "French living" through their language and food.
Donna explained that it was not the food itself, but rather the way the French viewed their food and the role it played in their everyday lives. Around lunch time, Donna would watch as school children filled the streets, making their way home to eat. Lunchtime was sacred, the world around them stopped while families enjoyed their biggest meal of the day together. An hour later, the city came back to life; streets were bustling, offices were back up-and-running, and classrooms were full once again.
"They [the French] were just really mindful of having pleasure in their life. That pleasure was from food and being at the table talking," Donna said.
A young Donna returned to the United States with a glimmer in her eye and a new appreciation for not just different cuisine, but a different way of life. Donna finished school and moved to San Francisco, where her culinary interests really took flight. She remembers the first Julia Child cookbook she received as a gift. Donna was inspired by the esteemed chef, she was a woman in the kitchen- and not just her household kitchen, she was in kitchens where women had never before stepped foot. Just like the esteemed chef, Donna longed for something more, something different, she said.
"I didn't want to be in a box …I wanted to be more flexible with my life. And somehow, I just was spunky enough, sassy enough, independent enough to say, "I'm gonna try it."' Donna said.
With her Julia Child cookbook in hand and a few A's in her university French classes under her belt, Donna set off to move to Paris. Nerves filled her body as she embarked on her travels. Not only was the fear of failure on her mind, but Donna was terrified to be on her own in a new country where she didn't grow up with the language and customs.
Once there, she felt lost. Living in France was a lot different than studying abroad in France, like she had done not too long ago. Donna quickly adapted her new motto: "fake it 'til you make it." Smile at the sales associates, do not go into a boutique without the intention of making a purchase and be nice to everyone.
Despite these new social understandings, Donna still felt lost. She was a young woman spending her formative years in a country where she knew no one and seldom knew the language. So, she turned to the one thing that provided her with both a sense of familiarity and understanding: food. Donna enrolled as a student at Le Cordon Bleu, the prestigious culinary school located in Paris. She participated in practical classes where she would put to work the skills her teachers taught her. The rest of her time, though, was spent in demonstrative classes where she would watch chefs exhibit different culinary skills.
One day, while waiting in line for a demonstration class, Donna passed the time by talking to a fellow classmate. The woman shared that she attends classes intermittently to brush up on her skills, but her full-time gig was hosting cooking classes out of her apartment. A lightbulb went off in Donna's head, and inspiration struck. With her new culinary knowledge and skills, Donna booked her ticket and packed her bags to go back to San Francisco with hopes of hosting some cooking classes of her own.
After some trial and error in the Bay Area, Donna found success in hosting demonstration classes for small groups out of her apartment. As time went on, these groups of people grew larger and larger, as people gathered to learn more.
A few years went by, and Donna had officially managed to switch from student to teacher. As her class sizes grew, she knew she needed a bigger space than her small apartment. Today, Donna's classes are held at a "host" house, i.e., someone loans their house to the class for the day. An older crowd files into the host kitchen, mingling while they find their seats across the kitchen island. Donna greets her students, who are more like old friends, and finishes up some last-minute preparations. Placed on each student's chair is a clipboard with the day's recipes and a pen for note taking.
Donna juggles multiple dishes as she moves from the kitchen counter to the fridge, then to the oven, and then right back where she started at the kitchen counter. The experienced chef juggles multiple dishes while she guides her enamored audience through each step of their already printed recipes. Donna tells personal anecdotes and cracks jokes with her students, making cooking both more relaxed and attainable.
Sanchez, a class "groupie" (as Donna affectionately calls her frequent class-goers), described Donna's teaching style as "laissez-faire." She said that this is one of the reasons she has returned to the demonstration classes time and time again. Donna's warm nature can be felt by anyone who walks through the host kitchen doors and into her demonstration.
Since Donna has started teaching, she has become a mentor to many young chefs. As a young teen entering adulthood, Charleen Badman, co-owner and chef of FnB in Scottsdale, suddenly found herself being taken under Donna's wing. One of Badman's first jobs was in Donna's iconic Cafe Terra Cotta, a restaurant that put Donna and her husband on the map in Tucson, Arizona. From there, she worked her way to becoming the sous chef at the new Cafe Terra Cotta in Scottsdale. All the while fostering what she recalls as a very special and unique relationship with Donna.
"She's my mentor. She was my boss. She's my friend … like a mother, always wanting to make sure I was taking care of myself," Badman says when speaking about the bond she and Donna shared.
Badman, a Tucson native, fondly remembers the times she would accompany Donna on her regular trips to San Francisco. At dinner time, the two would meet for a meal. Although the restaurant was dimly lit, Badman could feel the spotlight on her as she navigated a whole new world. Wide-eyed and curious, she followed Donna to their table to see what was in store for her that night; of course, she knew it would be something fancy compared to her teenage standards. Donna walked her through what each course was, what fork to use, how to treat wait staff. It's because of this guidance that Badman credits her love and appreciation for the dining experience.
As Donna reaches a milestone moment in her career, she reflects on all the times that she has felt inspired and when she has inspired others. This year, she finds herself packing her bags for France once again. Thinking back to the first time she visited the country, Donna is reminded of the constant it has played in her life. Today, she shares that with students and friends who, just like she was, are eager to do something different and explore a new culture. Donna boards her flight ready to reminisce and relive the experiences that helped mold her into the legend she is today.