Listen to the audio story
By Maury Urcadez/El Inde
The pandemic has hit us all in different ways — especially if our job requires us to take care of others.
I am a 23 year-old full-time student attending the University of Arizona who also works as a daycare provider on weekdays, alongside my mom.
My mother, Cecilia Urcadez, has 17 years' experience in childcare. She is the owner of her own group home daycare at our house. We watch 10 children who range in ages from six months to eight years old.
The spread of coronavirus has caused people to lose their jobs, move back home and adjust to a new lifestyle — for now.
And as much as adults are being affected by the virus, so are kids.
Beautiful, warm sunny days, our rainbow-colored playground and fast toy cars only work as a slight distraction for the children who in the back of their minds can't stop thinking about the virus.
Seven year-old Amanda Badilla told me she was scared.
"It's a virus that makes people sick and then they die. I don't want me to get it or my family," she said.
She and the other children will get dropped off at my house around 6 a.m. and leave around 5 p.m. Many people need daycare now more than ever, especially those who are categorized as "essential workers."
For example, one of the mothers whose four kids we watch works for Target; she gets hours now more than before. Another parent cleans houses, she needs help. Another mother is pregnant, about to have a baby and she needs childcare for her five year-old.
In a sense, we are also essential workers, for essential workers.
The Arizona Department of Economic Services, also known as DES, gave my mom the option to close her daycare due to the Covid-19 outbreak, but she preferred to stay open.
"The reason I decided to leave my business open was because for me it is more important to have the kids under my care so that I can keep giving them the education that they deserve," she said. "Instead of being in their house doing nothing, it is preferable to have them here occupied doing projects and homework that they get from school."
I help my mom by looking after the children and cleaning the house when needed. She pays me $200 a week and I have more work than I can handle. At a time like this, I feel blessed to have a job even though the kids can sometimes drive me nuts.
One of my most recent tasks is to help the elementary school kids with their homework.
And although I am a daycare provider, I am also a student. Sometimes I have to do my Zoom meetings with my professors while also looking after them.
From 10 a.m. until noon is when the children go out to play. On Wednesdays, I have a scheduled Zoom meeting with my Sports Public Relations class at 11 a.m.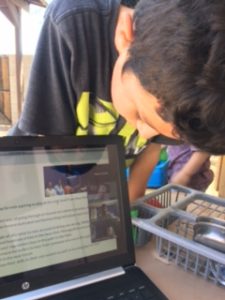 I take my computer outside and multi-task. I tend to put my audio on mute because outside is where the kids make the most noise and would interrupt my class every second if I didn't mute us.
While I'm outside, my boss will be inside the house making lunch and cleaning the house. She does this all while also exercising. She tends to dance to songs on La Buena, a radio station that plays all types of Mexican music.
The Department of Human and Health Services requires us to follow standards for cleanliness and educates us on basic handwashing, respiratory hygiene and implementation of proper protective equipment.
"Before, we would have to disinfect every time they ate, after they would come inside from playing, when they use the restroom," my mom said. "Nowadays, we are doing that, but 100 times more than usual."
As the children head back home and prepare to face the outside world, they think of all the advice we've been sharing with them since this pandemic started.
"Don't go outside," Amanda told us. "Get a mask. Lock doors and keep windows closed. Stay home."
Editor's note: A version of this story appeared in AZPM's weekly podcast, The Buzz.