By Tyler Salas/El Inde
In the heat of the Sonoran desert, sits a small glass building amidst a busy intersection and endless construction. An unassuming luxury car dealership, once one steps inside there's a coffee machine, dozens of pieces of memorabilia and clothing, and a large LCD screen mounted up high showing scenes of their countless past victories in motorsports. But this isn't just a place that sells new and used cars, Porsche of Tucson houses much more special vehicles with histories that could fill a museum.
Ferdinand Porsche, the company's founder from Austria-Hungary, had an artistic vision from the very beginning. He once famously said, "If you analyze the function of an object, its form often becomes obvious." After, he went on to create the 911 model, an icon spanning over fifty years yet never changing its signature teardrop shape. A brand new Porsche 911 starts at around $108,000 and comes standard with equipment that's to be expected such as an 11- inch display screen with Apple CarPlay, heated leather seats, air conditioning, and other comfort amenities you'd expect with a new car. But to some, a Porsche represents a raw, pure, and spirited driving experience that has nothing to do with noise reduction or smoothness.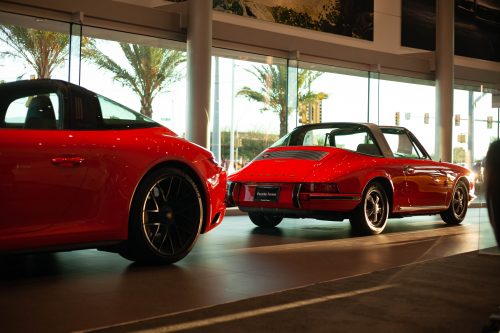 "I think the reason people are so drawn to these older cars is the memories they bring back. They either had a family member or neighbor who had one when they were growing up and now they're old enough to afford them or they're just happy to still see them on the road," said Christian Lerma, Porsche Tucson's dealer customer experience manager. He's a Tucson local who has been with the company for over five years now.
Recently, the dealership hosted its first "Sports Car Together Day," a celebration inviting all Porsche owners across Southern Arizona to spend a morning together to discuss and debate all things rear- engined. Here they unveiled their restored 1969 911 Targa,(a targa top is essentially a convertible with a fixed rear glass windshield) Chassis #762 or 970 total cars made that year. After having sat for years, it was completely restored and was refinished in a very bright shade of "Tangerine" orange and the interior was reupholstered to have plaid inserts like a modern Volkswagen. It had just recently returned from Monterey California where it was judged along with other classic Porsches at the Pebble Beach Concours of Elegance, a world famous and prestigious event where cars of the highest pedigree in the world are shown off right on the green of the Pebble Beach golf course.
"I was definitely nervous to be there since there were so many people who seemed to know what they were doing, but they were all really helpful," Lerma added after describing what it was like to feel the cold salty air of the Pacific while feeling anxious as Porsche North America executives judged meticulously. There were dozens of cars competing at the Porsche Classic Restoration Challenge which takes place every six months. While this was the dealers first time at Monterey, recently they have acquired an array of classic inventory. "It's really what puts us on the map, people are visiting and purchasing these cars from out of state and we've gained such a huge social media following from it, we actually became the most followed dealership in Arizona on Instagram," Lerma said.
A 911 is also so much more than a car or an object. Crafted during the Cold War in West Germany, a nation already in ruins, it's lasted and persevered and made its impact in the world. It has well surpassed chassises in the millions. When driving one and coming to a stop sign or simply being in the flow of traffic, the car draws lots of attention. People will gaze with envy and excitement as they immediately recognize the teardrop shape and often very vibrant colors like Gulf Blue or Conda Green. Multiple times when shooting for this story people drove by honking or waving or giving thumbs up, as that's simply the responses it elicits.
Perhaps what classic Porsches are better known for is their signature power-plants, their air-cooled engines. Based almost entirely off the Volkswagen Beetle from the late '40's, it then became adopted into the 356 and 911 models. It works is just how a normal combustion engine works, except instead of relying on a radiator flowing with coolant, it cools itself is with a metal fan much like an aircraft propeller slices through high altitudes. Several decades and generations of the 911 would undergo this precise engineering achievement until the late '90s, when they shifted to water cooling for better emissions and fuel efficiency. A common theme in Porsche's lineup of only seven vehicles, is that while their functions may differ from an SUV to sedan to electric vehicle to sports car, they all have the same philosophy and spirit of performance in mind.
But between 1948 and 1998 there have been over 400,000 examples of cherished 911s that were built, and all of them have a story. Such is the case with this 1971 911, chassis #2590, finished in a very efflorescent shade of yellow. Sporting a few major mechanical upgrades, most notably an engine from a 1985 911, which sounds like a cross between a small aircraft taking off and a stampede of horses. Despite having been driven over 240,000 miles, it starts up eagerly every time. Driving an air- cooled Porsche from this era really makes the driver feel like they are truly in control of the car, like a bullfighter in the ring. Porsche really emphasizes their motorsports heritage in all of its models, as that's one of the hallmarks of their brand as a whole. For example, the infamous 24 Hours of Le Mans race is a ruthless gauntlet of endurance and patience which challenges drivers and their cars to the absolute limits in any weather conditions through day and night in the Sarthe region of France. Since 1970, Porsche has won Le Mans a record 19 times.
Dylan Young, an Arizona State University graduate from a small town in Tennessee, now works as a salesperson at the dealership and explained what it's like to deal with such a renowned caliber of cars. "It's a used car to a different degree…private sales are one thing But at a dealership it's a lot more difficult, you really have to learn the vehicles and read every record because people, have questions about everything," he said. "It's like a smoked mirror, we kind of have to '"adopt'" a car and really pick deep at its history like our own, we have that 1972 911 and it's got a binder full of records but it's still a completely different world trying to sell than with a new car," Young added.
Money and deals aside, when these vintage cars are not stationary in a collector's climate controlled garage, a 911 truly evokes emotion and passion in the purest sense. "Back in the day it was not easy driving these, let alone racing one. We're so spoiled nowadays with new cars we often forget this is where the brand came from. While there absolutely still is some of that DNA in their SUVs and sedans, there really is nothing like a manual rear engined, rear drive car,." Young said.
Another young salesperson, Jonathan Dufour, is also versed in scouring forums and auction listings to try to find leads for those interested in becoming a classic 911 owner. "To think that innately a rear engined rear wheel drive car is flawed from a handling perspective, it's surprising how well they managed a perfect 50/50 weight distribution," he said. Perhaps it's the childlike wonder we all have inside of us, but when driving these and hearing the industrial whirring of the gears, and every metallic sharp click of the shifter, or smelling the oil inside the cabin with no ventilation, it really feels like driving a time capsule. A place where the driver can imagine darting across renowned race tracks across the globe such as Daytona in Florida, Kyalami in South Africa, Silverstone in England, or even on its home turf of Nordschleife in Germany, a 911 caters to all senses. "While new cars are nice and convenient, seeing where Porsche started out with lightweight frames and rev happy engines, there's that raw fun factor that we all love and enjoy," Dufour said.
But as the titan of the automotive industry moves forward towards hybrids and electrification or neglecting sports cars in favor of crossover SUVs, and enthusiasts begrudgingly swallow their pride, what will happen to older 911s? "If you look at the design of a new 911, you'll see design cues dating back to the 60s, so for now it's going nowhere. But Porsche is very smart with their engineering department. Just look at the Taycan (EV model) and everyone's trying to compete with them but a Porsche is still a Porsche," Young said. "The next generation below us is probably going to have a dying down of enthusiasm with these cars, because look at the people driving these cars, it's always an older demographic. It's rarely people our age,." Young said.
Since cars like these are still on the road, they will still need people to keep them alive and running. It will be up to the younger generations to decide if they want to have the same veneration for these cars. Derek Mcghee, a 25 year old UTI graduate with a focus on Porsches, has been working as a technician since 2018 and is one of several that gets to witness these vehicles up close and preserve their heritage. "It's great, kind of a passion project for sure. There's definitely key differences between these and the new cars, the classics have their place and even if they're simple, they're also just as complex, especially early fuel injected cars,(the process of fuel being shot into the engines cylinders for combustion)" he said.
"If Porsche decides to go all electric, to be honest, my job probably won't change much because a car is a car no matter what it's powered by. It's a machine that still has disposable things like tires or brakes, a car will still consume things as it's being driven and the electric batteries don't need to be worried about this instant," Mcghee said. The scenario of an electrified 911 may seems upsetting for the most passionate die- hard fans as gasoline engines are phasing out, especially that for 2021 and 2022 the Taycan outsold the 911, but there's still never been a better time to own one of these. With social media and forums filled with advice, the popularity and status of these is at an all time high."I feel very privileged when I'm presented with working on someone's dream car, it's a very rewarding feeling working for Porsche considering how often that happens," Mcghee added.
Porsche Tucson's 1969 911 Targa is one of over a dozen vintage cars the dealership is currently repairing and prepping for sale. It is awaiting its final reconditioning to make it ready for sale as well as several other classic cars with codexes of history bound to them. As these cars continue to appreciate in value, going for as much as $150,000 to $200,000, and as people get older, it'll be up to the newer generation to decide if these units are worth keeping alive or if they'll be cast aside in favor of cleaner- emitting vehicles for the sake of the environment. But one thing is certain:. That the love for rear-engined, air-cooled machines is strong spirited in southern Arizona.