By Vanessa Lucero/El Inde
From the outside, it looks like a typical striped yellow school bus, though it is parked in an isolated parking lot on Ajo Way street on the west side of Tucson, nowhere near a school but instead in front of Tiny's family restaurant. On a hot sunny afternoon, walking inside the bus, the rows of seats are gone and you can feel the heat hit your face. Black tape around the window seals, the smell of fresh paint hits. This is Erica Cantua's school bus that will soon turn into a mobile shop. 
Going up the stairs, one can't help but notice a unique handrail that is about two feet long, where the top half is made up of dried up saguaro ribs that sit on top of a mesquite tree stump from her backyard. There is a medium size white storage cabinet, a red tool set bag on the floor, shelves above and below the windows on this 20 foot bus. Cantua hopes to finish the construction of her school bus-turned-mobile shop by the end of this year, which will allow her to drive around to Tucson to many networking and private events to represent erixaart, her brand, and sell her art.
She has countless more sleepless nights ahead, but Cantua finds pride in building her own business. She says she wants to do this on her own with no help. She grew up as an only child, and always needed to find a way to entertain herself—whether that was through acting classes, ballet, painting and more. She started her first business at the age of 12, she used to crochet baby clothes to sell at craft fairs and online. But that first business came to an end when her classmates would comment that crocheting was for older people.
"Sometimes people are just haters," said Cantua. It wasn't the first time and it wouldn't be the last.
During her freshman year of high school, Cantua took a beginner's painting class but it was still not her main priority. She was interested in becoming a dermatologist. She was actually the type of person who dreaded anything to do with drawing. It wasn't until her junior year, in Advanced Placement Literature class, that she started to take painting more seriously when her teacher, Ms. Franzee, assigned projects that required drawings as images for their assignments. Her teacher encouraged her to keep painting. For her first assignment it was a painting of a woman and a landscape for a book review. She continued drawing, adding a transparent crow's tail flowing into a woman's black hair. She tried watercolors but in her paints it didn't really look like it. Cantua added less water to the paint to make it darker. One of her assigned paintings has her eyes closed, nose scrunched up and mouth opened. She used light shades of pink, blue, yellow and other watercolors in her assignments.
"For some reason I just related to these creepy faces because the face was something in high school that I related a lot to, because a lot of people only saw my face, my makeup, they only saw the outside of me instead of taking the time to get to know me as a person on the inside," said Cantua.
During her high school years, Cantua often wore full face makeup and got dressed up with nicer clothes. Because she paid so much attention to the way she looked, her classmates would assume that she was failing, not excelling in school. But she graduated with an above 4.0 GPA, she was part of the National Honor Society, president of the business club called Future Business Leaders of America and she worked two jobs. Feeling the need to let out her frustrations of people's perceptions of her, she continued to paint creepy faces.
"I just kind of felt like they're, they're going through what I go through, you know, they're gonna know what I feel because they're creepy faces too, like people are gonna judge them. And (the long faces) are just kind of my little buddies. And it became my support system," said Cantua.
One of her designs called Sky is a black and white face with the mouth wide open and no nose, part of her Halloween collection which consisted of two art pieces since she was just starting out. Cantua's design was inspired by her love of Halloween movies, specifically Scream, which features a face that resembles the mask. It's made with watercolor but Cantua says people sometimes assume it's an acrylic painting. Watercolor paintings can be very light, airy and people can see those water movements in the painting. She uses a lot less water and picks up more paint from watercolor palettes using a lot of layers.
Cantua likes to keep her original paintings and go back to add things, whether it is changing the background to green digitally, adding dots, like her casino girl sticker. It has a green background, colorful red and yellow sparkles, that symbolize the Las Vegas sign, the girl's eyes are casino chips, her mouth is full of money. Along with stickers, she sells clothes, earrings and more.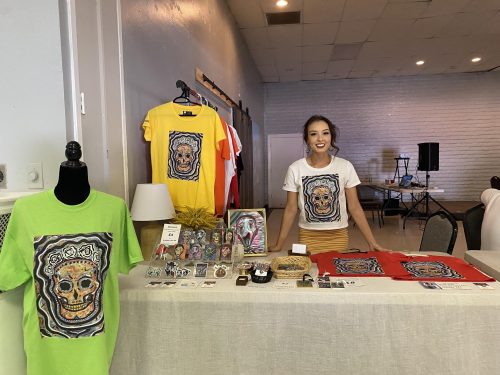 When she finished high school in 2016, Cantua took an entrepreneurship class and for one of her assignments she had to plan out her own business. When she shared her business idea, her classmates were impressed and commented that she should make the business class happen. She attends different networking events such as Homies for the Homeless fundraiser, which brought small businesses together to raise funds for the community, the art business Connect, which sells different artworks, and other pop up shops. She is part of the Tucson Creative Comadres which was founded in April this year by Fabiola Bedoya. The networking group helps bring Latinas connected through their interest in pursuing entrepreneurship in Tucson. One of their most popular events is Cafecito and Chill, where small business owners come together to share ideas, challenges and connect.
"I like to show her women out there that have their own businesses or that are just doing different things in their life that women can exceed and do anything that they want or put their mind to," said Ricky Armenta, a customer and friend of Cantua's, whose 12-year-old daughter bella really likes to wear the crop tops latest release with the printing brones of erixaart.
Armenta says he has followed Cantua's art since she launched her business 4 years ago when she launched it online, now to see the bus shop becoming a work in progress. He has no doubt Cantua will succeed in whatever she puts her mind to. He met her when she was a hostess at Texas roadhouse and has seen her grow her business over the years.
There's a lot of work left to do in Cantua's bus. She still has to fix the air conditioning inside; she works on it at night because during the day it's too hot outside. Now that the weather is cooling down, she is able to work on it during the mornings. But why a school bus? It's cheaper than owning a physical store and it's a well maintained vehicle because it is used for school. As long as she paints the outside of the bus a different color there won't be any issue.
In her backyard, Cantua keeps the 20 foot school bus which she purchased from Craigslist in March and now has a freshly customized license plate spelling out erixaart. People will get the chance to see her mobile shop at different events, and locations throughout Tucson, as well as book the bus for private parties to experience the uniqueness of erixaart.