By Betty Hurd/Arizona Sonora News

Twenty-four-year-old Patrick Angyal is the bassist and one of the founding members of his band, Galactic Cactus, a five-piece group of University of Arizona college students. In the dimly lit back room of Espresso Art Café, the birthplace of the band and one of their favorite hangouts, he describes how Galactic Cactus came to be.
"We all showed up to the first open mic of the school year last year in the fall," says Angyal, including the two other founding members, Reed Course and Zane Czarnecki.
Angyal and Czarnecki vaguely knew each other from class, so they said hello and conversed in between performances that night. When Course took the stage, they stopped in their tracks to listen to his music.
"He really blew us away," Angyal says. "His guitar was super out of tune and he looked really stressed about it, but his songs were so professionally written and so well-made."
Angyal and Czarnecki approached Course after the show and praised him for his music. When the three got to talking, they headed to Angyal's apartment and jammed the rest of the night away.
"We didn't even have the intention of starting a band quite yet," Angyal says. "Then we realized that our writing styles are very different but they complement each other super well."
With Angyal on bass and his two new friends on guitar, they quickly realized that they meshed well together. Perhaps this one-night jam could turn into something more.
"Eventually after more and more hangouts we just decided, hey, let's write some songs together," Angyal says. "So we did."
Angyal has been a musician for the majority of his life, and his passion for guitar began as a young boy when he picked up his older brother's neglected guitar that he got for Christmas. Intrigued by the instrument, he practiced every day, teaching himself chords and strumming patterns for hours on end. When his dad came home early one night and found Angyal playing some of his favorite tunes, he was shocked and impressed.
"I had been playing for a week and I was playing some of his favorite songs," Angyal says.
The one that came to memory was "Black Bird" by the Beatles. Patrick learned how to play this melody all by himself. Since then, he has been playing more and improving.
Zane Czarnecki, David Cantillo, and James Linskey attended high school together in Flagstaff, where they dabbled in music and occasionally played together. When Czarnecki encountered Angyal and Course at the open mic night, he reached out to his Flagstaff friends to see if they would be interested in starting a band.
The original three went searching for a drummer. And eventually, all five boys met one day in early 2019 to hear Linskey play at Arbol de la Vida, the honors dorm on campus. Linskey showed off his skills while Cantillo blew a guitar solo out of the water. That day, Galactic Cactus was officially born.
So the band is new, but these guys have been the closest friends ever since they formed. They've lived together in a house a few blocks away from campus since this past summer. Their living room is full of electric guitars, amps and wires and a shiny new drum kit. They have band practice—sometimes scheduled and sometimes spontaneous—whenever they can all find the time to get together.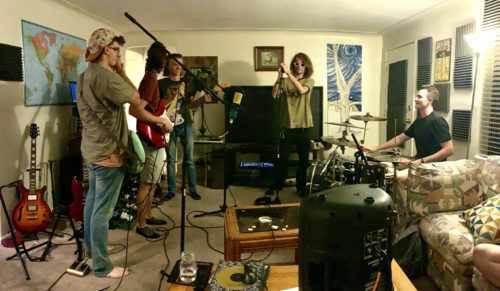 "All of us really have evolved so much since when we first started sharing our ideas," says Course, the guitarist and singer who plays the crowd with a tambourine or shaker in hand. "It's very nice to be a part of that."
Angyal went on to compare Galactic Cactus' styles and strategies to those of the most famous band of all time.
"We like to draw lines between us and the Beatles as they had four very competent and talented songwriters amongst them," he says. "Everyone has their favorites, but you know, there were songs by all four of them that reached the top of the charts, so that's kind of our aim."
The band wants to achieve this Beatles mentality by creating music by each band member rather than focusing on one front man. They have one single out now called "Monkey Man," written and sung by guitarist Reed Course.
Course sounds like he came straight from the early 2000s Skater Boy era, his voice expressive and charmingly pitchy. The symphony of guitars and drums is reminiscent of the indie rock band Beach Fossils.
The chemistry between the bandmates is obvious when they look around at each other with smiles on their faces, shaking their heads and tapping their feet to the beat of the music they create together.
Galactic Cactus intends to release a brand-new song called "Land" by the end of this year. This one is written and sung by Czarnecki and is in the process of recording and production. The band isn't sure where they'll end up in the long-run, but they know that they will always be close friends no matter what.
"These are the years we're going to remember forever," says Angyal. "We're definitely here for each other until the bitter end. One day, if I ever get married, these guys are my groomsmen."