On the medical side of the University of Arizona campus, inside the Keating Research Building, Dr. Jennifer Barton is giving a talk to the Arizona Women's Forum, whose members have come to learn more about her research.
About 15 people sit around the conference table, while Barton, a trim blonde woman with a confident voice and a quick smile begins her talk.
Barton is the Director of the University of Arizona's Bio5 Institute, which brings together researchers from lots of disciplines to create new medical devices, diagnostic methods, and therapies for diseases.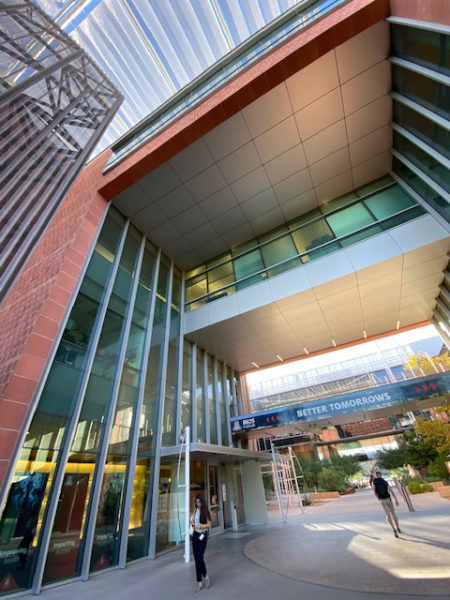 She is a rarity in today's academic world—a woman biomedical engineer. According to the Society for Women Engineers, women made up only 13% of all engineers in 2017.
"When I was in junior high and high school, I didn't really know what I wanted to do. I seemed to be good in math and science, but not great." she says. "And so time came when I had to pick something, and although my father denies this, he said, 'We'll pay for four years of the state's public institution and you can study anything you want as long as it's engineering.'"
When she first got her Master's degree in electrical engineering back in the late 1980s, Barton worked at aerospace giant McDonnell-Douglas as part of the electrical engineering team on the International Space Station. At first, it seemed like a great opportunity.
"So NASA had just given the prime contract to McDonnell-Douglas about the time that I was graduating from college and they were desperately trying to hire hundreds of engineers to work on this new program," she recounts. "So I came in; I think it was a very unusual situation for an aerospace company to have so many young engineers. And so it was a great environment. It was a lot of fun."
But she hadn't counted on how things work on huge engineering projects.
"I worked on the power system layout, worked on the lighting design, but the Space Station went through two major reorganizations and re-imaginings while I was there," she remembers.
After six years at McDonnell-Douglas, Barton and her husband moved to Austin, Texas, where she went back to school for her Ph.D. in biomedical engineering.
At that time, it was a new field, focused on using engineering to improve health, particularly through the development of new medical materials, devices, and imaging. It is here that Barton has found her passion.
"I think biomedical engineering is super exciting because it takes all those principles of engineering, of design, of building, of learning how the world works and how you create useful things," she says. "And it's fun to make iPhones and they have changed the world, but if you're making a medical device or an imaging system that's going to help somebody avoid a bad surgery for cancer or a way that's going to help somebody who's paralyzed be able to regain function of a limb, that's such a direct way of helping humanity."
She was particularly interested in medical imaging, which is any technology that allows physicians to see on or inside the human body to help them diagnose disease. Part of her interest stems from loving lasers when she was young.
"I had been fascinated with lasers since I was a little kid … I remember the United States Bicentennial, when they shone a laser off the Washington Monument and it would just dazzle everybody … And it also turns out that you use lasers for imaging."
In one of her labs, there are multiple devices which look to be right out of a sci-fi movie set. There are tiny tubes, digital cameras, large microscopes—it's like a toy chest for science geeks. As the air conditioning howls in the background, Barton's lab manager, Faith, shows me an early prototype of a tiny endoscope—a thin tube with light and a camera that is used to look inside hollow organs such as the colon.
Currently, Barton is working on a research project on early detection of ovarian cancer. Ovarian cancer kills about 14, 000 women each year and is the 5th most deadly cancer in women. Doctors used to think it started in the ovaries, but recent research shows that it likely starts in the fallopian tubes, years before it is diagnosed.
Barton's research is focused on building two different endoscopes: one that will allow doctors to see the ovaries, and another which will fit inside the fallopian tubes. This second device, called the fallopascope, is only 0.8 mm in diameter—barely thicker than the lead in a mechanical pencil. It's designed to let doctors see inside a woman's fallopian tubes to help diagnose ovarian cancer early.
"I chose to work on ovarian cancer because I'm a tool builder" Barton explains. "So I came here and did a lot of running around saying 'Hey, there, I have a tool, anybody have a problem or anybody have a nail that needs hammering?' And I got accosted by a gynecological oncologist who came and said, 'You need to use your tool to help me detect ovarian cancer early because I have patients with ovarian cancer. I treat them, we do surgery, we remove the tumor, these patients are fine for a few years and then the ovarian cancer comes back and it's usually deadly.' Ovarian cancer just reached out and grabbed me."
Women in our society have not been encouraged to go into engineering, and once in the workforce, the Society of Women Engineers reports that nearly two-thirds of them feel that they have to prove themselves in ways their male colleagues don't. For Barton, it's been different.
"I've been really fortunate that I've encountered very little negativity about being an engineer. And I'm sure that's because I'm incredibly fortunate to have that family background that said … 'Of course she can do it,'" she says. "I know that not all the young women engineers coming in nowadays have that same kind of family support or friend support … so I try to try to be a source of support and encouragement to them."
But a myth persists among both women and men in science and technology fields: That women can be hardworking and diligent, but men are the ones that have brilliant, field-changing breakthroughs. A paper published in the journal Science in 2015, which surveyed over 1,800 academics in 30 different disciplines, reported this bias.
Some people refer to this myth as the "Sherlock Holmes versus Hermione Granger" hypothesis, referring to the fictional brilliant detective in Arthur Conan Doyle's stories, and the also fictional, hard-working, hard-studying female character in the Harry Potter books. Barton likes to talk about this pervasive myth, and why–even if you believe it's true–it should attract women to engineering, not scare them away.
"There are some people who theorize that the gender imbalance comes about because of this … So Sherlock Holmes is brilliant, right? He just thinks of things and the answers come to him and he's brilliant. And so that's a man's field—brilliance. And that can be (true in) some of the sciences, especially the ones where data are harder to come by.
"But generally, women are seen as being 'Hermiones' where they work really, really hard; they're really, really studious; they're smart, but they're not brilliant. They just work hard. And so they get there based on results. Well, fine, whether you agree with that or not, but if you do, then engineering ought to be a woman's field because it's all about working hard and getting results."
Yet, looking at the current numbers, biomedical engineering is starting to be a woman's field, as Barton points out.
"Biomedical engineering now is 50% women at the undergraduate level. So it's attracting women. Why? Because it helps people, you can see the results; because it's a new field so it didn't have all that baggage of years and years of having accumulated people who said this should be my field and I should only have people who look just like me in it," she points out. "So frankly, I think the reason there aren't more women in electrical engineering and mechanical engineering and civil engineering is because it's boring. They need to make—they, being the educators—need to make it more interesting, need to make it more relevant, need to make it more modern, need to make it more inclusive, which you can only do by hiring a cluster of women faculty to come in, not just one."

Barton's 20-plus-year academic career has revolved around her experiences with her students. She gets a lot of inspiration from them—and even ideas for research projects.
"I don't think I'd be happy working someplace that didn't have students because it's just so amazing to me to see them come in. I teach a freshman 'Introduction to Biomedical Engineering' class. I love the freshmen. They're so excited. They're not afraid to ask questions," she says. "And you see some of that raw energy transferred and transmuted into a more mature person by the time they graduate. And if they go on to graduate school, then they learn how to become an independent researcher. And it's just so much fun to see that. I'm always sad when people graduate and leave the lab, but that's a success."
Barton meets regularly with her students to talk about how their research is coming along. Her students are comfortable and informal around her, exchanging jokes and laughs, but there's definitely an undercurrent of respect.
Barton has kept her passion for her field thanks to the life-changing applications it can lead to. She describes her hopes for her field in the future as less of a focus on technology and more of a focus on 'human wellness.'
"We've increased life span, but not necessarily health span. And so I'd like to figure out how we work on that, because I think until we figure that one out, we haven't really done anything good for humanity," she says.
Special thanks to:
Faith Photini Rice
Kelli Kiekens
Ricky Cordova
Music: "Awakenings" by Ketsa; downloaded from Blue Dot Sessions