In the back staff kitchen of Antigone Books, a package of pumpkin Oreos, a string of solar-powered lights and a mug filled with pens are telltale signs of its busiest season.
But this fall is different.
Themed displays like "Est. 1973" have been propped up against the store's signature purple walls, once home to the sterile-colored corners of a Salvation Army thrift store. Stacks of worlds unexplored lay perfectly aligned, untouched, awaiting customers in search of a new read.
Antigone at 411 N. Fourth Ave. is commemorating its 50th anniversary this fall, one of the oldest surviving feminist bookstores in the United States.
Inspired by the Take Back the Night movement and consciousness-raising groups of the 1970s, Barbara Atwood, Patricia Kelly and Jonnie Cunningham opened Antigone Books on Sept. 23, 1973. It was the beginning of an uptick in feminist bookstores.
"It was a big convergence of women standing up for themselves," said Kelly.
The trio of women named the store after Sophocles' Antigone, a Greek mythological character who stood up against male authority in favor of her morals.
The store originally specialized in books written by women and feminists. They specialized in non-sexist and children's books as well as other books that catered to women, children and the lesbian community in Tucson. If the community wanted it, they carried it.
"I loved the Fourth Avenue Street Fair because I used to trade books for things that I wanted and I didn't have very much money, so that was always a great deal of fun," Kelly said.
Atwood, Kelly and Cunningham ran the store for three years and nearly had to close it for financial reasons before selling it to Ede Rosen in 1977. She ran it for five years and moved it from its tiny storefront to 403 E. Fifth St. before Sue Sturtz took over in 1982. Trudy Mills bought the store from Sturtz in 1987 and three years later, partnered with Kate Randall.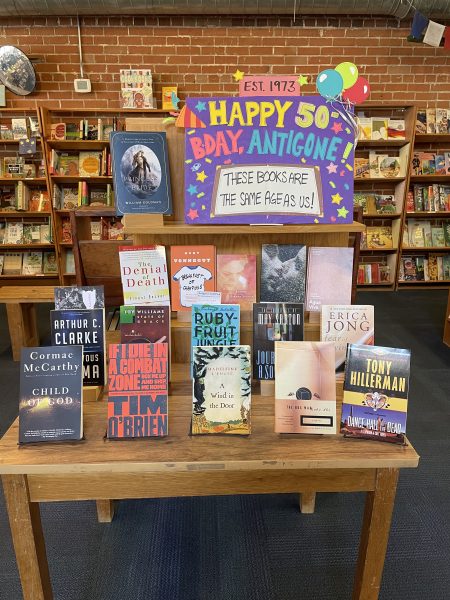 The store's current owners Kate Stern, Melissa Negelspach and Morgan Miller bought the store in 2018 after raising more than $38,000 through an Indiegogo crowd-source campaign.
"It's really a tribute and testament to the creativity and hard work of all of the people who work at Antigone, that they've been able to maintain that space in the way that they have this entire time," Sandra Soto said.
Soto, an associate professor in the University of Arizona's Gender & Women's Studies Department, said that Antigone largely survived thanks to the sales of knickknacks and gifts that fill the front of the store.
"Kate and Trudy really established the foundation of what you see today in the store and set the precedent for what it is now," Stern said.
The duo moved the bookstore from 403 E. Fifth St. into its current location in an old Salvation Army store and expanded the inventory to adequately fill the larger space.
Mills, who taught gender and women's studies at the UA, saw that Antigone could offer a more expansive variety of books, including feminist books, books on women's studies, body politics, lesbian fiction and other selections rare for the 1990s.
"Not only were people not getting published in that genre, but there were limited kinds of things being published," Stern said.
Antigone now stocks a more diverse selection of LGBTQ books, including young adult, non-fiction, fiction and graphic novels. Stern said she was proud of the growing selection highlighting different marginalized voices.
The store still hand-selects each book stocked on its shelves, the job of co-owner Miller, and they have expanded over the last few three decades to offer a wide variety of books outside of feminist literature.
"That Fourth Avenue corridor is important not just to locals in Tucson who can shop there and go to events there, but tourists," Soto said. "It tells them something about the values and cultures of Tucson."
During an in-store anniversary celebration on Sept. 23, one loyal customer stopped in to pick up books from Bob Dylan's must-read list. Another bought Mary-Frances O'Connor's "The Grieving Brain" while a third customer was on a quest for his ongoing book collection of contemporary prize-winners.
"It's a lot to process because we've only been the owners here for five years, but yet, it has this really expansive history," Stern said about Antigone's 50-year run. "Our goal is to keep it around for another 50 years and make sure that Tucson has a really great independent bookstore."
The three co-owners said they were thankful to see longtime customers, former employees and one of the original owners, Patricia Kelly, stop in for the anniversary celebration. Randall and Mills, who still own the building, sent flowers to the store.
"It really drove the point home that Antigone has a legacy that is so much bigger than the three of us," Negelspach said.