By Sara Richards / El Inde
"Would you like to set off the blast?" Nicholas Carouso, site manager and engineer of the San Xavier mine asks me with a large grin on his face, clearly humored by the confusion on mine. The San Xavier Mine, located 20 minutes from the University of Arizona, is nestled in Sahuarita, Arizona. James Werner, the supervisor of the laboratory, hands me a small button –I am now in charge of setting off the blast.
"One, two, three." An explosion goes off and shakes the ground beneath me. A boom echoes throughout the mine tunnel ahead. A yellow tube nestled at the opening of the mine releases thick clouds of smoke. We make our way down what feels like an endless pathway of wooden ladders; 150 feet underground.
"This is only a taste of what students get to do when they work here." Carouso has worked at the San Xavier mine since March of last year. He is a second-generation miner. He was introduced to the industry as a child when his family brought him to a barbeque at the laboratory.
He adjusts his white hard hat and runs his fingers through his red beard and guides us down the narrow pathway. He grabs a rusty metal hammer and strikes the rock formation above, breaking off chunks of beige-colored stone. "These are the types of tools that we use to collect samples," he says, hoisting an eight-foot-long metal pole in front of him.
The San Xavier Mine is unique to Tucson and the University of Arizona. The laboratory provides undergraduate students majoring in mining engineering with the opportunity to apply the knowledge they have learned in the classroom. Carouso, a former University of Arizona student himself, was able to gain invaluable experience in the mining industry before he graduated, which helped him land his full-time job working as an engineer.
"We call this the blue room," says Carouso. He gestures to a blue rock structure in front of me. There are bright turquoise fragments peeking out behind grey chunks of rock. The slab of rock around us extends low to the ground, requiring me to bend down to get a glimpse of the vibrant blue minerals.
"You can take home a sample if you want," he tells me, leaning down and picks up a small piece of stone, and hands it to me. I graze my finger over the top of it and turn on my flashlight to get a better look. It's light brown in color and bumpy and rough in texture. The flashlight brings my attention to sparkles that shimmer near the center of the rock. I place it in my pocket as a memento. Carouso flings open a door with a sign plastered on the front of it in bold, black letters behind a neon yellow sign that read "authorized personnel only."
I continue climbing down an endless flight of ladders into the dark abyss. Some of them are wobbly. I grip the wood of the ladders as tightly as I can before making my way down each step. The ladders creak loudly, reminding me of their instability as I maneuver my hands and feet down them.
Suddenly I realize that nothing is holding me in place if I take a wrong step. My anxiety intensifies. We make our way to the bottom of the path of staircases, and I examine the state of my hands, covered in soft, brown dirt. I pluck a splinter from my finger. Carouso guides me into a dark room at the base of the stairs, that has a hollow ceiling.
"This way up," reads a sign pointing upwards to the 150 feet that remain between us now and the surface. A sense of claustrophobia kicks in. The air thickens and becomes warmer. It is now more difficult to breathe behind my cloth mask. The light on my hard hat illuminates a striking blue mineral called azurite on the wall above us. He gestures towards two pairs of hanging boots on the ceiling of the mine that belongs to him and his father.
As generations of students have passed through working in and out of the San Xavier Mining Laboratory they have left their mark in unique ways. As we explored the mine, we discovered old mining jumpsuits,etchings on the walls and wooden planks as mementos of past and present miners.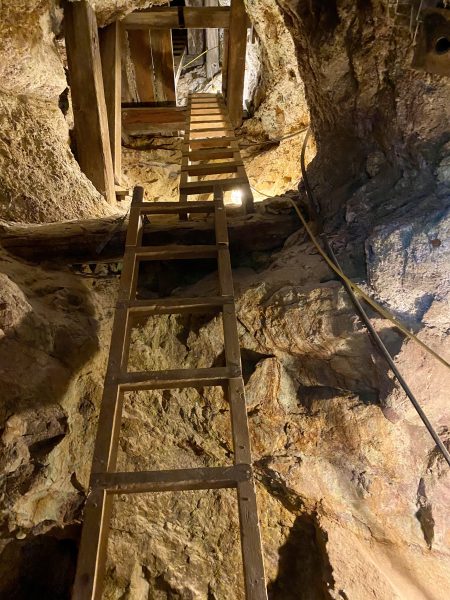 The mine is unique in that it provides students with the unique opportunity to get hands-on experience in the mining industry while completing their undergraduate degrees. College students hold various working positions in the mine. They have the option to work an eight-hour shift once per week.
"It's not just what you learn in the textbook because, in the industry, things can go way wrong and different from what the textbook says, so they get to see what operations are like," said Carouso. "Another part of it is that students get contacts with alumni to actually get future jobs and opportunities and then actually have questions they have someone in the industry to help them out."
The University of Arizona has owned the mine that sits on 90 acres of land since the '70s, but it has operated from 1880-1952, harvesting copper, silver, lead, and zinc. It also is a hub for health and safety training, where nearly 2,500 professionals visit every year. The San Xavier Mine has four levels underground, and is 250 feet deep.
In addition to being used for training mining professionals, the lab also works with federal agencies. "Mining and engineering students can come out here and put into practice what they learned in the classroom, but also it's also like extracurricular, they can come out here and get involved in anything they want to, underground mining, equipment, business," said James Werner, director of the San Xavier Mine.
Werner adjusts his bright neon yellow vest. Werner, a Mining and Geological Engineering graduate from the University of Arizona, has been working for the lab for the last seven years.
According to Werner, students have the opportunity to get involved in any area of mining they have an interest in. "They can week-to-week change different things they wanna learn, anything they want we try and give them."
The San Xavier Mine is an invaluable resource to prepare students for their future in the mining industry. It began an expansion last summer. Funding from the University of Arizona will allow the expansion to take place. Modernized technology will be implemented in the mine, such as laser-based sensors and a decline project. "A decline is a sloping ramp that connects the levels of a mine with the surface. It allows for heavy equipment such as drills, dump trucks, and loaders to get into the mine without depending on a rail for access."
Werner says that getting the decline project underway, is particularly important to making the mine a world-class research and education facility. The expansion of the mine will make it more efficient, and allow it to keep up with modern technology and advancements in the mining industry.
The mining engineering programs offered at the University of Arizona implement something many colleges are struggling to do: Get undergraduates industry experience and connect them with job opportunities. The laboratory is an innovative opportunity for students who are passionate about the mining industry to be involved in. The network students build with alumni and connections for future jobs is extremely beneficial, because one of the biggest challenges recent graduates are facing is difficulty finding employment.
Carouso ends the tour by guiding me back up the stairs. The claustrophobia fades and I feel invigorated by the experience of seeing an entire world I knew nothing about. We make our way to the top of the ladders, and he flings open a heavy metal door. Light from the outside of the door blinds me, as I had become so accustomed to the darkest depths of the mine.
Caruso lends me his hand, to help pull me up to the exit. I grasp his hand, pull myself up and make my way to through the metal door. My eyes hurt and I squint as I try to adapt to the change in brightness. Suddenly we are above ground once again, and it feels as if two full days have gone by.