Catherine Hill, El Inde Arizona
When the early birds of Tucson hit the trail at the popular Tumamoc Hill on Saturday, Oct. 28, they might be surprised by the newbie hiking beside them as the sun breaks over the saguaro-studded slope.
The 12-foot-tall puppet Amal, depicting a 10-year-old Syrian refugee girl, will begin her daylong stopover in Tucson. Tumamoc Hill is the first of several stops on Saturday that ultimately culminates in a visit to the football game at Arizona Stadium, later that afternoon.
She walks across Tucson on October 28, beginning her journey here at sunrise.
"So many people start their days off by walking up Tumamoc, and when we think of what it's like to live here and to go through what life is like, a lot of us start our day off in the morning and that's what Amal will be doing," said Chad Herzog, executive director of Arizona Arts Live, which is presenting the Tucson leg of the nationwide "Amal Walks Across America."
"She's a 12-foot puppet, but first you need to consider her as a 10- year-old girl," said Herzog, explaining that the event is meant to show the needs of refugees.
At the midpoint onTumamoc, representatives from the Tohono O'odham Nation will perform a sunrise land blessing for Little Amal, "to contextualize what Tumamoc means to Tucson's community now and Tucson's community in the past 4,000" years, said Sophie Gibson, artistic programs coordinator at Arizona Arts Live.
"This will be a physical feat for her, so the more people that will walk up there with her, the more meaningful it will be," Gibson said.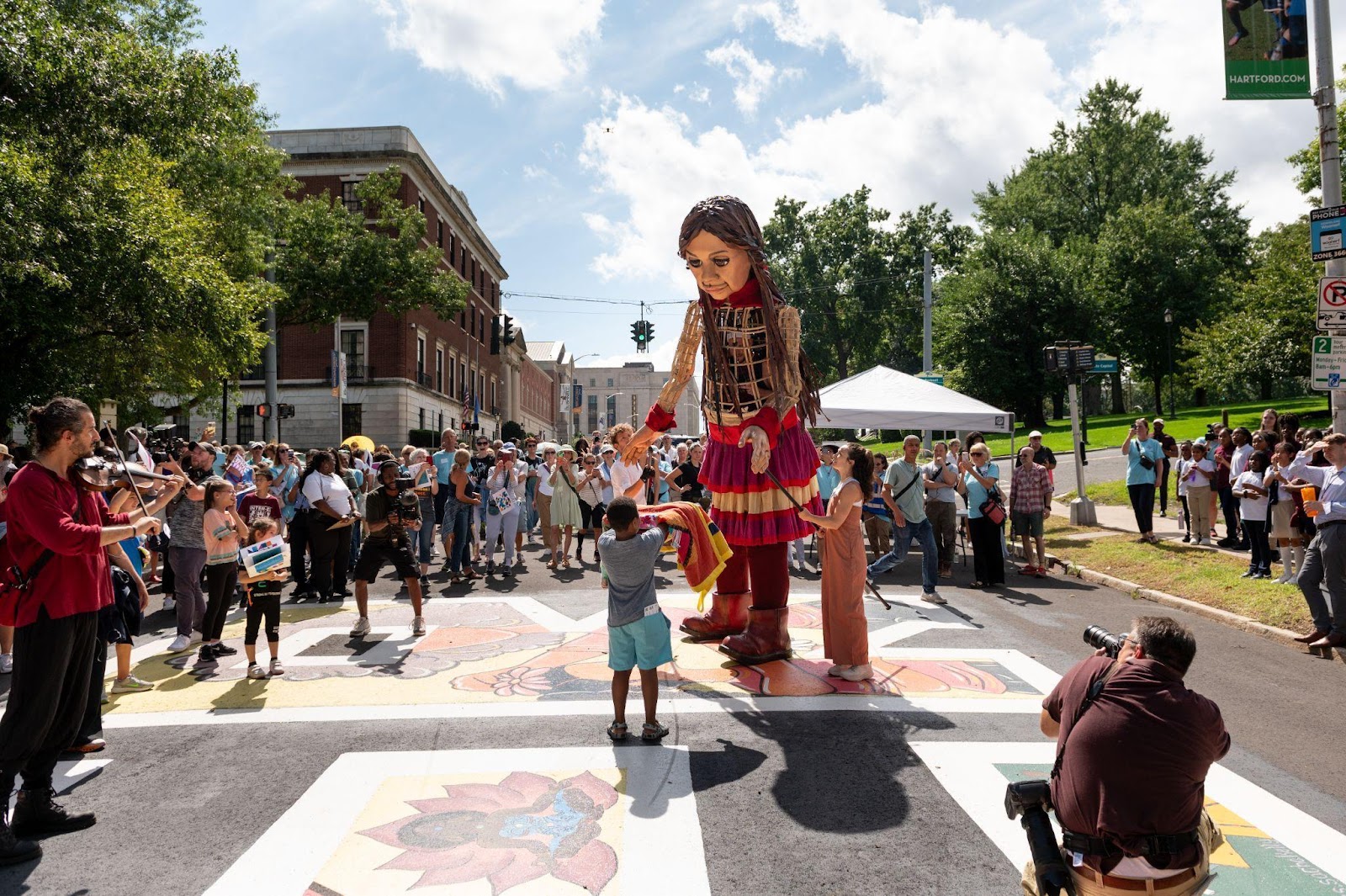 Little Amal plays with children and enjoys music from several local music groups in Hartford, Connecticut. (Photo courtesy of Arizona Arts Live).
At 9 a.m. Saturday, Amal will visit South Tucson's Galeria Mitotera, 1802 S. Fourth Ave., and eat breakfast with the community before riding along with the Dos Vidas Car Club at 10 a.m. to the Children's Museum Tucson, 200 S. Sixth Ave., downtown, for a citywide playdate.
"To be able to make art with people her own age at the Galeria and to be able to go to the Children's Museum and play… those are the kinds of opportunities that are trying to be created for her," said Herzog.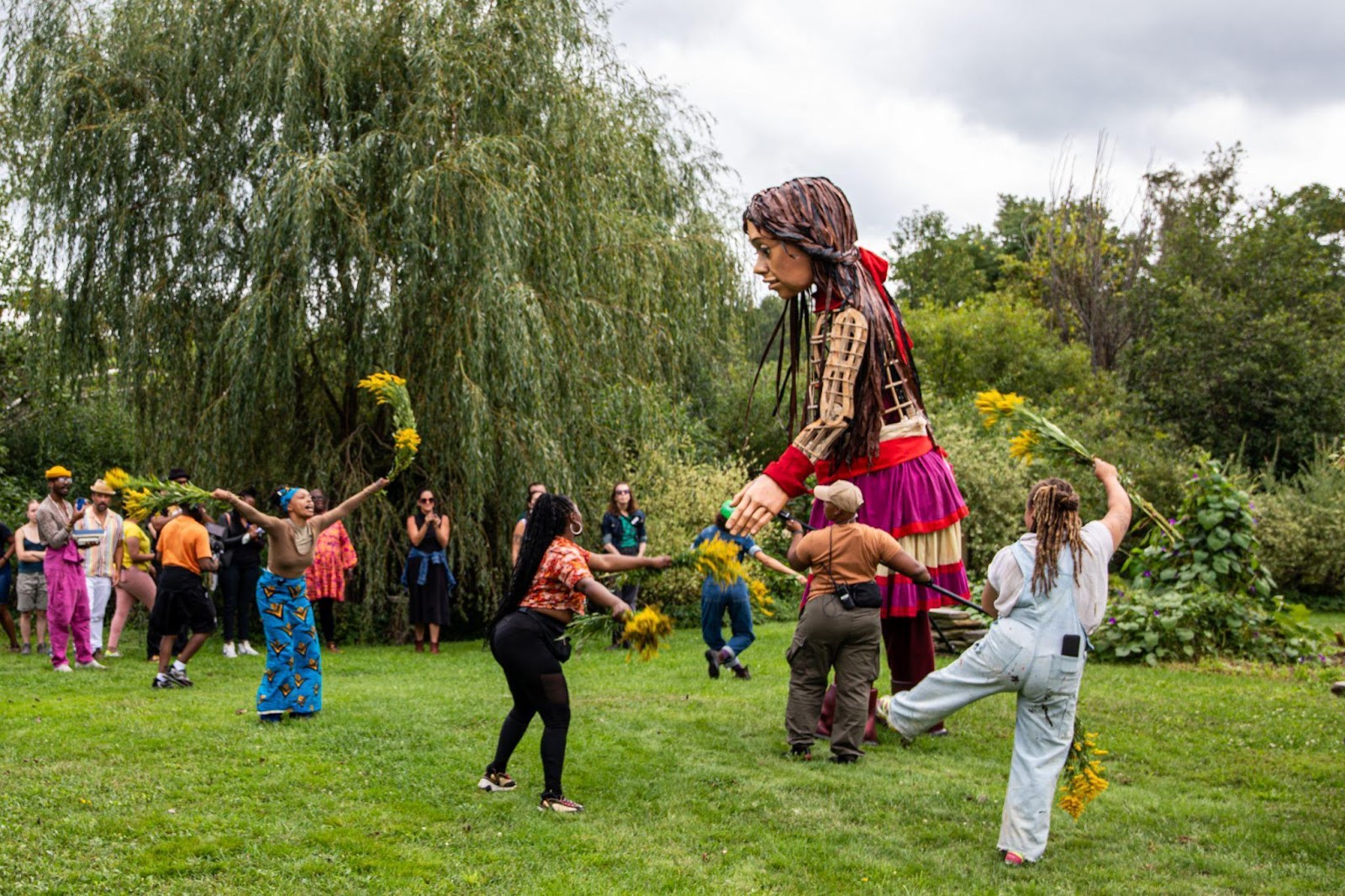 Amal is welcomed by members of the Nipmuc Nation, in Ashfield, Massachusetts. (Photo courtesy of Arizona Arts Live).
At 4:30 p.m. Amal will visit the University of Arizona campus, stopping first outside of the Stevie Eller Dance Theatre, and meeting international students. She also will visit Flandrau Science Center and Planetarium on campus.
"For each city that Little Amal visits, it is the responsibility of the city to introduce her to the culture of the area," said Leah Sickman, Arizona Arts Live student intern.
Little Amal will learn what the stars are made of while visiting the science center and will be given a garland of paper stars with illustrations that "symbolize the interconnectedness of all things and that all of us are made out of the same material as the stars," Sickman said.
Amal also will be at the Fan Fiesta, where she will be greeted by Wilbur and Wilma before walking in the 'Wildcat Walk,' with the Pride of Arizona band, cheer squad and color guard to welcome the football players. She'll reappear on the football field during halftime before ending her day in Tucson.
"Amal's message is very similar to a lot of us who live here, … so many of our members are of the migrant community, so Amal's story makes a lot of sense for the neighborhoods in Tucson," said Herzog.
Amal walks with street performers at Harvard University, in Boston, Massachusetts. (Photo courtesy of Arizona Arts Live).
Amal began walking throughout Europe in 2021. Since then, the puppet has traveled to many towns and cities throughout the world. The 'Walk with Amal' American tour will end in San Diego, California, in early November before crossing into Mexico to visit two cities there.
To follow Amal's full journey, visit walkwithamal.org/events.
Originally published in the Arizona Daily Wildcat, October 26.